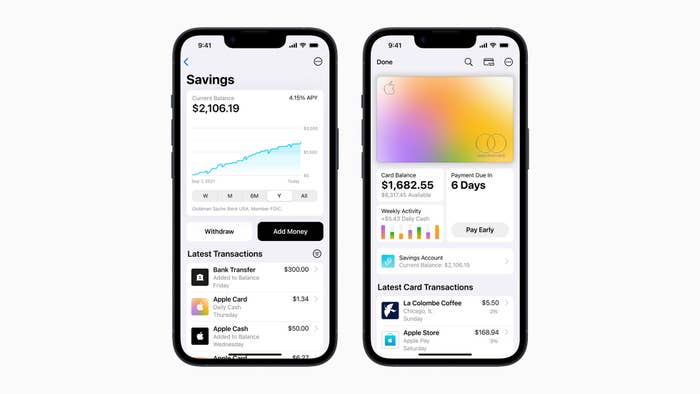 On Monday, Apple, in partnership with Goldman Sachs, announced a new high-yield savings account for Apple Card users. You may be wondering what this all means.

Simply put, you can now place your Daily Cash rewards — Apple's name for the small cashback amounts you get for using Apple Card — into a savings account with an annual percentage yield (APY) of 4.15%.

That's a significantly higher rate than the one you'll get for keeping money in a regular savings account in a traditional bank. As a point of comparison, Bank of America gives you a measly 0.01% APY. Be warned, though: Apple said its APY can change at any time.
More significantly, Apple will also let you add money to this high-yield savings account directly from your existing bank account, which means you can just dump thousands of dollars in there (up to $250,000) and see some serious returns. (If you choose to put a huge chunk of change into an Apple high-yield savings account, I'd like to hear from you; email me at pranav.dixit@buzzfeed.com.)
The move is the latest in Apple's push into financial services. Last month, Apple added a "buy now, pay later" service to Apple Card, which lets you pay for your purchases over six weeks with no interest. That feature put the tech giant in competition with companies like Klarna and Affirm.
"Our goal is to build tools that help users lead healthier financial lives, and building Savings into Apple Card in Wallet enables them to spend, send, and save Daily Cash directly and seamlessly — all from one place," Jennifer Bailey, Apple's vice president of Apple Pay and Apple Wallet, said in a statement.

The feature is currently only available in the US. It's important to note that Apple's APY isn't the highest available. But if you already have Daily Cash from using your Apple Card, stashing it into a savings account accessible directly from the Wallet app on your iPhone is a no-brainer.