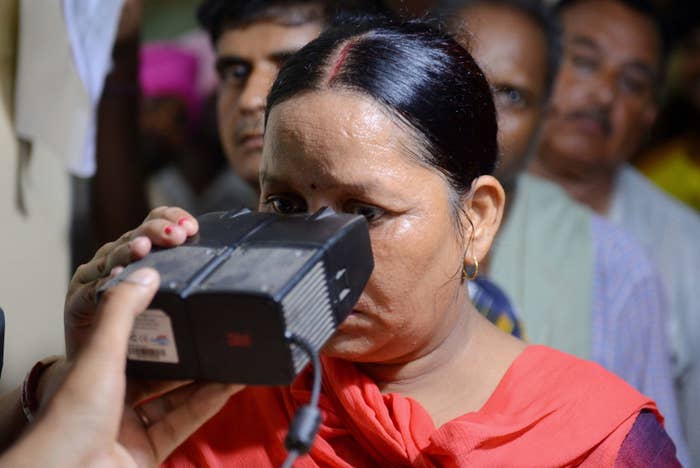 India's Supreme Court has ruled that the government's controversial Aadhaar program — the world's largest biometric database — is constitutionally valid and does not violate the privacy of the 1.2 billion people enrolled in it. However, it imposed restrictions on key sections of the program.

A three-judge majority on a panel of five judges struck down sections of a law that allowed private companies like banks and mobile phone carriers in India to ask people for an Aadhaar ID before providing services. The judges also ruled that India's government could not require people to ask for an Aadhaar ID for peripheral issues like identifying students taking exams. However, Indians will still be required to enroll in the program for paying income tax and accessing government-provided welfare services.
The decade-old Aadhaar program was conceived as a voluntary identity system for millions of Indians who didn't have any form of ID and was positioned by the Indian government as a way to stamp out corruption in the country's welfare systems. In 2009, India began storing the personal details — such as names, addresses, dates of birth, and mobile numbers, along with biometric data like scans of all 10 fingerprints and irises — of every Indian resident in a centralized database. The idea was to have a simple fingerprint or an iris scan establish a person's identity quickly.
But over time, India's government and private companies have made having an Aadhaar ID effectively mandatory by requiring it for everything from getting government subsidies to opening new bank accounts and getting cellphone connections. Some 1.2 billion Indians — nearly the entire population of the country — are now enrolled in Aadhaar.
Advocates of the program, such as its founder, Indian billionaire Nandan Nilekani, have said that having a digital ID based on biometric data would provide millions of Indians with a national ID for the first time, as well as help private companies provide services to them quickly and efficiently. Before Aadhaar, millions of Indians lacked government identification such as driving licenses and passports, locking them out of crucial services like insurance and pensions.
But critics have slammed Aadhaar for violating people's privacy, exposing citizens to identity theft, and its potential to enable state surveillance. Earlier this year, the Aadhaar database was reportedly breached after a reporter from an Indian newspaper was able to buy access to the entire database for just $8. Since then, private information from Aadhaar has leaked on the internet dozens of times.
Aadhaar's critics have also said that the program leads to exclusion if someone's fingerprint or iris scan doesn't work. A HuffPost report said that 27 people have died of starvation in India since 2015 after being locked out of the program for various reasons.
India's Supreme Court, however, passed a majority judgment calling Aadhaar "unique" and "unparalleled," and said that it empowered marginalized Indians who were locked out of the system for not having any form of national ID. Justice Dhananjaya Chandrachud, one of the two judges on the five-judge panel who dissented strongly against the ruling however, calling the entire Aadhaar program "unconstitutional," and asked private companies who have already collected the Aadhaar-linked demographic data of Indian residents to destroy it.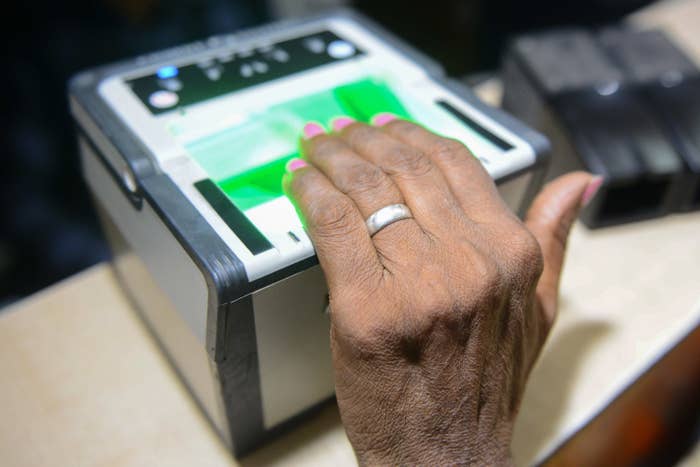 The court's decision will impact not only government programs such as pensions and food subsidies, but also private companies such as India's cellphone carriers and payment apps that have been relying on Aadhaar to quickly sign up new customers. Airbnb, Uber, Amazon, and Microsoft, which count India as an important market for growth, have experimented with integrating Aadhaar into their products and services in India.

"Striking down sections of the law that allowed private companies to ask for Aadhaar puts a stop to its mission creep," said Mishi Choudhary, legal director of the Software Freedom Law Center, a legal services organization for technologists, policy wonks, and researchers, adding that it provided "much-needed relief to the common public."

Other critics, however, were dissatisfied with the Supreme Court's decision.
Indians have filed at least 30 petitions in the Supreme Court challenging the Aadhaar program on various grounds, including the fact that it violates people's privacy — something that India's ruling BJP government argued that Indians didn't have a fundamental right to. Last summer, however, a panel of nine judges ruled that Indians, did, in fact, have a fundamental right to privacy, something that India's Supreme Court referred to in its judgment on Wednesday.

In a statement released after the verdict, Ajay Bhushan Pandey, CEO of the Unique Identification Authority of India (UIDAI), the government body responsible for running Aadhaar, said the biometric program was the "champion" of marginalized sections of society.
"The verdict is a victory for UIDAI and the government of India and has also set the pace of India's digital destiny," he said.
Pandey called the restrictions imposed on the program by the Supreme Court judges "reasonable" and said that they would "further strengthen Aadhaar as the unique identity in the service of the people, especially the poor."