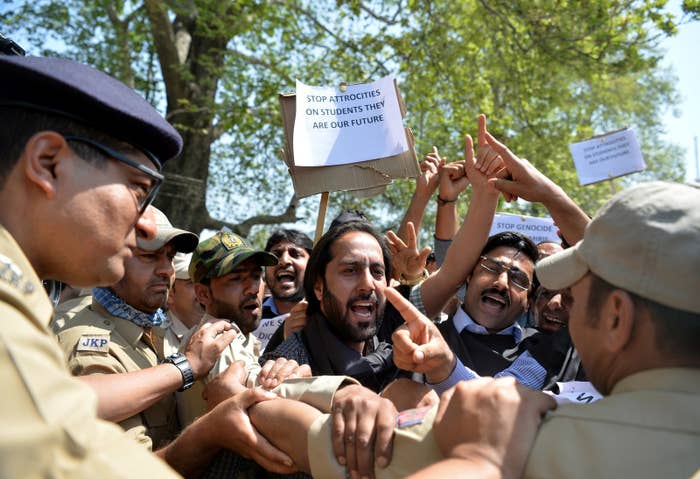 On Wednesday, the Indian state of Jammu and Kashmir suddenly imposed a month-long block on 22 social media and instant messaging services for citizens living in the conflict-ridden Kashmir Valley. These include Facebook, Twitter, WhatsApp, Snapchat, Skype, Pinterest, Telegram, and Reddit, among others, some of which locals rely on for day-to-day communication. This is just the latest internet shutdown in a region where the local government has throttled or blocked internet access dozens of times the past five years.
According to the government order issued Wednesday, these services were "being misused by anti-national and anti-social elements" in the Valley to disturb "peace and tranquility." A WhatsApp spokesperson declined to comment. None of the other companies affected immediately responded to BuzzFeed News' requests for comment. R K Goyal, the Kashmir government official who signed the order, did not respond to repeated requests for comment from BuzzFeed News.
Violence-ridden Kashmir, which both India and Pakistan claim as their own territory, has been plagued for decades by clashes between local residents and the Indian army in India-administered Kashmir. Both countries have gone to war over the disputed territory thrice since they were partitioned in 1947. A 2008 Reuters report puts the death toll at 47,000 from nearly two decades of insurgency against the Indian government in Kashmir. In recent times, Kashmir's government has resorted to turning off parts of the internet or blocking access entirely to discourage people from mobilising and, it claims, to prevent misinformation and hoaxes from spreading.
Kashmir has had 31 internet shutdowns since 2012.
During protests related to the death of a well-known separatist leader called Burhan Wani in 2016, young men from Kashmir reportedly broadcast violence by the Indian army on Facebook Live. Shortly after, the state government turned off internet services in the Valley for over six months.
Kashmir has had 31 internet shutdowns since 2012, according to an internet shutdown tracker created by New Delhi-based non-profit Software Law and Freedom Centre (SFLC), which counts both full blocks as well as partial blocks on services as shutdowns. Last week, the Kashmir government turned off 3G and 4G access in the state for a day after hundreds of student protesters threw rocks at the police and chanted anti-India slogans.
"The idea [behind the shutdowns] is to prevent unlawful assembly or any disturbance," SFLC director Mishi Choudhary told BuzzFeed News. "But there's simply no data available to assess whether they are actually effective."
Muhammad Faysal, the 25-year-old founder of WithKashmir.org, a blogging platform for "opinionated Kashmiris," told BuzzFeed News these bans make it difficult for his site to stay online. Since it launched in December 2016, internet access in Kashmir was shut down for varying lengths of time four times. "Banning internet access is not a preventative measure when it happens so often," Faysal said. "It's a collective punishment — a way to crush dissent."
Some residents of the Valley also say that these internet clampdowns hurt Kashmir's nascent online startup industry. "Our business is driven by social media," said Muheet Mehraj, co-founder of KashmirBox, a Srinagar-based startup that sells handicrafts from local artists through its website. "A lot of small entrepreneurs like us don't have marketing budgets to advertise on the internet, so access to social media is crucial for us." Mehraj said he'll send a small team of KashmirBox employees to Delhi to keep operations running. "But we work closely with a lot of vendors from Kashmir, so the next month is going to be tough."
"Platforms like WhatsApp, Facebook and Twitter are 90% of our social lives. That's what you're taking away when you block them."
The law the Kashmir government used to enforce this most recent social media ban is the Indian Telegraph Act, which was created in 1885 when India was still under British rule. It allows the Indian government and law enforcement agencies to monitor both wired and wireless telephone and radio messages under certain conditions. But some technology experts say the Telegraph Act doesn't apply to internet messaging ever since a controversial section of India's IT Act from 2000 empowered the federal government, but not state governments, to selectively block websites and internet services. Under the IT Act, Kashmir's state government isn't permitted to enforce this kind of internet block.
"What's happening in Kashmir is illegal and is against people's freedom of expression," said Pranesh Prakash, policy director at the Centre for Internet and Society, a Bangalore-based think tank.
For years, said Faysal, the India's federal government has been painting people living in the Kashmir Valley in a certain way — "terrorists, anti-India, pro-Pakistan, and secessionist."
"Social media has allowed Kashmiris to humanize their struggles through photos and videos. In a region torn by violence, platforms like WhatsApp, Facebook and Twitter are 90% of our social lives. That's what you're taking away when you block them."