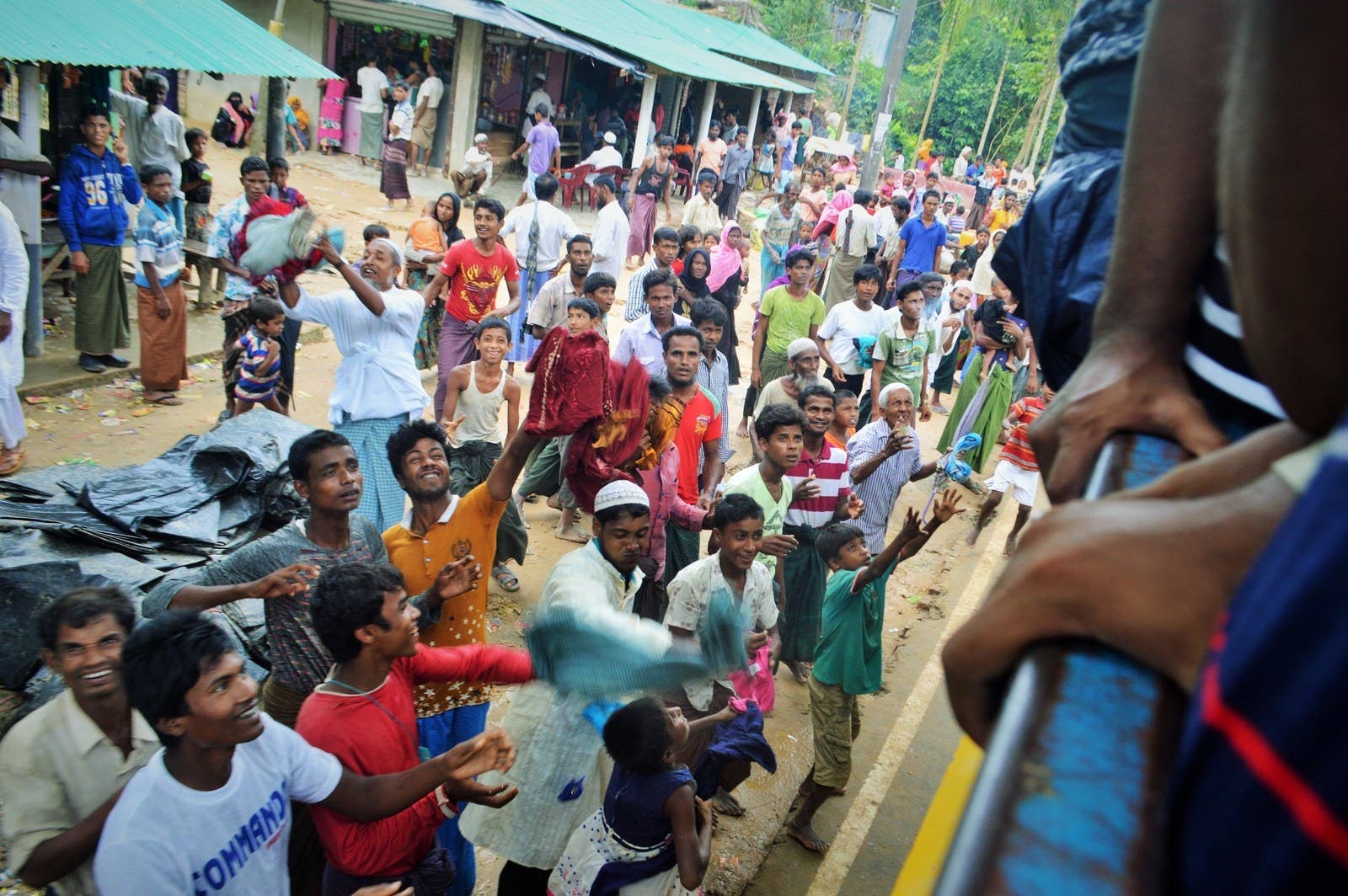 COX'S BAZAAR, Bangladesh — After escaping mass persecution in Myanmar, dozens of Rohingya Muslim refugees in makeshift camps inside Bangladesh told BuzzFeed News they are being crushed while waiting to collect food, and treated brutally by some NGO staff who are using violent methods to control the crowds.
In one instance, BuzzFeed News witnessed a group of men wielding bamboo branches hitting men and women in a camp close to the port city of Cox's Bazaar. Others have been struck by vehicles while running after the food trucks, which do not stop for fear of being swamped.
On Saturday afternoon, Mushida Begum, a girl no older than 12, lay unconscious in her father's arms outside a clinic run by Médecins Sans Frontières, or Doctors Without Borders, known by the acronym MSF.
"She was running behind the truck in the street and a tuk-tuk [rickshaw] hit her," her father, Muhammad Ullah, said before rushing her inside the clinic.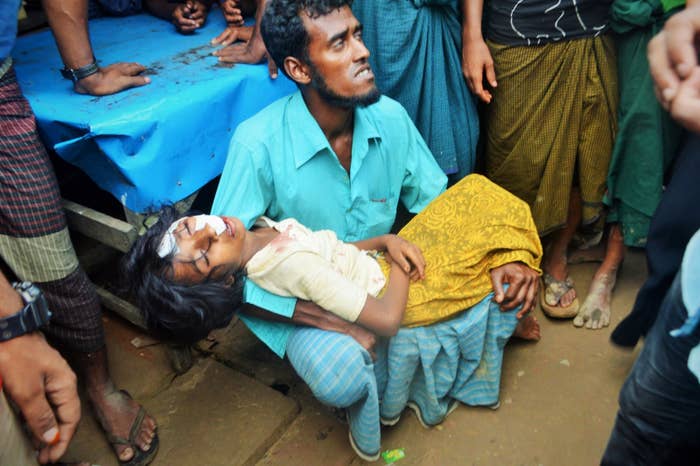 Following a government-led campaign of violence in Myanmar, more than 290,000 Rohingya Muslims have fled the country. Deadly fighting began last month when an armed insurgent group known as the Arakan Rohingya Salvation Army attacked police and military posts along the border in the western Rakhine state, and the Burmese government responded with indiscriminate crackdown on Rohingya civilians.
International human rights groups have accused the government of burning down homes, and fear there have been abuses against the Rohingya, who have long faced persecution in their own country. On Monday the United Nations called the treatment of Rohingyas a "textbook example of ethnic cleansing."
Bangladesh, which has allowed the Rohingya people through, is now finding itself overwhelmed by the influx. Local aid agencies are desperately scrambling to find food and shelter for people who have trekked for days from their villages, often carrying only the clothes on their backs.
"Give me one! Give me one!" a little boy cried on Sunday as he ran in the mud beside the truck, perilously close to its wheels. An elderly man staggered as he was smacked in the face by hurled T-shirts. Women were crushed in the crowd, babies slack in their arms.
Several Rohingyas independently told BuzzFeed News they saw staff from Mukti, a local NGO working with the World Food Program, beating refugees on Saturday with bamboo sticks, leaving several bloodied. One woman was badly injured.

"There was a huge crowd and they beat them randomly," an elderly man named Sabera Ahmed said.
Two Rohingya refugees who saw the incident said another woman was crushed to death.
"People were crying and saying, 'It would be better to die from the military's bullets than dying at the hands of the NGO staff,'" said Mohammad Alam, a member of the food management committee at Kutapalong camp, close to the border.
BuzzFeed News reached out to Bimal Chandra Dey Sarker, Mukti's CEO, who hung up the phone when asked about the incident involving his NGO volunteers. Subsequent calls to him went unanswered.
Maherin Ahmed, a WFP spokesperson, said she was unaware of incident. She said a funding shortfall meant the WFP had to target food distribution to those most in need.
"WFP is trying to prioritize to those who have no support network," she said, referring to those without families already in Bangladesh.
The UN agency said it has launched an emergency appeal for $14.8 million to cover food distribution to the Rohingya for the next four months.
As large-scale violence continues to displace the Rohingya people, it is unclear how many more refugees will pour into the border across Bangladesh in coming days. Last week, Amnesty International reported that Myanmar was using landmines to prevent the Rohingya people from crossing back into the country for supplies.
"I was a teacher," said Mohammad Ilias, a soft-spoken man in his mid-forties, dressed in a long robe and gold prayer cap. "Now I am [helpless] like a child."
In his village in Maungdaw township, Ilias gave children free tuition in mathematics and science and was respected in the community, he said wearily. But after members of the Rohingya insurgent group began recruiting in the area, Burmese soldiers tortured him for information. They pulled out his toenails, he said, gesturing towards raw skin on his big toe that oozed with pus.
"We are weak, we are old, we can't go there because of the crowd."
His eyes pricked with tears as he said his sister, who he described as a kind and pious widow, was shot dead when soldiers stormed the village last month. He and the rest of his family then decided to flee to Bangladesh, where relatives have allowed him to stay in their shelter in Kutapalong camp. A few meters away, a truck sponsored by a Bangladeshi nonprofit group had been distributing food packets, but there was complete disorder as hundreds people pushed each other to get their share.
"We are weak, we are old, we can't go there because of the crowd," Ilias said.
"Sometimes we drink polluted water from the land," said another man sheltering nearby. "From the paddy field."
Bangladeshi nonprofits, religious committees, and private enterprises have tried to pick up the shortfall in aid to the Rohingyas. The streets outside Cox's Bazar are crowded with trucks filled with donations from local charities. Others drive tuk-tuks and cars, handing out cash. Some Bangladeshis simply stare, holding mobile phones aloft to capture the scenes of helpless Rohingyas trying to collect food.
On Sunday, local businessman Nazir Uddin Alam stood in a crowd of several dozen men atop a flatbed truck loaded with clothing and packets of rice.
They had collected donations from their local village and were spending two days in Cox's Bazar to distribute them, he said.
"They are poor. We have food. We have initiative," he said, as clothing, food, and plastic sheeting slipped underfoot. "We are doing this for mankind and humanity."
The men around him echoed loudly, in English: "For the humanity."
As the UN appeals for $75 million in funding to handle the growing exodus, untold numbers of Rohingyas line the streets begging for handouts that are delivered mostly by moving trucks.
"Please help us!" pleaded Abdul Shakur, an elderly Rohingya man sheltering under in an open field by the side of the road on Saturday. His wife, sick with fever, lay on the ground behind him.
"What can I do? What can I do? My wife is so ill." he said. They had barely eaten since fleeing their homes in Rakhine state four days earlier. "We don't need clothes, we don't need houses either, we need food first."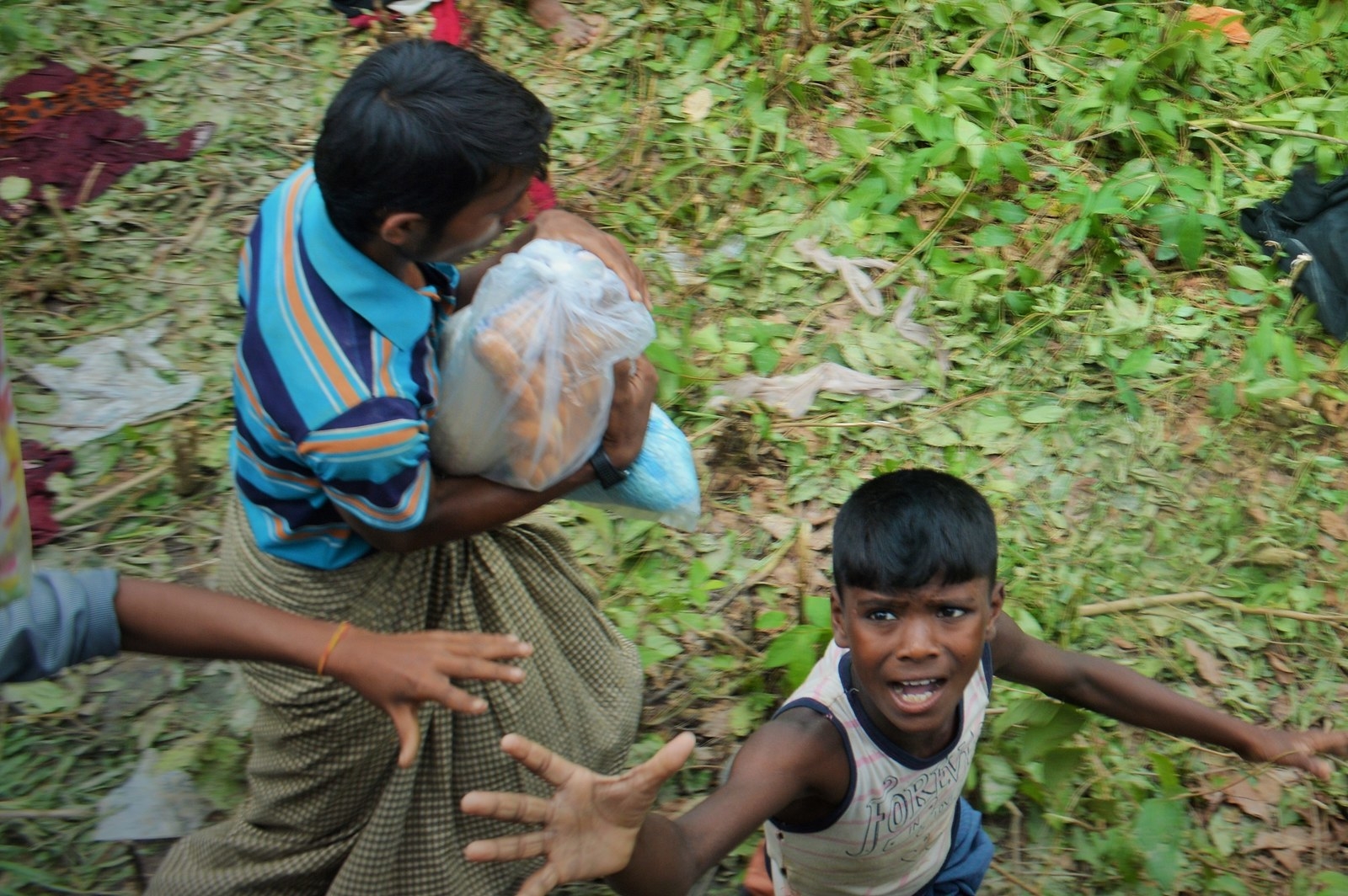 Belal Uddin contributed reporting on this story.