May of that year.
He awoke one morning alone in a basement 6:35 am.
It was a windowless room
a work day
& above him the network of red pipes he'd begun
to consider his yes men.
His alarm?
"I Fought the Law."
Sonny Curtis and the Crickets's 1960 single as recorded
in 1979 by The Clash.
A song he deliberately uploaded illegally
in order to what?
Vex himself each morning 6:35 am on the work days?
Provide himself
with the necessary anguish to get out of bed?
Dog-ear ad nauseum
his insuperable, po-faced disgust that being born working class
is being born ruled?
And the law won, he turned off the song.
That was him clothing himself in the mirror,
that was him buttoning his collar
& each morning he'd take stock of himself:
-split ends dying off in clumps
-chipped tooth will this make me unfuckable
-inherited this nose from father this scrawn
May of that year
he began to debate killing himself.
Debate not contemplate.
A French voice
& somewhat cauterized
& he'd debate with the voice like some people debate
with their tax collectors.
Waste of a man ? it would ask.
They seldom agreed but agreed
on one problem.
Language exists
because blood, because teeth,
because hair.
Because skin, because bone, because atria,
because ganglia & cartilage & intestines & nerve endings.
These miscellany we call a person
they can't answer
for the names that we've given to them.
And this morning the list of demands was simple.
Waste of a man, said the voice.
Strike from yourself
these names that you've given yourself
and name each part of yourself once again.
And finish yourself
room by room, said the voice.
Like you were naming a common slum.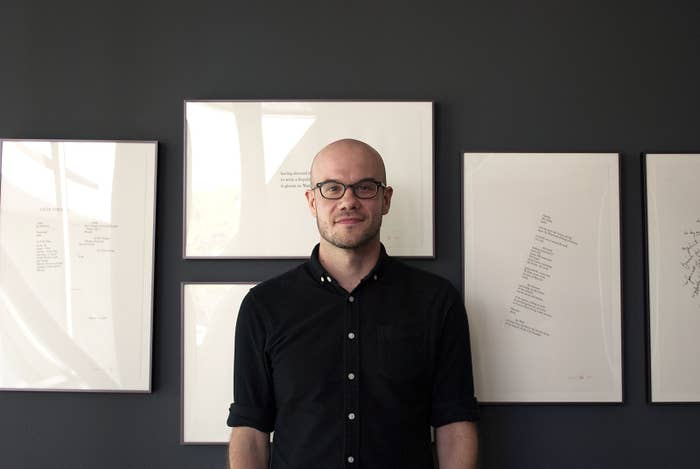 Danniel Schoonebeek is the author of American Barricade (YesYes Books, 2014) and Trébuchet, a 2015 National Poetry Series selection published by University of Georgia Press in 2016. A recipient of a 2015 Ruth Lilly and Dorothy Sargent Rosenberg Poetry Fellowship from Poetry Foundation, recent work appears in The New Yorker, Poetry, Kenyon Review, and elsewhere.