Attorneys for the West Memphis Three's Damien Echols is pushing the Arkansas Supreme Court to reexamine evidence from the 1993 murder of three 8-year-old boys to exonerate him of his conviction.
Echols, Jason Baldwin, and Jessie Misskelley were branded the West Memphis Three after they were convicted in 1994 as teenagers in the killings of three 8-year-old Cub Scouts in 1993.
Investigators believed the victims, Christopher Byers, Michael Moore, and Stevie Branch, were sexually assaulted and killed in what prosecutors said was a satanic ritual.
Echols and the rest of the West Memphis Three were ultimately sentenced to death, but they continued to maintain their innocence. The 1996 documentary Paradise Lost: The Child Murders at Robin Hood Hills, which called into question the convictions, caught the attention of many celebrities, including Johnny Depp, Eddie Vedder, and Henry Rollins, who came out in support of the trio's release.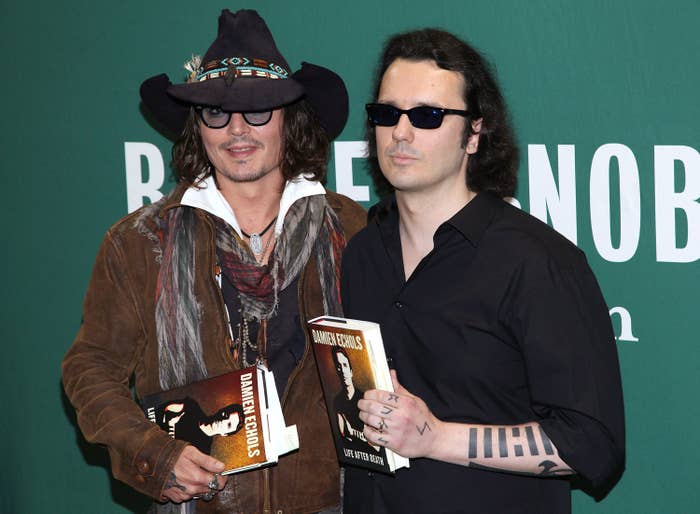 They were eventually released in 2011 after DNA evidence established that they were not the source of any of the biological material tested at the crime scene. They then entered an Alford plea, allowing them to maintain their innocence.
But Echols wants a new hearing on modern DNA testing of the evidence to clear his record. Their initial request last year to the Circuit Court of Crittenden County was dismissed based on lack of jurisdiction.
On Monday, Echols's legal team filed an appeal, asking the state Supreme Court to overturn the decision and restore the matter to the circuit court for a full hearing with updated technological forensic testing.
"Innocence is a state of being. It is not a state of location, in prison or not. One is either 'free from guilt' or not. There is no in between," the appeal states.
According to court documents, the evidence used against Echols involved his testimony during cross-examination, where he admitted he was familiar with practices of the occult, which would be backed up by the items investigators found in his room: a heavy metal poster, a funeral register with a drawn pentagram, and upside-down crosses.
But the most compelling piece of evidence that led to Echols's conviction was testimony from Dr. James Moneypenny, who said Echols's parents were concerned with "his satanism or devil worship."
In his cross-examination, Moneypenny said Echols's medical records contained disturbing statements that he had made about himself, one of which included that he "obtains his powers by drinking the blood of others."
Echols's story loosely inspired the character of Eddie Munson in Stranger Things Season 4, whose storyline involved him being accused of murder because of his love for Dungeons and Dragons during the "Satanic Panic" at the time.
In an interview with E! News in 2012, Echols credited the massive amount of celebrity support he received with his release.
"Johnny, Henry Rollins, Margaret Cho, so many people formed a chain, and if one single link in that chain was gone, they would have killed me," Echols said. "You know, just for example, the DNA testing that eventually led to us getting out, we couldn't even afford to get that done. Henry Rollins went on a tour just to raise the money to do the first round of DNA testing...If the media doesn't care, if the world doesn't care, if people don't look at it, they'll still kill you and sweep it under the rug no matter how much evidence there is."
Now, the West Memphis Three are hoping their latest campaign will succeed in wiping the record clear.
"Although I was released from death row, and Jason and Jesse were freed from their life sentences, we have never been free," Echols said in a statement. "We are convicted of murdering three children and, although we were allowed to maintain our innocence in the Alford Plea deal, we were never truly free, never declared innocent by the court, and the real killer (s) have never been brought to justice."
"Justice demands all avenues be pursued to identify the murderer(s)," Baldwin said in the statement. "From the beginning Jessie, Damien and Jason have cooperated to the best of their ability in the investigations of these murders not limited to providing DNA samples to the WMPD for comparison pre-trial. Pam Hicks and many others also cooperated in this fashion. We have all cooperated so that the identity of the murderer(s) be discovered."
Echols's legal team said they were honored to be part of his decadeslong effort to exonerate himself of capital murder.
"We will continue to support Echols as he seeks relief under the Act 1780, which allows a person convicted of a crime to move for testing of evidence using forensic methodologies that become available through advances in technology," they added in the statement.