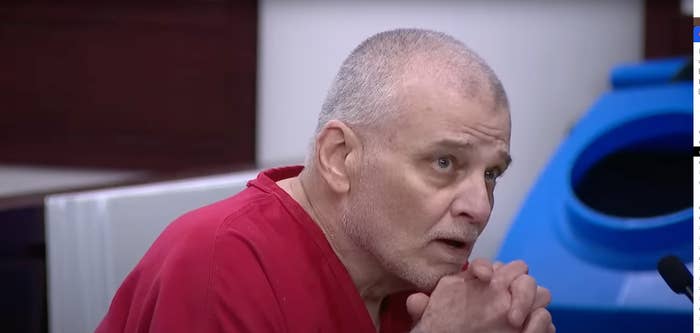 A Florida man who asked that the judge sentence him to death after he confessed to torturing and killing two gay men in 2003 was given a death sentence on Friday.
"That is the punishment you deserve for these horrific crimes," Judge Christopher Sabella said at the sentencing hearing.
Steven Lorenzo, 63, was convicted on two counts of murder for the killings of Jason Galehouse and Michael Wachholtz, both 26.
In December 2003, Lorenzo and Scott Schweickert lured Galehouse and Wachholtz separately to Lorenzo's home in Tampa. Once they arrived, they were killed.
In her opening statements, Hillsborough State Attorney Susan Lopez said Galehouse's murder was the "very definition of cold, calculated, and premeditated."
Schweickert pleaded guilty to two counts of first-degree murder in 2016 and agreed to testify against Lorenzo.
In a 147-page letter filed to the court in November, Lorenzo, who represented himself, withdrew his not-guilty plea and requested the death penalty for his crimes, stating that the "comforts they get in death row are a lot more comfortable than it is in the federal system."
"That's fine, I don't really care, it doesn't bother me, because the defense wants the death penalty. The defense is saying, 'Yes, give me the death penalty, that is absolutely great,'" Lorenzo said in court.
In his testimony at Lorenzo's hearing, Schweickert detailed the murders of Galehouse and Wachholtz. Schweickert said he and Lorenzo had been planning to lure an unsuspecting gay man from the bar and "kidnapping him and killing him."
The two lured Galehouse to Lorenzo's home in Tampa with promises of drinks and a bondage session. Schweickert said that Galehouse, who was already strapped down to the bed, was put in a chokehold by Lorenzo and struggled until he stopped moving.
Schweickert said he and Lorenzo worked together to dismember Galehouse's body and stuff the parts in construction bags. Schweickert continued by saying the two spread the body parts across random dumpsters in Tampa.
"It just seemed methodical, so almost planned, like he knew exactly what he was to do when something like this happened. It just seemed automatic," Schweickert said in court. "He didn't hesitate, he just grabbed a trash bag and started stuffing everything in it like he done it before, no big deal."
Speaking at Lorenzo's trial, Pam Williams, Galehouse's mom, asked the judge to give him the death penalty, describing the pain she went through after her son died.
"You are the scumbag of the Earth, and I cannot believe how you can sit there with no remorse, no 'I'm sorry,' no nothing," Williams said to Lorenzo in court. "I don't have a grave, I don't have a tombstone, all I got is ground-up hamburger meat in the ground because of you, you scumbag. That's exactly what you are. You should be dead already, as far as I'm concerned. You put me through holy hell."
After they finished disposing of Galehouse's remains, Lorenzo wanted to find another gay man to kill at the same bar Schweickert told the court. The two met Wachholtz the night after and lured him back to Lorenzo's home, where Lorenzo drugged and killed him.
Speaking at Lorenzo's trial, Wachholtz's mother, Ruth Wachholtz, said with tears in her eyes that he should be sentenced to death.
"What he did to my son before murdering him should be done to him, eye for an eye," Ruth Wachholtz said. "For 20 years he lived, and Michael hasn't. At taxpayers' expense, no less. It's time to end this."
Wachholtz's body was found weeks after his murder wrapped in a sheet and stuffed in the back of his car in a parking lot; however, Galehouse's remains have never been found.