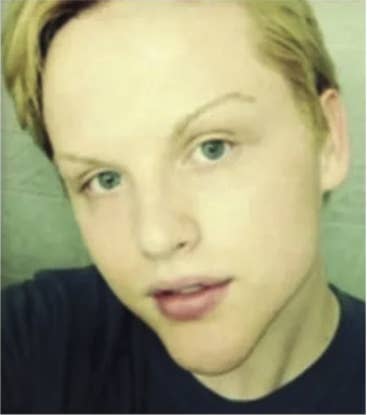 The death of Stephen Smith, whose body was found near the home of convicted murderer Alex Murdaugh, is being investigated as a homicide, South Carolina law enforcement officials said publicly for the first time on Wednesday.
The 19-year-old died in 2015, and a medical examiner originally concluded he was struck by a car. But his family has long disputed that his death was the result of a hit-and-run, and on Tuesday, Bland Richter Law, the firm representing Smith's family, announced that his case is being probed as a homicide.
The South Carolina Law Enforcement Division confirmed that in a statement released on Wednesday. SLED opened its investigation into his death in 2021, after the agency uncovered evidence related to Smith while investigating the murders of Paul and Maggie Murdaugh.
"SLED's investigation into the death of Mr. Smith was never closed - it remains a homicide investigation," the agency said on Wednesday. "Progress has been made, and SLED's investigation is active and ongoing."
According to SLED, there was no indication that Smith died in a hit-and-run crash, and investigators with the South Carolina Highway Patrol, which initially investigated his death, also did not believe that.
According to notes from the original incident report regarding Smith's death, there was "no vehicle debris, skid marks, or injuries consistent with someone being struck by a vehicle." Smith's shoes were still on and loosely tied, according to the incident report.
Thomas Moore, a former South Carolina Highway Patrol lieutenant, said he has always believed Smith's death was a murder in an interview with local news outlet WJCL on Wednesday.
"I definitely think he was murdered; he was murdered there or murdered elsewhere and dropped there," Moore told WJCL.
According to the Tuesday night statement by the Smith family's lawyers, SLED officials were waiting until the Murdaugh trial was over before announcing the news, worried that some witnesses would not be "forthcoming under the Murdaugh sphere of influence."
On Wednesday, SLED said that it was now putting more investigators on the case "in the hopes that those who may know what happened to Mr. Smith are more willing to speak freely now than they may have been in 2015 or 2021."
Last week, Smith's family launched a fundraiser in order to exhume his body and conduct their own autopsy.
"We need a new, unbiased look at his body and an accurate determination of his cause of death based on facts," Sandy Smith, Smith's mother, wrote on the GoFundMe page. "There was no debris in the road, and his injuries were not consistent with a hit-and-run."
The family has raised more than $89,000, beating their initial $15,000 goal as of Wednesday.
"We are committed to finding out what really happened, and getting the peace and justice the Smith family deserves," Eric Bland and Ronnie Richter said in a joint statement.
A recent Netflix documentary on the Murdaugh family revealed that Smith was classmates with Buster Murdaugh, the oldest Murdaugh son.
In a statement on Monday, Buster denied any involvement in Smith's death.
"I have tried my best to ignore the vicious rumors about my involvement in Stephen Smith's tragic death that continue to be published in the media as I grieve over the brutal murders of my mother and brother. I love them so much and miss them terribly," Buster said. "I am requesting that the media immediately stop publishing these defamatory comments and rumors about me."