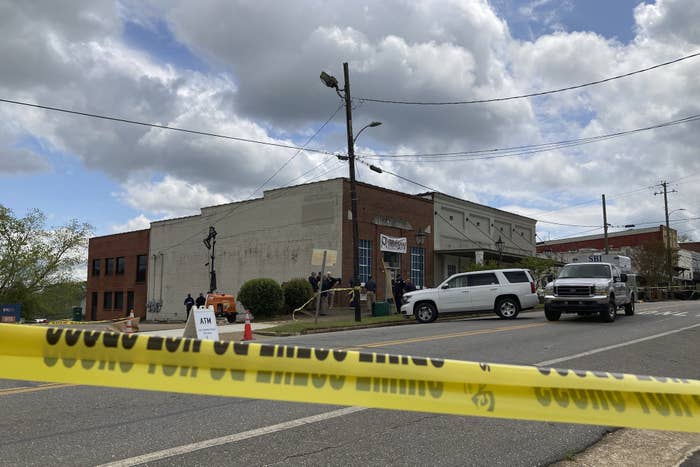 Four people were killed and 28 others were injured after a shooter opened fire at a birthday party Saturday night in Dadeville, Alabama, police said.
According to a press release from the Alabama Law Enforcement Agency, the shooting occurred around 10:34 p.m. in the city of about 3,000 people.
Speaking at a press conference Sunday evening, authorities said some of the people who were injured remained in critical condition. No information was immediately released about the shooter.
The shooting happened at Mahogany's Masterpiece dance studio during a Sweet 16 birthday party, and most of those injured are local teenagers, WRBL reported.
The four deceased victims were identified Monday by Tallapoosa County Coroner Mike Knox as: Marsiah Emmanuel Collins, 19; Philstavious Dowdell, 18; Corbin Dahmontrey Holston, 23; and Shaunkivia Nicole Smith, 17.
Dowdell and Smith were both high school seniors week away from graduating.
The party was for Dowdell's sister Alexis, his grandmother, Annette Allen, told the Montgomery Advertiser. The siblings' mother was also shot and is now recovering from her injuries, Allen said.
Dowdell had committed to playing football at Jacksonville State University. In a statement, Jacksonville State head football coach Rich Rodriguez said he and staff were "heartbroken" by his death.
Smith, who went by "KeKe," was "always smiling," her cousin, Amy Jackson, told CNN, and she was excited to attend the University of Alabama. She played volleyball and managed the school's track team, Michael Taylor, a coach at Dadeville High School, told the New York Times.
Collins, better known as "Si," graduated high school last year and was taking a year off before college to pursue a music career. He had planned to attend Louisiana State University in the fall, according to AL.com.
Holston "was selfless when it can to his family and friends and always tried to be a protector," his mother, Janett Heard, told AL.com.
In a post on Facebook, Ben Hayes, a chaplain for the Dadeville Police Department and the local high school football team, said he stood outside the local hospital until 3 a.m. "watching hearts break as families learned that their child had been shot — or even worse, dead."
"I talked with parents, educators, students. My football players. Our pastors from First Baptist Church. No one knew what to say. Everyone was in shock," Hayes wrote. "Police officers with looks of sadness on their faces. Nothing prepares you for this."
Hayes told ABC News on Sunday morning that there were more than 50 people at the party and the shooting followed an argument.
In a statement, Alabama Gov. Kay Ivey said she is grieving with the people of Dadeville.
"Violent crime has NO place in our state, and we are staying closely updated by law enforcement as details emerge," Ivey wrote on Twitter.
President Joe Biden addressed the shooting in a statement released Sunday, saying it was "outrageous and unacceptable" that gun violence is the leading cause of death of children in the US. He once again called for Congress to ban assault weapons and require safe storage of firearms and expanded background checks.
"What has our nation come to when children cannot attend a birthday party without fear?" Biden said. "When parents have to worry every time their kids walk out the door to school, to the movie theater, or to the park?"
Gun violence in the US is a public health crisis, according to the American Public Health Association. It is a leading cause of premature death in the country, responsible for more than 38,000 deaths annually. As of April 16, at least 5,251 people have died from gun violence this year, and another 6,996 have died by suicide, according to data from the Gun Violence Archive.