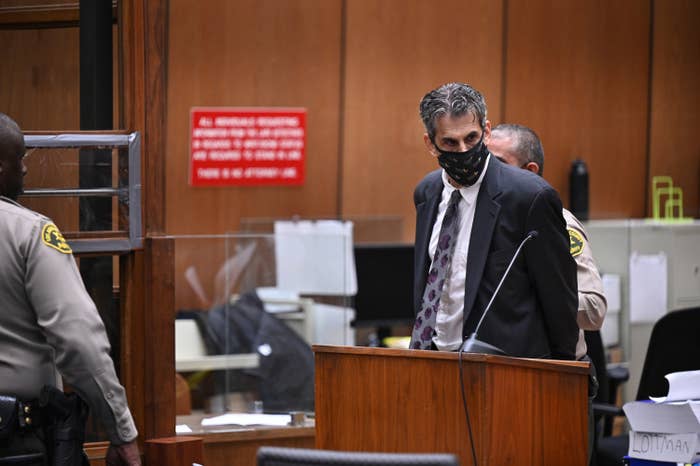 Seven more women are pursuing sexual assault lawsuits against former Scrubs producer Eric Weinberg, who remains in jail as he faces criminal charges including rape and assault.
Weinberg, 62, who is known for his work on shows including Anger Management and Californication, is already facing 18 criminal charges in connection with the alleged assaults of five women. He has pleaded not guilty, and his next court hearing is scheduled for February. Two women also previously sued him for sexual assault in November.
According to court records, the new unfiled civil complaints say Weinberg had a pattern of approaching women in public areas, such as cafés or grocery stores, claiming he was a photographer and promising them a photo shoot. After luring the women to his home, he assaulted them, the complaints say. The women were between the ages of 18 and 35 at the time of the alleged assaults, which took place between 1998 and 2017, the complaints say.
Many of the women shared an aspiration to break into the entertainment industry, and Weinberg manipulated them by introducing himself as a successful Hollywood figure, the complaints say.
Weinberg did everything he could to gain the trust of the women, the complaints say, repeatedly mentioning that he was a father.
The women also believed the photo shoots were legitimate because Weinberg said he was acting on behalf of his company, Guitar and Pen, and used his company email to contact them, the complaints say.
As he started taking photos of the women, he dropped his professional demeanor altogether, the complaints say. Several of the women described feeling fearful and uncomfortable as he allegedly made sexual comments and demanded they undress. According to the complaints, in some instances Weinberg would beg the women not to report the alleged assault, saying it would hurt his family. One woman's complaint says he threatened to harm her child if she did.
Weinberg was first arrested in July 2022 and released on $3.225 million bail. According to authorities, dozens of tips from potential victims began to come in.
His bail was increased to $5 million after he was charged in October 2022, then a judge completely revoked it later that month. He remains in jail as the case proceeds.
At the time, the judge described him as a potential serial rapist who continued to pose a danger, the Los Angeles Times reported.