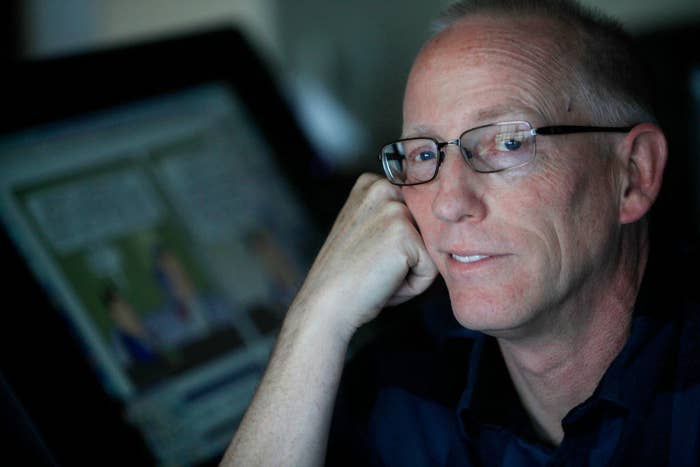 Hundreds of newspapers across the US are dropping the Dilbert comic strip after creator Scott Adams called Black people a hate group and advised white people to avoid them.
Since Friday, the Washington Post, the Los Angeles Times, and the USA Today Network, which includes more than 200 local papers, have denounced racist comments Adams made last week on an episode of his web series, Real Coffee With Scott Adams.
Though he rose to fame with the workplace comic, which, according to its distributor, has appeared in more than 2,000 newspapers in 65 countries, in recent years, Adams has become known for his far-right fanbase. He's been a vocal supporter of Donald Trump's and appeared regularly on Alex Jones's Infowars show, while also drawing criticism for his comments about women and the Holocaust.
On Wednesday, he was discussing a poll from Rasmussen Reports, which found that 53% of Black adults agreed with the phrase "It's OK to be white," and 26% of Black adults said they disagreed. According to the Anti-Defamation League, the phrase was popularized in 2017 as a trolling campaign on the 4chan message board, then adopted by white supremacists.
"If nearly half of all Blacks are not OK with White people — according to this poll, not according to me, according to this poll — that's a hate group ... and I don't want to have anything to do with them," Adams said in the video.
Adams continued by advising white people to "get the hell away from Black people," saying he moved to a neighborhood with a "very low Black population," claiming there is a correlation between the problems in a community and the race of people who live there.
Adams went on to announce that he would no longer "help" Black Americans, saying that it makes no sense to help them if you're white.
"I think it makes no sense whatsoever as a white citizen of America to try to help Black citizens anymore. It doesn't make sense; it's no longer a rational impulse," Adams said. "So I'm gonna back off ... 'cause it doesn't seem like it pays off — like I've been doing it all my life, and the only outcome is that I get called a racist."
The editor of Cleveland's the Plain Dealer said dropping Adams's comic was "not a difficult decision."
"This is a decision based on the principles of this news organization and the community we serve," Chris Quinn wrote. "We are not a home for those who espouse racism. We certainly do not want to provide them with financial support."
Since those announcements, Adams has said in several tweets that he stands by his comments, and he retweeted people who supported him. Among them were Elon Musk, who responded by calling the media racist.