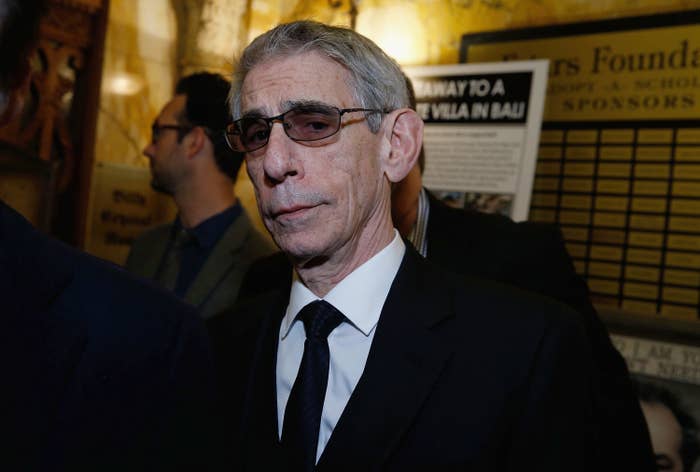 Comedian and actor Richard Belzer has died at the age of 78, prompting an outpouring of remembrances from the many people who worked with him over his career.
Belzer died at his home in southwest France early Sunday, comedian Bill Scheft, a longtime friend, told the Hollywood Reporter.
"He had lots of health issues, and his last words were, 'Fuck you, motherfucker,'" Scheft told the outlet.
Belzer was best known for his role as Detective John Munch, whom he first portrayed in 1993 on the TV series Homicide: Life on the Street. He then played the character in hundreds of episodes of Law & Order and Law & Order: Special Victims Unit, as well as in appearances on other shows. His official biography described the run as record-breaking, with Belzer playing Munch on 11 different television series, including The X-Files, 30 Rock, and Sesame Street.
"I love the character. The writers got to know me," Belzer said in a 2017 interview with Smashing Interviews. "The character of Munch was really close to how I do things. It was a dream come true for me and an utter delight to play this character for so many years. I'm very lucky."
Friends and former colleagues remembered the actor and comedian on social media Sunday. Saturday Night Live alum Laraine Newman said Belzer was one of her first friends on the show, where he served as the warm-up comedian for the live audience.
Belzer began his career in stand-up comedy in New York in the 1970s, and he appeared with names like Bill Murray, Gilda Radner, and John Belushi on The National Lampoon Show. He went on to host the comedy talk show Hot Properties; in a memorable clip, Hulk Hogan defended the "reality" of wrestling by putting Belzer into a front chin lock. Belzer collapsed, hitting his head and requiring stitches. He filed a lawsuit and ultimately won a settlement.
In 1997 Belzer, a self-described conspiracy theorist, starred in an HBO comedy special titled, Another Lone Nut. The show also took on his experiences surviving testicular cancer.
Mariska Hargitay also posted about the many years they worked together on Law & Order: SVU.
"Goodbye my dear, dear friend. I will miss you, your unique light, and your strange world. I feel blessed to have known you and adored you and worked with you, side by side, for so many years," Hargitay wrote on Instagram. "How lucky the angels are to have you. I can hear them laughing already. I love you so very much, now and forever."
Chris Meloni, who played Detective Elliot Stabler on SVU, shared his goodbye on Twitter as well as a heartfelt behind-the-scenes moment.
Law & Order producer Dick Wolf said Belzer "brought humor and joy into all our lives."
Ice T, who for years played Belzer's fictional partner Sgt. Fin on SVU, also mourned the actor.