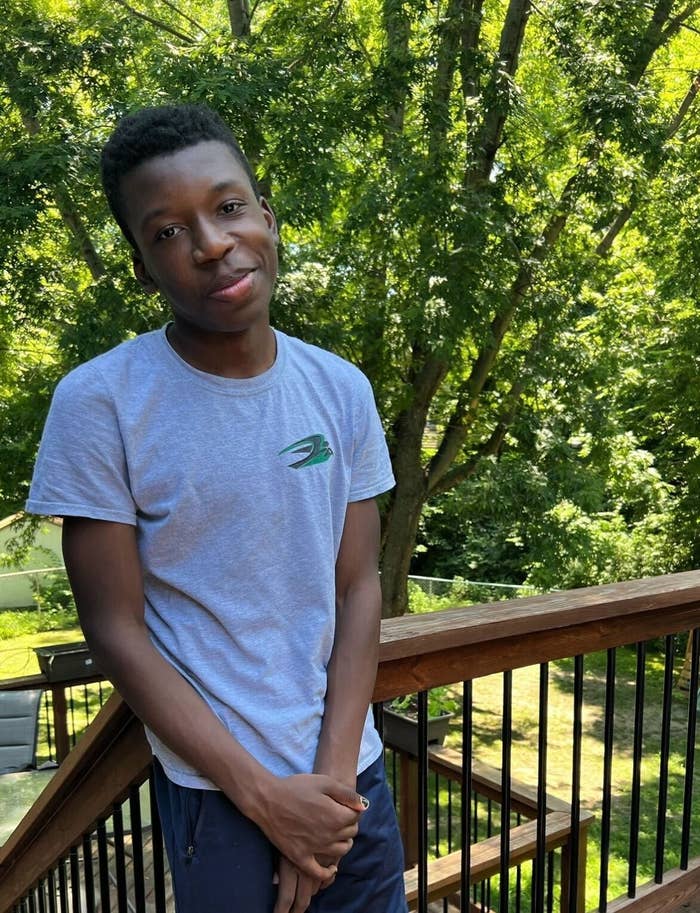 Protests erupted over the weekend over the shooting of a Black 16-year-old in Missouri whose family said was shot in the head after going to the wrong home to pick up his twin brothers.
Ralph Yarl was allegedly shot by the homeowner outside the Kansas City residence when he arrived on Thursday. According to a GoFundMe created by his aunt Faith Spoonmore, Yarl mistakenly went to a house one block away from where he was supposed to pick up his brothers. When he pulled into the driveway and rang the doorbell, the homeowner shot him twice, including once in the head, his aunt said.
According to Spoonmore, Yarl ran to three different homes after he was shot before one of the neighbors finally agreed to help him and was told to lie on the ground with his hands up.
Speaking at a press conference on Sunday, KCPD Chief Stacey Graves said the suspect was taken into custody following the incident and his firearm was seized. The suspect was placed on a 24-hour hold and released pending further investigation, Graves said, adding that the department needed to collect a formal statement from the victim and further evidence before the case can be handed over to prosecutors.
"The vast majority of cases to include violent crime involve the suspect being released, pending further investigation. In this case, the prosecutor requires more information from investigators that would take more than 24 hours to compile," Graves said. "We recognize the frustration this can cause in the entire criminal justice process."
Graves did not reveal the race or gender of the alleged shooter, but attorneys Lee Merritt and Ben Crump, who are representing Yarl and his family, have said that the homeowner is a white man.
On Monday, Clay County prosecutor Zachary Thompson announced charges of first-degree assault, which holds a maximum sentence of life in prison, and armed criminal action against Andrew Lester. Thompson said a warrant has been issued for Lester's arrest and his bond has been set at $200,000.
Thompson noted that there was a "racial component" to the case but did not comment further on specifics.
In a joint statement released on Monday, Crump and Merritt said they had received news of the charges shortly after the family had gotten off a phone call with President Joe Biden.
"Moments after the family got off the phone with President Biden, who offered his prayers for Ralph's health and for justice, we learned that the prosecutor will be charging the man who is responsible for the deplorable shooting of this innocent boy," the statement read. "Gun violence against unarmed Black individuals must stop. Our children should feel safe, not as though they are being hunted. While this is certainly a step in the right direction, we will continue to fight for Ralph while he works towards a full recovery."
In Kansas City on Sunday, hundreds of protesters gathered outside the home of the alleged shooter, chanting, "Stand up, fight back!"
Spoonmore, who went live on Instagram from the protest, said she spoke to a woman who lived close to the house where Yarl was shot. The woman told Spoonmore that she saw the homeowner the morning after, sweeping in the front of his house.
"This was a child that this man attempted to assassinate," she said. "He shot him twice. And we allowed him to not only go back home hours after the incident, but he was able to wake up the next morning and freaking claim like nothing ever happened."
In a joint statement released on Sunday, Merritt and Crump demanded the Clay County prosecutor's office take swift action on the case.
"There is no excuse for the release of this armed and dangerous suspect after admitting to shooting an unarmed, non-threatening, and defenseless teenager that rang his doorbell," they said. "We demand swift action from Clay County prosecutors and law enforcement to identify, arrest, and prosecute to the full extent of the law the man responsible for this horrendous and unjustifiable shooting."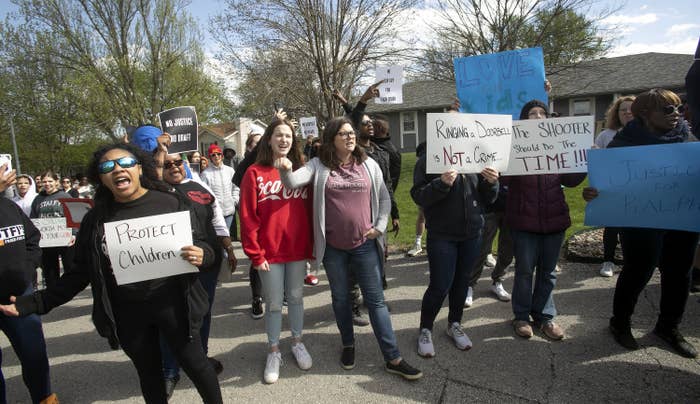 News of Yarl's case erupted online, and prominent figures like Halle Berry and Viola Davis have called on prosecutors to charge the alleged shooter.
On the GoFundMe page, Spoonmore called Yarl a "fantastic kid" who is well loved by the people around him. She said he is a member of the Technology Student Association at his high school and section leader in the marching band, where he plays the clarinet.
Spoonmore said her nephew is "doing well physically" but still has a long road ahead mentally and emotionally.
"The trauma that he has to endure and survive is unimaginable. He is our miracle. We have heard these types of stories many times, and unfortunately, most black boys are not alive to get another chance," she said.
A 2022 study published in the Journal of the American Medical Association revealed that gun-related deaths have increased by an average of 8% since Missouri enacted a "Stand Your Ground" bill in 2016.
According to the advocacy group Everytown, Missouri gun laws are some of the weakest in the country, where there's no requirement for background checks on unlicensed gun sales. An average of 1,351 gun-related deaths are recorded yearly in the state.