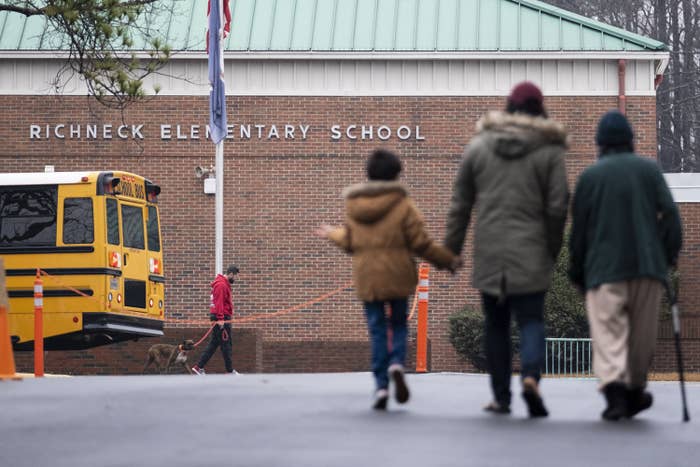 A grand jury in Newport News, Virginia, on Monday indicted the mother of a 6-year-old who shot his first-grade teacher in January, the city prosecutor announced.
Deja Taylor was charged with felony child neglect and a misdemeanor count of recklessly leaving a firearm that endangers a child after her son shot Abigail Zwerner, 25, a first-grade teacher at Richneck Elementary School.
No charges are expected to be brought against the 6-year-old; however, Zwerner filed a $40 million lawsuit against administrators of the elementary school, accusing them of negligence.
According to the lawsuit, the 6-year-old student who shot Zwerner had behavioral problems and "a history of random violence." She claimed that multiple teachers, including herself, warned assistant principal Ebony Parker that the student had a gun on the day of the shooting, but Parker ignored their concerns.
Parker resigned after the shooting.
Zwerner was hailed as a hero for ensuring her other students made it out of the classroom safely despite her injuries. The bullet had pierced Zwerner's hand and gone into her chest.
Newport News Police Chief Steve Drew previously said the gun was legally purchased by the boy's mother. In a statement to BuzzFeed News on Jan. 19, the family of the 6-year old said, "The firearm our son accessed was secured.
"Additionally, our son has benefitted from an extensive community of care that also includes his grandparents working alongside us and other caregivers to ensure his needs and accommodations are met," the family continued. "The week of the shooting was the first week when we were not in class with him. We will regret our absence on this day for the rest of our lives."
In a statement announcing the charges on Monday, the city's Commonwealth's Attorney Howard Gwynn said the investigation into the shooting is ongoing.
"Every criminal case is unique in its facts, and these facts support these charges, but our investigation into the shooting continues," Gwynn said in a press release.
In his statement, Gwynn also announced that he had petitioned the Newport News Circuit Court to create a special grand jury to investigate any security issues at the school that may have contributed to the shooting.
"The safety and security of Newport News students is of utmost importance. The Special Grand Jury will investigate to determine whether additional charges against additional persons are justified by the facts and the law," Gwynn said. "If the Special Grand Jury determines that additional persons are criminally responsible under the law, it can return additional indictments."
Zwerner's attorney, Diane Toscano, addressed the indictment in an email to BuzzFeed News on Monday.
"There were failures in accountability at multiple levels that led to Abby being shot and almost killed. Today's announcement addresses but one of those failures," Toscano wrote. "It has been three months of investigation and still so many unanswered questions remain."