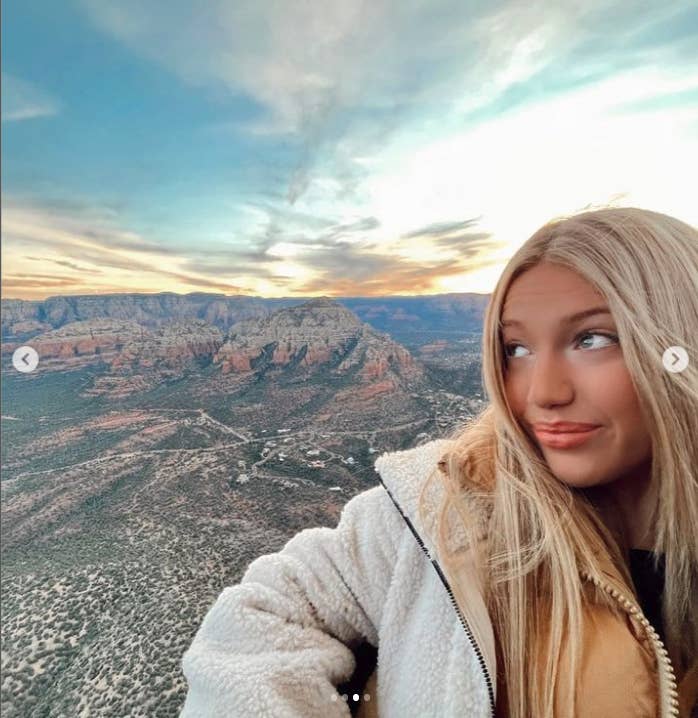 Three teens and a 28-year-old man have been arrested after police said they promised to drive an intoxicated Louisiana State University sophomore home, but instead raped her and left her on the side of the road — where she was hit by a car and killed.
Kaivon Washington, 18; Everett Lee, 28; Casen Carver, 18; and a 17-year-old who has not been identified because he is a minor were arrested in connection with the rape of Madison Brooks, 19, according to arrest records by the East Baton Rouge sheriff's office. After being dropped off by the suspects, she was hit by an oncoming vehicle and died at a hospital from her injuries.
According to an arrest warrant for Carver, he told officers that he and the three others met Brooks for the first time on Jan. 15 at a bar near the LSU campus.
They then left the bar with Brooks, who was intoxicated to the point that she was slurring her words and unable to keep her balance, he allegedly told police. She told Carver she was unable to find her friends, and he agreed to give her a ride home — but instead drove a short distance to a nearby street, according to the arrest warrant.
He parked the car there, and Washington and the 17-year-old then allegedly raped her in the backseat, the arrest warrant says.
According to an arrest warrant for Washington, he allegedly admitted to officers that Brooks was drunk that night but denied having sex with her or seeing the 17-year-old rape her.
Carver's arrest warrant says he told officers that he dropped Brooks off in a subdivision after the group was unable to locate her home.
A spokesperson from the East Baton Rouge Parish coroner's office told BuzzFeed News that her death was caused by "multiple traumatic injuries second to motor vehicle collision" and that the manner was "accidental." A spokesperson from the East Baton Rouge sheriff's office said the driver of the car stayed at the scene after hitting her and did not appear to be impaired.
According to deputies, her blood alcohol content that night was 0.319%, enough to render her unconscious.
In a statement to the Advocate, Carver's attorney, Joe Long, said, "This was a tragedy, but not a crime."
"When all the evidence is known, everyone will see this was not a crime," Long told the outlet.
Washington and the 17-year-old have been arrested on suspicion of third-degree rape, while Carver and Lee were arrested on suspicion of being principal to third-degree rape for their alleged assistance.
In an interview with local news outlet WAFB, Ron Haley, an attorney for two of the individuals arrested, said a video taken inside the car shows that Brooks was coherent the entire time the incident took place.
"Can you tell, that she was intoxicated, yes. To the point under the law that you say you're in a drunken stupor, to the point that you cannot lawfully give consent or answer questions, absolutely that was not the case," Haley told the outlet.
Haley said that she got into a disagreement with the driver after they left the bar and got out of the car.
"Based on a disagreement, she got out of the vehicle. She indicated she was getting an Uber. I want the public to know, these young men, or really the driver of the vehicle and the young men that were in there, did not put her off on the side of the road," Haley said.
LSU President William F. Tate IV said in a statement that what happened to Brooks was "evil and our legal system will parcel out justice."
He also called for action against local businesses that provide alcohol to anyone under the age of 21.
"In the coming days, we will call a meeting with these business owners to discuss how their responsibilities directly impact the safety of our students," Tate said in the statement. "We will work openly against any business that doesn't join us in efforts toward creating a safer environment for our students. Enough is enough."
The College Democrats of LSU and Feminists in Action, student-run organizations, have criticized the president's message, saying they were "sickened by this attempt to victim blame and further ignore the overwhelming violence, particularly sexual violence, we face as students."
"While we agree that local bars and businesses, specifically in Tigerland, need to do more to protect their patrons, we call on you to provide a succinct analysis of how the age of the victim and perpetrators are relevant to this goal," the statement read. "We are glad you are outraged but insist that you direct this energy to fix the sexual violence our community faces instead of using alcohol as a scapegoat."
A spokesperson for the Louisiana Office of Alcohol and Tobacco Control told BuzzFeed News that due to the seriousness and the potential threat to public safety, Reggie's Bar in Tigerland has been suspended.
"This action immediately suspends the service or sale of alcoholic beverages at this location," the spokesperson said. "An emergency hearing will be held next month to determine what penalties (if any) should be imposed following a presentation of the evidence."
In a post on Instagram that has since been deleted, Brooks's sorority, Alpha Phi, said she was "bubbly, loving, and selfless friend."
"She left an indelible mark on our chapter, we cherish our memories together and we will never forget her," LSU Alpha Phi wrote.