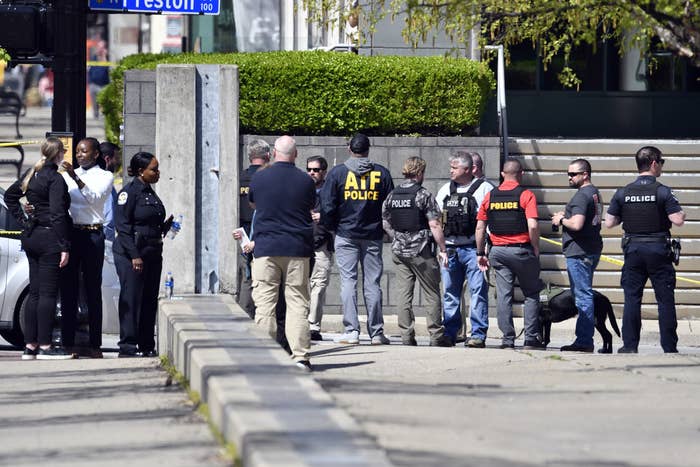 Police said the suspect in the attack at Old National Bank in Louisville, Kentucky, purchased his firearm legally at a local dealership less than a week before the shooting.
Speaking at a press conference on Tuesday, Louisville Metro Police Department Chief Jacquelyn Gwinn-Villaroel said Connor Sturgeon, 25, an employee of the bank, had legally purchased the weapon on April 4. Sturgeon used a rifle in the attack, which he also livestreamed on Instagram, Gwinn-Villaroel previously said on Monday.
Four people plus the shooter were killed and nine were injured in the attack, which took place at 8:30 a.m. local time. A fifth person died of their injuries later that day. One officer suffered minor injuries, while Officer Nickolas Wilt, 26, was shot in the head and critically injured.
Wilt underwent brain surgery and is now in "critical but stable condition," Gwinn-Villaroel said. The Louisville Metro Police Foundation has set up a fundraiser to help support his family during his treatment.
The family said Wilt has served as both a firefighter and a dispatcher and graduated from the police academy on March 30, only 10 days before the shooting.
Bodycam footage shows Wilt running into gunfire to protect people at the scene and engaging with Sturgeon.
"Officer Wilt was a brand-new officer, he had no experience. He was going based on two things: his training and his character," Louisville Metro Police Department Deputy Chief Paul Humphrey said during a news conference Tuesday.
The victims killed were identified as Joshua Barrick, 40, Thomas Elliott, 63, Juliana Farmer, 45, James Tutt, 64, and Deana Eckert, 57. All five victims worked at Old National Bank.
As of Tuesday morning, four patients are still being treated at University of Louisville Hospital and one is still in critical condition, according to Jason Smith, the chief medical officer at University of Louisville Health.
Smith said he's "weary" from treating so many victims of gun violence so frequently. He noted that the hospital used 170 units of blood to treat victims of the April 10 shooting, adding that the amount used "far outstrips" the hospital's normal capacity for blood transfusions. He thanked the Red Cross for providing additional blood.
"For 15 years, I've cared for victims of violence and gunshot wounds," Smith said. "I'm weary.
"There's only so many times you can walk into a room and tell someone they're not coming home tomorrow," he continued. "It just breaks your heart when you hear someone screaming, 'Mommy' or 'Daddy.' It just becomes too hard, day in and day out, to be able to do that."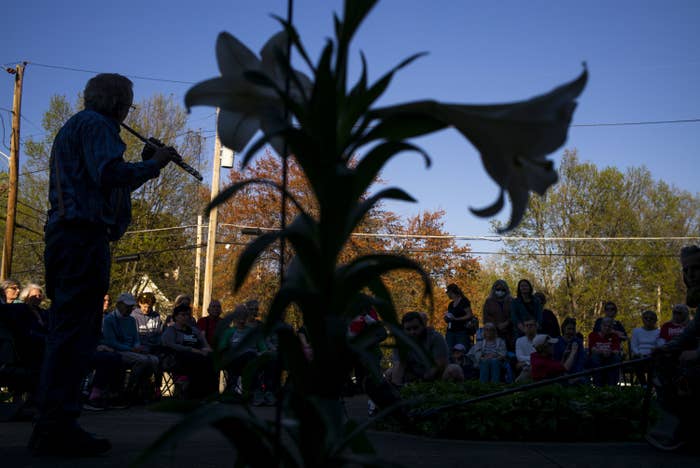 On Tuesday, Louisville Mayor Craig Greenberg said the "level of gun violence is beyond horrific" and urged state and federal legislators to take action on the issue.
"You may think this will never happen to you, never happen to any of your friends or loved ones. I used to think that," Greenberg said. "The sad truth is that now no one in our city, no one in our state, no one in our country has that luxury anymore."
Greenberg emphasized his own experience with gun violence. During his mayoral campaign in 2022, he was targeted in a shooting at his campaign headquarters. No one was injured in that shooting.
"Last year, I survived a workplace shooting. And now yesterday, I've lost a very close friend in another workplace shooting," he said.
A vigil for the victims will be held on Wednesday at 5 p.m. EST at the city's Muhammad Ali Center.
"This vigil will be to acknowledge the wounds, physical and emotional, that gun violence leaves behind," Greenberg said. "It will be an interfaith opportunity for our entire community, to come together, to grieve, to heal, to begin to move forward."
Gun violence in the US is a public health crisis, according to the American Public Health Association. It is a leading cause of premature death in the country, responsible for more than 38,000 deaths annually. As of April 10, at least 4,916 people have died from gun violence this year, and another 6,600 have died by suicide, according to data from the Gun Violence Archive. As of April 10, there have been 146 mass shootings in the US so far in 2023.
According to gun safety advocacy group the Giffords Law Center, Kentucky has some of the loosest gun laws in the country. It does not require universal background checks for gun sales, has no minimum age to purchase a rifle or shotgun, and allows anyone over age 21 with a legal firearm to carry it concealed without a permit.