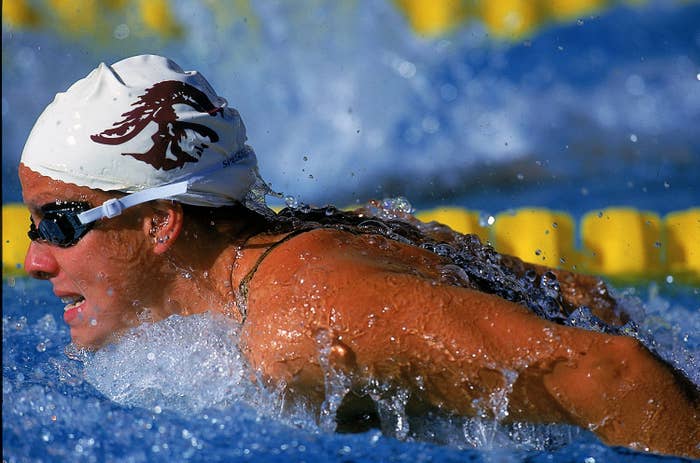 Authorities in the US Virgin Islands have launched a criminal investigation into the death of a former US swimmer.
Jamie Cail, 42, was found unresponsive by her boyfriend on Feb. 21 after he returned home from a local bar after midnight, the US Virgin Islands Police Department said.
With help from a friend, Cail's boyfriend got her up from the ground and drove her to a nearby hospital, according to police. Cail was pronounced dead shortly after arriving at the hospital.
"Once at the clinic, CPR was rendered and 911 was notified, however, the female succumbed to her ailment," the statement read.
Her cause of death was not immediately released, and police did not immediately respond to questions from BuzzFeed News.
According to World Aquatics, the organization that oversees aquatic sports, Cail swam competitively between 1998 and 1999 for the US at the Pan Pacific Swimming Championships and the FINA Swimming World Cup, where she won a gold and silver medal. She then moved on to compete for the women's swim team at the University of Maine in 2000.
Originally from New Hampshire, Cail's friends told local news outlet WMUR that she had lived in the Virgin Islands for years and worked at a coffee shop on St. John.
"She was a very beautiful person," one friend told the outlet. "She had a huge heart. She was really loving and kind and well-loved and popular on the island, and everybody knows her."