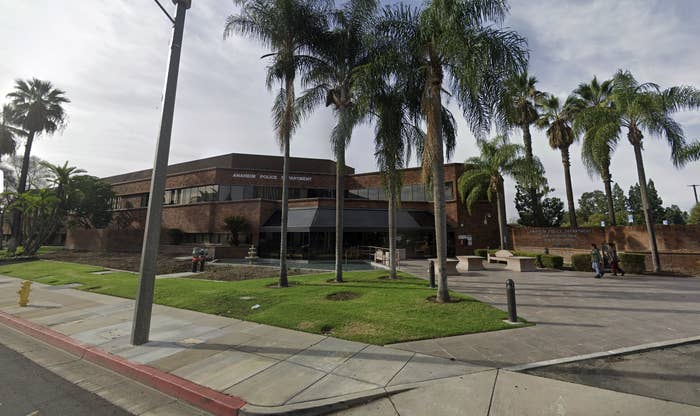 A former US marshal was found guilty of federal crimes last week after prosecutors said he worked with his wife to stage sexual assaults and frame his ex-fiancé for hiring men off Craigslist to attack her.
The Department of Justice announced Friday that Ian R. Diaz, 44, was found guilty of perjury, conspiracy to commit cyberstalking, cyberstalking, and obstruction of a federal matter. According to prosecutors, in 2016, he and his then-wife, Angela Diaz, accused his ex-fiancé Michelle Hadley of posting ads on Craigslist stating that Angela was seeking men for her "rape fantasies." They falsely reported that Angela had been sexually assaulted, and as a result of the false reports, Hadley was arrested.
According to Ian Diaz's indictment, he and Hadley had broken up in August 2015 and were arguing about a condo they bought together. He married Angela in February 2016.
Prosecutors said the couple began conspiring in May 2016 to "interfere" with Hadley's interest in the property by framing her for a crime she did not commit.
Prosecutors said that the couple used fake emails and VPNs and messaged each other using encrypted messaging services to frame Hadley.
According to court documents, from June to July 2016, the couple made several false reports to local police that Angela Diaz had been sexually assaulted because of ads on Craigslist that they claimed Hadley had posted.
According to the indictment, Ian Diaz convinced local police in Anaheim, California, that his ex-fiancé was a threat and told them that in his work as a US marshal, he investigated threats made to federal judges and prosecutors and had "never seen anything like this."
"Ian Diaz abused his position as a deputy U.S. Marshal to execute an intricate cyberstalking scheme that framed an innocent person for sexual assault, leading to her unjust imprisonment for 88 days," Assistant Attorney General Kenneth A. Polite Jr. said in a statement. "As this prosecution demonstrates, the Criminal Division is committed to preserving the public's confidence in law enforcement by holding accountable any official who violates their oath of office and victimizes the community they are sworn to serve."
Hadley was arrested in June 2016, and her bail was set at $1 million. Unable to pay bail, she spent 88 days in jail until investigators realized she had been falsely accused. The Orange County district attorney's office dropped charges against her on Jan. 9, 2017, the same day Angela Diaz was charged. She pleaded guilty and was sentenced to five years in prison; she and Ian Diaz have since divorced.
Hadley filed a federal civil suit against the couple in 2018, also naming the city of Anaheim and members of the police department, accusing them of false imprisonment, false arrest, civil rights violations, assault, intentional infliction of emotional distress, defamation, negligence, and malicious prosecution. The lawsuit was settled in April 2021.
In 2019, Hadley told BuzzFeed News about her fight for justice against her ex and the police officers who immediately believed his false accusations.
Ian Diaz is scheduled for sentencing on June 30 and faces a maximum penalty of 20 years in prison.