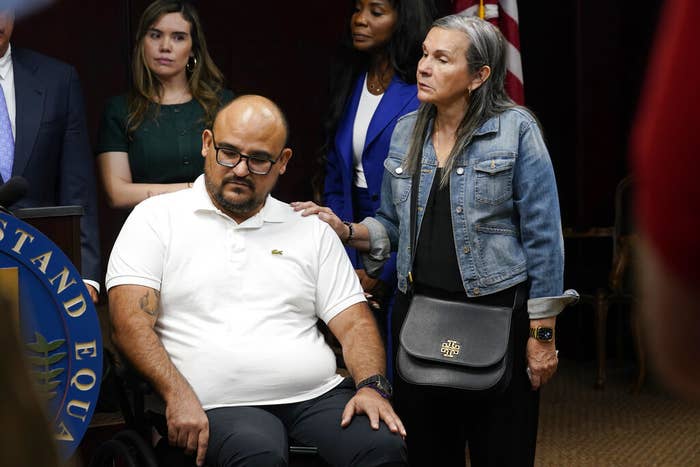 A man who was paralyzed after being shot by a police officer who had mistaken his gun for a Taser has filed a lawsuit.
Michael Ortiz, 43, was shot July 3, 2021, by a police officer at his mother's home in Hollywood, Florida. According to his lawsuit, which was filed on Tuesday, he called 911 while he was having a mental health emergency and chest pains.
"Michael Ortiz needed a helping hand and what he got was a bullet to the back," his attorney Ben Crump said at a news conference on Wednesday. "How can police officers make a mistake between a Taser and a gun?"
After his 911 call, Hollywood Fire and Rescue paramedics arrived at the scene as Ortiz was coming out of the shower, naked and acting erratically because he was still mentally unstable, the lawsuit's complaint said.
The paramedics placed Ortiz on the ground, and Hollywood police officers Henry Andrews, Diante Roots, and Jhonny Jimenez arrived at the scene. According to the complaint, Ortiz "was not a physical threat to the safety of any officers or himself" during his episode; however, Roots tased Ortiz.
Handcuffed and still naked on the floor with Taser prongs inside him, Ortiz regained consciousness and became alarmed, the complaint said. Andrews then reached for his gun and shot Ortiz in the back, the complaint said.
"When Plaintiff was shot, he was in handcuffs and did not pose a threat of serious physical harm or risk of flight. Further, because Michael was naked, no officer could have reasonably believed that Plaintiff had any concealed weapons on his person," the complaint read.
The Hollywood police and fire departments did not respond to questions from BuzzFeed News on Thursday. Last year, the Hollywood Police Department told the Associated Press that Andrews had intended to pull out his Taser.
"While the investigation is still active and ongoing, an initial review suggests the officer intended to deploy his taser, but instead discharged his firearm," the statement read.
At the news conference on Wednesday, Ortiz said his and his mother's lives changed after he was shot. Ortiz is now paralyzed from the chest down and will need to be taken care of for the rest of his life. Attorney Hunter Shkolnik said Ortiz owes millions in medical bills.
In September 2022, Andrews was charged with a misdemeanor count of culpable negligence. The Florida Department of Law Enforcement told BuzzFeed News the case is still active.
"The officer is just getting a slap on the wrist and you compare that to what Michael Ortiz is having to live with and you say, how is that fair?" Crump said.
The attorney representing the officer in his criminal case told the AP that another lawyer will represent Andrews in the new civil case, but his client had no intent to harm Ortiz.
"In responding to a difficult and chaotic situation, Officer Andrews intended to deploy his taser and mistakenly discharged his firearm," attorney Jeremy Kroll told the AP. "There was absolutely no intent to harm in this case. He and his family continue to have Mr. Ortiz in their thoughts and prayers."