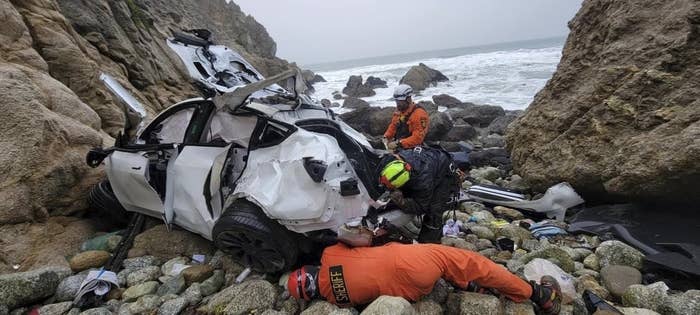 The father who was driving a Tesla that fell 250 feet off a Northern California cliff earlier this month while his family was inside has been charged with attempted murder.
Dharmesh Patel, 41, was charged Monday with attempted murder and child abuse after prosecutors accused him of intentionally plunging off the cliff with his wife, 41, and two children, 4 and 7, on Jan. 2, according to a complaint filed by the San Mateo district attorney's office. They all survived, and Patel spent weeks in a hospital before being booked into jail. He is being held without bail.
According to the complaint, the charges include enhancements for domestic violence and inflicting great bodily injury.
Patel's Tesla plunged from the section of Pacific Coast Highway known as the Devil's Slide, notorious for being the site of fatal car accidents.
After the crash, the family was trapped inside and presumed dead until firefighters spotted someone moving inside. A dramatic rescue effort was launched.
"We were actually very shocked when we found survivable victims in the vehicle. So that actually was a hopeful moment for us," CalFire battalion chief Brian Pottenger said.
The California Highway Patrol initially believed that the crash was caused by the Tesla's self-driving mode; however, based on the evidence collected, they quickly turned their attention to Patel.
"There has been no determination as to what driving mode the Tesla was in; however, that does not appear to be a contributing factor in this incident," a Jan. 3 statement read.
Patel is expected to appear in court on Feb. 9, according to booking records by the San Mateo County sheriff's office.