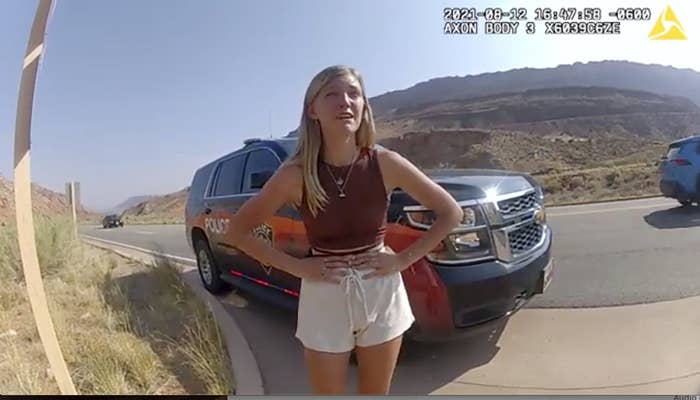 Brian Laundrie's mother provided new details about the letter she wrote to her son that said "burn after reading" on the envelope, which has become the center of a dispute in the ongoing lawsuit between the Laundries and Gabby Petito's parents.
In a sworn affidavit filed on Monday, Roberta Laundrie said that the letter she wrote to her son had nothing to do with Petito's murder and should remain private. A lawyer representing Petito's parents previously called it a "damning" piece of potential evidence with references to burying a body.
"While I used words that seem to have a connection with Brian's actions and his taking of Gabby's life, I never would have fathomed the events that unfolded months later between Brian and Gabby would reflect the words in my letter," Roberta said in her affidavit.
Petito's parents, Joseph Petito and Nichole Schmidt, in March sued the Laundries for emotional distress, accusing them of hiding that they knew about the murder in the weeks before Petito's body was found near a Wyoming campground. After returning to his parents' Florida home, Laundrie also disappeared and was found dead by suicide in a nature preserve after a weekslong search for him. A written confession to Petito's murder was found in his backpack.
In a December court hearing, Patrick Reilly, a lawyer representing the Petito family, said the letter written by Roberta could be evidence of the Laundrie family's involvement after the murder. The letter contained references to helping Laundrie get out of prison, getting a shovel, and helping bury the body, he said, according to CNN.
In her affidavit filed on Monday, Roberta said the contents of her letter were taken out of context and she had written it months before her son killed Gabby. (The letter is undated, and Reilly argued it should be up for a jury to decide if it's relevant to the lawsuit.)
Roberta said her relationship with Brian was strained in the months leading up to the trip, and she wrote the letter with the purpose of reaching out to him during a difficult time.
"My words to Brian were meant to convey my love and support for my son through a light-hearted and quirky reminder that my love for him was not diminished and could not be shaken by miles of separation we would soon be faced with," she said.
She admitted to writing "burn after reading" on the envelope, but said that it was an inside joke referring to a book Gabby had given Brian called Burn After Writing, which instructs readers to answer questions and express themselves on the page, and then burn the book.
"This is where my message to Brian came from and I wrote on the cover of the letter for Brian to 'Burn After Reading,'" Roberta said. "In short, I was trying to connect with Brian and repair our relationship as he was planning to leave home — and I had hoped this letter would remind him how much I loved him."
Roberta also hit back against suggestions that she had given the letter to Brian after the murder.
"There has been some speculation that this letter was in Brian's possession or in his backpack when he died — insinuating that I gave it to him as he left my home on September 13, 2021 — but that is not true because the FBI had the letter in their possession and questioned members of my family about it prior to October 20, 2021 when my husband and I found Brian's remains in the reserve," Roberta said.
Roberta said in her affidavit that she did not expect anyone to read the letter and argued that it should remain private. A judge has yet to rule on whether it may be submitted into evidence.
"In some way, I did not want anyone else to read it as I know it is not the type of letter a mother writes to her adult son and I did not want to embarrass Brian," Roberta said. "That is why I wrote 'Burn After Reading' on the envelope and I knew that Brian would know what that meant. I am now appreciative that he actually kept it."
In a statement to BuzzFeed News, Reilly said Gabby's parents have waited a long time for the Laundries to address their daughter's death — and were offended to see Roberta's statements on Monday.
"Gabby's parents are extremely offended that Roberta Laundrie used Gabby to defend herself, yet she never spoke up while Gabby was missing," Reilly said.
Reilly said the letter remains relevant to the case and questioned Roberta's crediblity on when it was written. He emphasized that the letter was undated and said fully disclosing its contents could help determine when it was actually written.
"Curiously, since a portion of the letter has already been disclosed, and Roberta Laundrie chose in her affidavit to disclose other portions of the letter, she doesn't want Joe and Nichole to see the entirety of the letter," Reilly said.