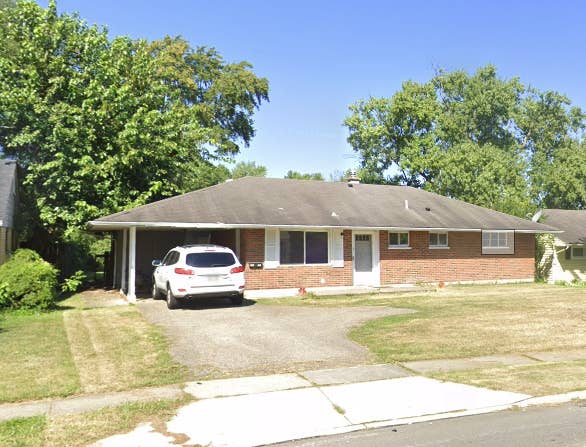 An Ohio mother is suing her landlord after she said he started eviction proceedings because she's Black.
Dermisha Pickett filed a counterclaim on Tuesday against her landlord, Sergey Briskman, accusing him of discrimination, intentional infliction of emotional distress, violating housing laws, and punitive damages after she said he told her, "I just don't want want [sic] any African Americans in this unit at this time." He originally filed for her eviction on March 9; according to her claim, she moved out to a temporary home to avoid conflict.
According to the original eviction complaint, Pickett was notified to move out within the next 30 days on Jan. 12, with her landlord claiming her rental agreement was expiring. Pickett denied that the agreement had expired or that she was notified at that time in her counterclaim.
On Feb. 10, Briskman texted her that he was only taking action against her because of her race, according to text messages attached to her counterclaim.
"I will not rent [to] African Americans again. I don't know why the previous landlord did," the text message said.
Briskman's lawyers did not respond to BuzzFeed News' request for comment.
According to her counterclaim, Pickett and her six children, who range in age from 4 to 14, had lived in the Section 8 apartment unit since 2014. Pickett, who the lawsuit says is disabled, particularly found it conveniently located to medical facilities.
Pickett started experiencing problems with Briskman in 2021, a year after he bought the property, according to the counterclaim.
As a Section 8 apartment, the unit was subjected to yearly inspections. According to the complaint, the most recent inspection in January indicated that certain items in the apartment needed to be repaired in order to qualify for Section 8; when Pickett notified Briskman of that, he refused.
"I'm not fixing anything things until you leave the house so I will make sure it doesn't pass inspection on the 2/15 so there's your answer bye," he allegedly said in a text message.
In another text, he allegedly said, "It's nothing against you I will just rather put a white family in this unit. You did nothing wrong I just don't want a family of color here maybe you should try to go to a shelter," the message read.
According to the counterclaim, Pickett was a "model tenant" who never missed a rental payment nor has ever been late on the payment. Briskman seemed to acknowledge that in another text attached to the counterclaim.
"Do you know when you will be giving me the keys time is running out. I will talk to the other landlord and tell them you're a good tenant and pay the rent on time and always keep a clean house," Briskman allegedly said. "I just don't want you here at this property or have you looked into trying to get into a shelter for you and your family. I really don't want to call the police to get your things out."
When asked why she was given only three days' notice to vacate, Briskman texted, "I don't really want to go into that conversation but I just don't want want [sic] African Americans in this unit at this time," according to the counterclaim.
After many attempts to find new housing, Pickett was able to land a new home for herself and her family; however, she couldn't move in for at least three weeks. When she asked to stay just a bit longer, Briskman allegedly told her to "go stay at a hotel."
On March 13, Briskman allegedly left Pickett a voicemail saying he wanted her out because he was getting ready to sell the house, further stating he did not want any Black people in the home.
"I've been trying to contact you about my keys, I want you out of this unit, I told you already I'm trying to sell the house and I really don't want any African Americans in the house," Briskman allegedly said in the voicemail. "I need you to hurry and give me my key. You call me at this number, you call me at my other number, but either way I need my key."