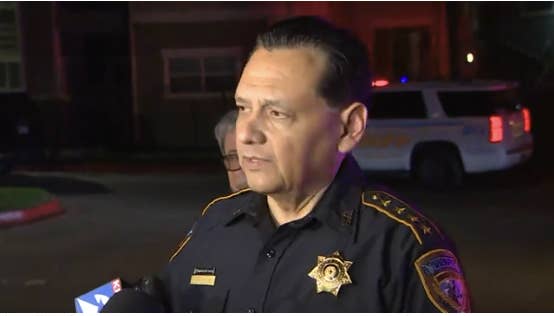 A 3-year-old girl in Texas accidentally shot and killed her 4-year-old sister after finding her parents' loaded gun on Sunday, authorities said.
Speaking at a press conference, Harris County Sheriff Ed Gonzalez said there were five adults with the girls in the apartment, who were all family or friends. The two girls were playing in a bedroom, unintentionally unsupervised because one parent thought the other was watching, Gonzalez said.
The 3-year-old found a loaded semiautomatic pistol and fired one shot at the 4-year-old's face. She was pronounced dead at the scene.
Gonzalez said that shootings like this one are preventable.
"You've got to be sure you're being a responsible gun owner, securing your weapons in a safe place. It's got to be more than just telling young kids not to touch the weapons," Gonzalez said. "You know, we've got to do a little more. We see far too many tragic situations like this unfold."
According to data by Everytown for Gun Safety, there have been at least 58 unintentional shootings by children in the US so far in 2023. Of those, at least 22 deaths and 37 injuries were recorded. The advocacy group found that in 2022, there were at least 353 unintentional shootings by children, resulting in 156 deaths and 212 injuries.
The American Public Health Association says gun violence in the US is a public health crisis. It is a leading cause of premature death in the country, responsible for more than 38,000 deaths annually. As of March 13, at least 3,537 people have died from gun violence this year, and another 4,752 have died by suicide, according to data from the Gun Violence Archive.
A spokesperson for the Harris County sheriff's office told BuzzFeed News in an email that the department's Crimes Against Children unit has taken over the investigation, in which it will determine whether the parents had properly stored the gun or were otherwise negligent.
"Our hearts are broken. Our deputies are pretty shaken up," Gonzalez said. "The community is impacted when a child loses their life in this way."