Vice Is About To Solve A Big Problem For Time Warner: HLN
An opportunity to ditch an inconvenient channel. Shane Smith could be about to get his network.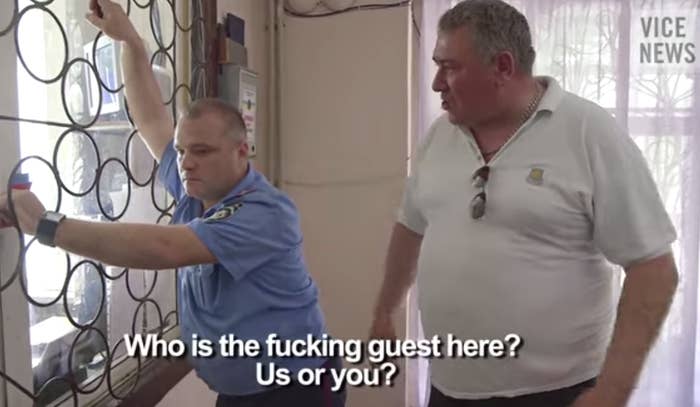 Time Warner isn't so much buying into Vice as getting rid of HLN.
The media conglomerate is "very close" to a deal with Vice, a source familiar with the situation confirmed to BuzzFeed. Under the deal, Time Warner would buy out the roughly 45% stake in the hipster digital media company held by The Raine Group and perhaps stakes held by other investors, including Rupert Murdoch's 21st Century Fox. Precise terms of the deal (first reported by Sky News) are still being worked out, but it appears that Time Warner plans to contribute cash and its cable news network HLN into a newly formed entity that Vice would operate.
A Time Warner representative declined comment. Calls to executives or representatives at The Raine Group, 21st Century Fox, HLN, and Vice were not returned.
While much of the discussion of the deal has focused on Time Warner acquiring a piece of Vice, what it is really aiming to do with the deal is solve its perpetual HLN problem.
The cable news network sibling of CNN has always been something of an unwanted stepchild inside of Time Warner. Despite being fully distributed, reaching more than 100 million U.S. households, HLN receives no carriage fees — the payments made to the network by pay-TV distributors that frequently make up more than 50% of a given channel's revenue. On the advertising side, HLN generates considerably less than its peer group of CNN, FOX News, and MSNBC. According to SNL Kagan, on a cash flow basis FOX News is expected to generate $1.1 billion this year, CNN $337 million, and MSNBC $216 million. HLN, however, is on track to earn a paltry $73 million.
Strategically, HLN is inconsequential to Time Warner's larger corporate operation, which includes a film division, HBO, and other networks such as TNT, TBS, Cartoon Network, and others that generate more advertising and carriage fees than HLN.
Jettisoning HLN would also fit the blueprint Time Warner CEO Jeff Bewkes has followed with some of the company's other assets. While Bewkes has been very vocal in his view that mergers and acquisitions don't create value for shareholders, he appears to be a huge fan of disposals and spin offs to get rid of lagging assets. AOL, Time Warner Cable, and Time Inc. were all spun out from the larger Time Warner under Bewkes' reign, the last just yesterday. The Vice deal, should it go through, is simply a spin out of HLN by another name.
Think of it as the opposite of John Malone's "trading up" philosophy, under which the legendary cable mogul would trade large stakes in small companies for small stakes in larger companies through a merger, acquisition, or spin-off. What Time Warner is trying to do here is to trade down — to peel off a wholly owned network and merge it into another company in which it would own a piece. HLN would still likely receive distribution through Time Warner's current contracts with pay-TV operators, and while the company would control less of the combined entity it would still be able to benefit from ratings and advertising gains generated from "giving HLN's content a facelift," the source said. The ultimate goal would be to rebrand HLN as Vice to attract a larger and younger audience — and eventually renegotiate its contracts with cable operators and start collecting carriage fees.
That, of course, is the best-case scenario. As Capital New York's Alex Weprin points out, "If Vice were to gain control of HLN, the channel would almost certainly have to be unbundled from CNN. That could be messy, as pay-TV providers could seek to cut CNN's carriage fee, or decline to carry HLN. If HLN were to continue to be bundled with CNN, Vice wouldn't be able to capitalize on carriage fees, which would still be tied to CNN. All in all it would be a messy transaction."
As it currently stands, nothing really defines HLN from a programming perspective. It has a few popular hosts such as Nancy Grace and Dr. Drew Pinsky, and has found a bit of a niche with courtroom coverage of sensational trials. But no programming strategy has really stuck, and earlier this year, the network announced yet another repositioning, this time around social media, with headlines ripped from Twitter and Facebook and a slogan telling viewers, "We're not the news. You are."
The potential deal with Vice has emerged before HLN has had a chance to implement its new programming strategy, which is perhaps the most telling indication of how Bewkes feels about the network. Meanwhile Vice co-founder Shane Smith has long been on the hunt for a television network — and what Bewkes appears to be saying is, "Here, take this one."