The Big New $50 Billion TV Deal Has Nothing To Do With TV
AT&T's interest in DirecTV is less about strategic fit and more about gaining access to the satellite operator's massive cash flow.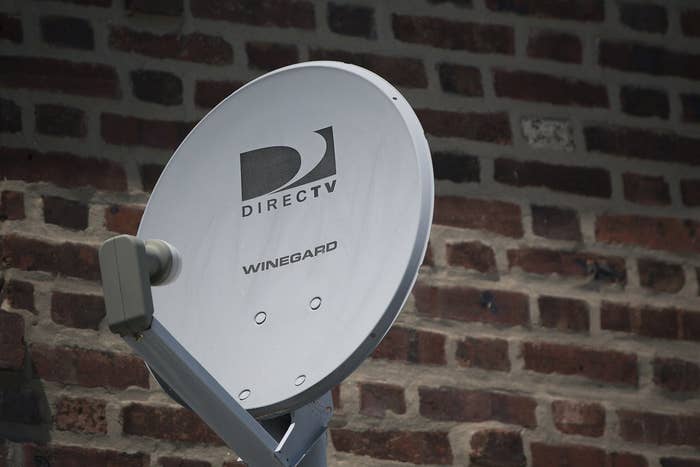 On the surface, AT&T's potential $50 billion deal to acquire DirecTV is being driven by a need to bulk up to better compete with the looming Comcast-Time Warner Cable merger. After all, AT&T's management has repeatedly labeled that deal, which would give Comcast control of roughly 30 million subscribers, as "industry-redefining." Adding DirecTV's roughly 20 million subscribers, which rank it as the largest satellite TV operator in the country and the second-largest pay-TV operator overall behind only Comcast, to AT&T's fledgling U-verse service, which has just under 6 million subscribers, will help in negotiating better carriage deals with programmers and instantly vault AT&T into a national competitor.
But look closer and you'll see that AT&T's interest in DirecTV isn't about video at all. In fact, the rationale for the deal is less strategic than financial. What AT&T really wants access to is not DirecTV's 20 million video subscribers, but rather the $2.6 billion in free cash flow the satellite operator generated last year. (Or $8 billion before interest, tax, and other expenses.)
Don't take my word for it — take AT&T's. According to a Barclays report from early April based on meetings with executives from AT&T's investor relations team, "while the company believes there are some strategic advantages to owning a direct video satellite business, longer term management believes that content consumption will increasingly follow an over-the-top structure. This suggests that linear video may not be as enticing an endeavor longer term."
Put another way, AT&T's management believes — accurately — that subscribers to traditional pay-TV services offered by its U-verse service or DirecTV (or Comcast) will decline over time as video consumption migrates to streaming delivery over the Internet. Since DirecTV doesn't offer broadband, it's no wonder that the satellite operator would want to sell while it can. And surely part of the reason AT&T would want to buy DirecTV is because a combined company could offer a bundled package of video, broadband, and telephone services to subscribers. As linear video consumption declines, it can move the satellite operator's subscribers to other platforms.
But that's only a small part of the reason why this deal, which has been rumored for more than a decade, now suddenly has more gravity. As The Carmel Group's Jimmy Schaeffler points out, the logistics of such a migration aren't as simple as flipping a switch. The two companies currently deliver video via different methods — AT&T uses fiber optics and wireless, while DirecTV uses satellites.
"Even though you are bringing the two companies together, you are still paying for two different delivery systems, so the synergies are low," Schaeffler said.
Synergies, of course, is a dirty word for the money companies save through layoffs and other cost-cutting measures. Comcast expects to save about $1.5 billion annually from its merger with Time Warner Cable, for instance, but analysts project a combined AT&T-DirecTV to save only about $1 billion.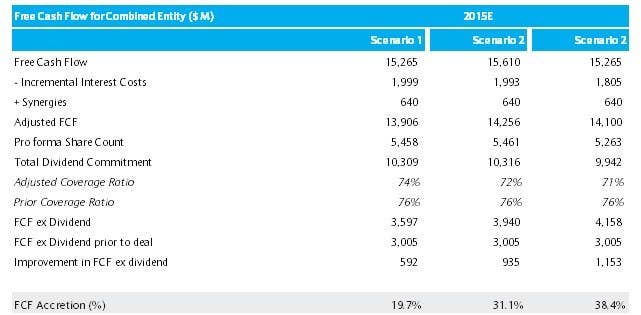 The larger reason for the deal's sudden urgency is what AT&T could do with the money DirecTV generates. AT&T needs the cash for two things: to help fund both its dividend payments to shareholders; and for strategically important initiatives, including future acquisitions.
AT&T has increased its dividend payment, the money it returns to shareholders, every year for the last three decades, distributing $9.7 billion to investors last year. The company funds those payments with free cash flow, and analysts are increasingly worried that the amount of money it pays out is eating up too much of its cash. According to The Motley Fool, AT&T used 70% of its free cash flow to fund dividend payments last year.
AT&T is reportedly contemplating an offer for DirecTV of around $95 per share comprised of both cash and stock and the raising of new debt. This purchase price would both allow AT&T to maintain its current credit rating — which is important for keeping interest rates low and raising new money — and also have the deal add rather than subtract from its cash flow generation. According to Barclays, a deal at this level would add around $4 billion in free cash flow to AT&T annually overall and anywhere from $500 million to $1.1 billion after dividend payments.
"While some investors may question the longer-term strategic value of such a transaction, particularly given the other options that seem to be on the table for AT&T and the diminishing value of DIRECTV's linear content delivery technology as video consumption increasingly moves to an [over-the-top] model, in the near term a financially viable transaction should ease some of the dividend coverage concerns that have been looming over the shares," Barclays analysts wrote in a report Monday.
More importantly, as Barclays alluded to in its report, having access to more free cash flow would give AT&T the flexibility to pursue other strategic deals over time. Like, say, for instance in the wireless industry, where AT&T ranks as the second-largest wireless carrier in the country and is arguably seeing more competition than it is on the video side, with Verizon and Sprint having access to vast amounts of cash to expand by virtue of their own recent deals. AT&T has much more at stake in wireless than it does in video, which is why it tried to buy T-Mobile for $39 billion in 2011 (the deal was eventually rejected by regulators) and why earlier this year it examined by European wireless operator Vodafone.
Outside of an acquisition, AT&T could use the extra cash to upgrade the quality of both its wireless and landline networks. Or further build out its prepaid phone business. Or, if DirecTV's Latin American business is included in the deal, move aggressively into that market, which has been a growth area for the satellite operator.
What's clear is that nearly all of AT&T's business lines are undergoing rapid and dramatic change. And while adding DirecTV's 20 million subscribers is nice, what's even better is the flexibility to pursue strategic needs without risking the wrath of dividend-dependent investors that the satellite operator's billions of dollars in cash flow generation provides.