Why Big Media Won't Stand Up To Comcast
CBS, Time Warner, Viacom, 21st Century Fox, Disney, Discovery, and other big media companies weren't at Comcast's Senate panel hearing Wednesday. The eternal forces of fear and greed.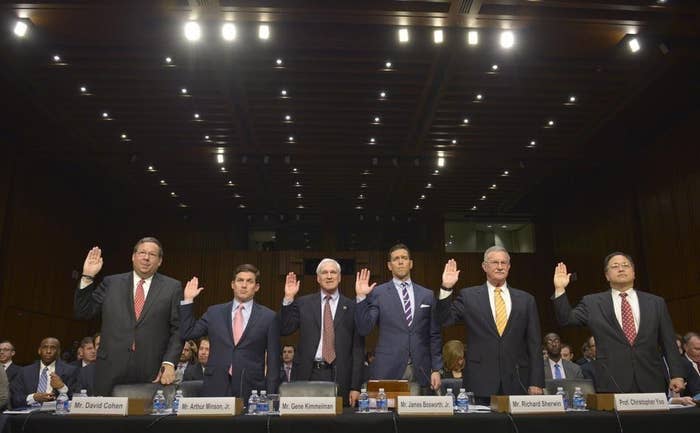 If there is one thing to take away from Comcast's appearance before a Senate panel Wednesday to defend its $45.2 billion merger with Time Warner Cable it is this: Not one of the biggest TV network operators in the country testified.
Not CBS or Viacom, both controlled by billionaire mogul Sumner Redstone. Not 21st Century Fox, owned by billionaire mogul Rupert Murdoch (Sensing a theme here?) Not Time Warner. Not Disney. Not Discovery. None of these companies had anything to say about a merger that will hand Comcast control of roughly 30% of the nation's television homes and 19 of top 20 markets. We already knew NBC Universal wouldn't have an opinion about the merger since Comcast already owns that company. But the silence of the other companies, which collectively are worth $360.2 billion, said more than any of their testimony ever could.
And what the collective said boils down to this: Don't bite the hand that pays you.
Comcast's single biggest expense is on programming, for which it paid out $9.1 billion last year. The bulk of that money went to the six companies who suddenly lost their tongues.
Of Viacom's $13.8 billion in total revenue in 2013, $9.7 billion of it came from its cable networks. While the latter figure includes payments from all pay-TV operators, Comcast's standing as the nation's largest cable operator with about 21 million subscribers (even without Time Warner Cable) means that it naturally paid Viacom more than anyone else.
Or take CBS on the broadcast side. That company's chief executive, Les Moonves, has been enthusiastically telling anyone from investors to Inuits that by 2020 his company should collect $2 billion per year from cable and satellite operators that want to distribute its programming, again Comcast chief among them.
Comcast would have you believe that the reason it pays out so much money to network owners is because they have, to use the words of its executive who oversees government and regulatory affairs, David Cohen, "inordinate market power."
"Over the last decade programming costs have gone up 98%, while cable rates have gone up half as much. Programmers have more power at the negotiating table," Cohen said in testimony in front of the Senate Judiciary Committee on Wednesday, adding that Comcast won't gain undue power over programmers if the deal was approved.
That, of course, is not at all true. The truth is that Comcast already has immense leverage over programmers and will only gain more if the deal is approved. Senator Amy Klobucher (D-Minn.) had a more accurate take on the current balance of power when she noted that television network owners are finding it "increasingly hard to negotiate carriage agreements" and that "many programmers are afraid to go public with concerns about the Comcast-Time Warner Cable deal."
In recent years, networks ranging from ABC and CBS to those owned by Viacom and AMC have been blacked out because of carriage fee disputes with cable operators. DirecTV dropped The Weather Channel from its systems in January, for instance, and only restored it this week after extracting major concessions.
Comcast is both very proud and very vocal about the fact that historically it has been able to avoid having to drop channels as a result of carriage fee disputes. The company has been less than forthcoming with the reason for that, which is that television networks need to be on Comcast's systems. Unlike, say, Cablevision, which only reaches 3 million subscribers, or Dish Network, which serves 14 million, Comcast is simply too large for virtually any television network to risk going to battle against. The financial implications of being dropped from Comcast in terms of lost subscriber fees and advertising revenue is magnitudes more damaging than on any other cable system. (The lone exception to this is CBS, which after being dropped from Time Warner Cable for the better part of August resulted in that company losing 306,000 subscribers. Ironically, that dispute likely played a part in putting Time Warner Cable on the block and ultimately its deal with Comcast.)
As it currently stands, the only pay-TV distributor with similar market power to Comcast would be DirecTV, which has just over 20 million subscribers. But consider that if the merger is approved, a combined Comcast-Time Warner Cable would grow its subscriber base by half of DirecTV's. Controlling access to 30 million of the roughly 103 million U.S. homes that have a pay-TV subscription is vastly different than controlling access to 20 million homes. It's a matter of simple math — having 30% of something is better than having 20% of something.
"You are either on their systems or you are not. With an additional 8 million subscribers, Comcast will be in the driver's seat," said Gene Kimmelman, the president and CEO of Public Knowledge, a consumer protection organization, during Wednesday's hearing. He added that, in terms of exerting leverage during carriage negotiations, "the squeeze will come from Comcast, they want to save money."
Television network owners know this. That's why, just 24 hours after the merger was announced, the New York Times ran a story suggesting that if approved the deal could spur additional consolidation among television network owners to better compete with a combined Comcast-Time Warner Cable. The report speculated on a possible Discovery-Scripps merger, which was contemplated then called off then contemplated again, and said other deals could involve Viacom and AMC, among others.
What the report didn't do was cite any representative or company official on the record. You won't find any public comments from the big television network owners decrying the deal. The most aggressive comment you'll see is something to the effect of, "We're taking wait-and-see approach."
Television network owners are scared, but they're not stupid. They are not going to publicly agitate against the deal of their biggest and most powerful partner, even if it makes that partner even bigger and more powerful. They will let analysts and consumer advocates and industry experts and even anonymous sources make the case for them.
But maybe, just maybe, it would carry more weight if they did it themselves.