Soup Just Got A Bit More Exciting
So claims a Citigroup report on the business potential of Campbell's entering the dry soup market via a deal with coffee brewer Keurig.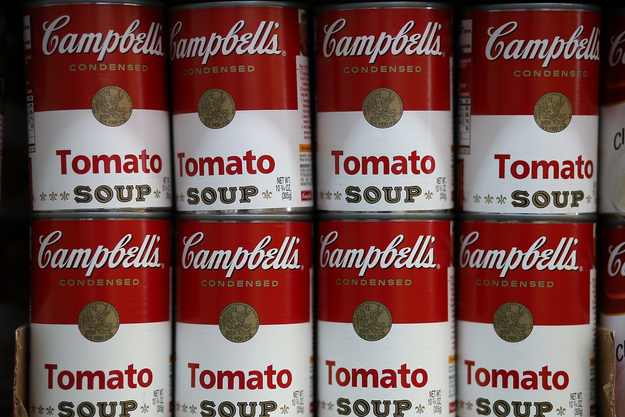 Campbell's wants you to start brewing soup along with your morning coffee.
The iconic soup-in-a-can company yesterday announced a deal with Green Mountain Coffee Roasters, which owns the popular Keurig coffee brewers, to start making Campbell's Fresh Brewed Soup K-Cups.
The partnership is an attempt by Campbell's to enter the fast-growing dry soup market, which according to data supplied by Nielsen is estimated to be a more than $1 billion business.
"Our initial take is that this idea is bold. It moves beyond the can and touches on one of the hottest areas in grocery, single serve beverages," wrote Citigroup analyst David Driscoll in a report. "Campbell's doesn't sell dry soup in the U.S., thus this area is new for the company and sales should be incremental."
Driscoll said three companies currently control 66% of the U.S. dry soup market: Toyo Suisan (Maruchan), Unilever (Lipton Cup-a-Soup), and Nissin (Cup Noodles). He estimates, however, that for every 10% of consumers who own a Keurig brewing machine that buy two boxes of Campbell's K-Cup soup per year, the company could add $20 million in revenue. When considering that Green Mountain estimates that around 17 million Keurig machines are in use at home or in offices around the country, those figures could quickly add up. For instance, using Driscoll's estimates, if 5.1 million Keurig owners, or 30% of the installed base, bought two boxes of Campbell's K-Cup soup per year, that would equate to an incremental $100.2 million per year in revenue for the company.
That's a lot of of Homestyle Chicken Broth & Noodles, which will be one of an initial three varieties of Campbell's K-Cup soup that will be available beginning in 2014.
According to Campbell's press release, "snacking is a growing behavior among U.S. consumers, with more than half snacking multiple times a day. Consumers are also looking for snacks that serve as mini-meals to satisfy hunger, and there is an increasing need for ultra convenient options."
Nielsen data supports that claim.
For the 52 weeks ended June 8, 2013, the total soup market generated $5.9 billion in sales, a increase of 3%. Canned soup recorded $4.5 billion in sales, an increase of 3.4%. Dry soup and mixes and bases came in at just under $1 billion, an increase of 1.6%.
The market's overall growth is reflected in Campbell's own earnings. The company, whose fiscal year ends July 31, reported that full-year U.S. soup sales rose 5% broken out as follows: sales of ready-to-serve soups increasing 9%, sales of condensed soups gaining 2%, and sales of broths rising 4%. Overall, the company's U.S. simple meals segment, which includes soups and sauces, posted $2.8 billion in sales.
Given the trends, Driscoll wonders if Cambell's K-Cup soups "might play especially well in the office market as an on-the-go, convenient eating option."