Rupert Murdoch And Sumner Redstone Could End Up Together
Stranger things have happened.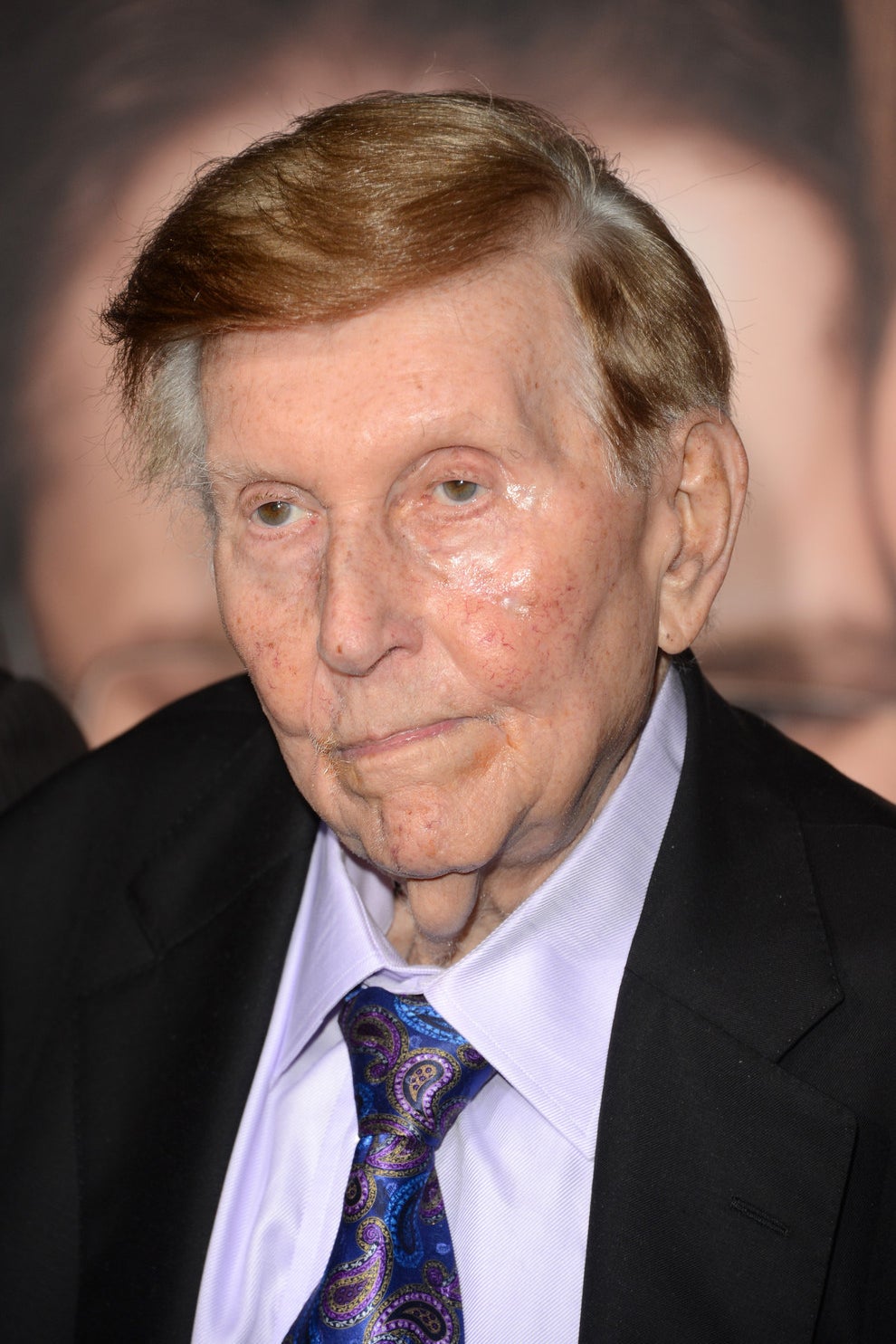 During their combined 174 years on Earth, Sumner Redstone and Rupert Murdoch have amassed control of four companies — CBS and Viacom for Redstone; News Corp and 21st Century Fox for Murdoch — worth a combined $160.4 billion. Because of their generation and industry, Redstone, 91, and Murdoch, 83, will be forever linked in the annals of media moguldom. Their compulsive dealmaking, intense competitiveness, fraught family dynasties (both men have been married several times and have fought publicly with their children), and singular rule over their respective media kingdoms has made their rivalry one of the business world's most fun to watch.
Now, as the media landscape undergoes another tectonic shift, all eyes are again on the eldest moguls in old media. And what everyone watching is waiting to see is who will use their final act to pull off one last, great mega-merger. Or, even richer to imagine, is if the two rivals end their respective careers by tying their companies together.
The logic that could bring together the two moguls is this: digital disruption, declining advertising, and the impending mergers of distributors Comcast-Time Warner Cable and AT&T-DirecTV are putting pressure on content companies like Viacom and 21st Century Fox to get bigger to compete. As The Wall Street Journal reported, the need to gain scale to help in carriage fee negotiations with suddenly much bigger distributors, coupled with a desire to further diversify their asset bases, have content companies "priming themselves for what many industry executives believe will be a major round of consolidation."
Redstone and Murdoch have been driving media industry consolidation for more than three decades, building their empires on a foundation of dealmaking, often in competition with each other. Redstone famously fired beloved MTV co-founder Tom Freston as CEO of Viacom in 2006 after he lost out on buying MySpace to Murdoch. (We all know how that turned out for Murdoch.) Redstone's conquests include BET, CBS, and Paramount Communications. Included among Murdoch's deals are 20th Century Fox, Dow Jones, HarperCollins, BSkyB, and dozens of newspapers and television stations.
After building global media powerhouses one deal at a time, both Redstone and Murdoch took the drastic step of breaking apart their companies in recent years. Redstone did it to satisfy Wall Street's demands, while Murdoch's motivation was born largely out of a need to quarantine the cancer from the phone-hacking scandal from spreading throughout the company. The separation has worked out well for both men, with their respective companies arguably in a stronger position from a stock price and balance sheet perspective than they have been in years. And, of course, a strong stock price and balance sheet means a strong deal hand.
At around $86 per share, Viacom stock is trading near an all-time high. The company, which owns MTV, Comedy Central, Nickelodeon and other cable networks, along with the Paramount film studio, has $2.6 billion in cash and cash equivalents on its books against just $12.7 billion in long-term debt and boasts a market capitalization of $37 billion. CBS's balance sheet is equally strong, with $311 million in cash and cash equivalents against $7.4 billion in debt and a market capitalization of $35 billion. Its shares, while off their all-time highs, trade at a robust $58 and the company, which owns the CBS broadcast network, pay-TV network Showtime and a large radio station group, among other assets, has been posting record revenue and earnings for the last several quarters.
Since being freed from the ink-and-paper shackles of Murdoch's newspaper holdings — now housed under the News Corp banner — 21st Century Fox has outperformed. Its shares trade at just under $35 and its market capitalization of $77.4 billion is more than both CBS and Viacom combined. More importantly, the company has just $18.3 billion in long-term debt and at least $5.5 billion in cash and cash equivalents on its books. Another $9 billion more could be added to its cash pile if the company, which owns the FOX broadcast network, cable channels FX, and Fox News, and the 20th Century Fox movie studio, among other assets, goes through with the sale of its satellite-TV holdings in Europe.
Reports like the one in the WSJ and an earlier one from February in The New York Times cite smaller players like AMC Networks, Discovery Communications, Scripps or Lionsgate as potential targets. But those are relatively small prey for big-game hunters like Redstone and Murdoch, particularly when distributors are doing deals that increase their size by 50% or 100% or even more in the case of AT&T. And in the world of moguls, where dick size is measured by market cap, adding second-tier channels like AMC or Food Network or Animal Planet isn't much to brag about.
Time Warner, on the other hand, would add girth worth boasting about. So, too, would Spanish-language broadcaster Univision. As it happens, both of those companies are available for the taking. The slimmed-down Time Warner, which has cast off AOL and its music, cable, and magazine operations under CEO Jeff Bewkes, doesn't have a dual-class ownership structure, meaning that no individual shareholder or ownership group could block a sale or merger. Its film and production studio and stable of cable networks, among them HBO, TNT, TBS, CNN, and Cartoon Network, would fit nicely with either of Redstone's companies or Murdoch's FOX.
For its part, Univision's private equity owners have recently begun canvassing for a sale with an asking price of $20 billion. One of their first stops: CBS.
But there are two other possible deal scenarios that could also unfold. One is that Redstone could reunite Viacom and CBS, a long shot that corporate media reporters would love if only for the bare-knuckle executive brawl that would certainly ensue between Viacom CEO Philippe Dauman and CBS boss Les Moonves for control of the combined entity.
The other possibility is that FOX buys Viacom. Its been an open secret in the media industry that Viacom eventually will be put on the block, and FOX, which is twice as large, could easily afford it. The advertiser-coveted young male demographic makeup of the audience for Viacom's networks overlaps with those of FOX's, and the lean way Paramount has been operating in recent years makes absorbing it into 20th Century Fox relatively clean.
Historically, a deal between Redstone and Murdoch would have been considered anathema by both men, mainly because neither would be willing to cede control to the other. Both men have systematically pushed out anyone who has threatened their control over the years.
Times change, however, even for moguls. Murdoch has spent the last two years getting his house back in order, returning his son Lachlan to the corporate fold and positioning him and younger son, James, to eventually takeover his companies. Redstone, though he still insists that he is immortal, has stepped back from both his companies and public view in recent years. He is basically only heard on earnings calls and seen at charity events around LA.
Coincidentally, the current wave of consolidation is hitting just as the Sun Valley conference, the annual retreat sponsored by investment bank Allen & Co that brings together media, tech, and finance moguls for a week of potential dealmaking, is about to take place. Top executives from Viacom, CBS, FOX, and News Corp, including Dauman, Moonves, Murdoch and his sons, usually attend. (Redstone hasn't made an appearance at the conference in a few years.)
It is entirely possible to imagine that these two consummate dealmakers and empire builders could walk off into the sunset together, ensuring the legacies of both themselves and their companies by securing one last mega-merger.
After all, stranger things have happened.
Correction: This post mistakenly said the Spike cable TV network was owned by FOX. It is actually owned by Viacom.