On a chilly Wednesday evening in late March, about 200 people gathered in a nondescript brown brick building up the street from the Jacob Javits Center in New York for what was billed as a "dynamic dining" event. Hosted by the Royal Caribbean cruise line, the event brought together travel agents, media, and others to showcase 18 new restaurants — including celebrity chef Jamie Oliver's first aboard a cruise ship — for passengers on the company's new Quantum of the Seas, a roughly 168,000-ton floating village that can carry just under 5,000 passengers and cost an estimated $969 million to build.
Quantum, which will sail out of Cape Liberty in Bayonne, N.J., and make its maiden voyage this November, represents for Royal Caribbean an updated and modernized take on the cruise experience. The vessel is a marvel of engineering, featuring 16 decks, 2,090 staterooms, 30 bumper cars, a rock climbing wall, and even an onboard skydiving simulator, in addition to the pools, casino, spa, and retail shops that are cruise ship staples. Its program — the excursions, entertainment, dining, and onboard activities offered — does away with the rigid scheduling and formality that many negatively associate with the cruise experience and instead gives passengers the flexibility to essentially do what they want when they want. The ship's new restaurant options, for instance, require no set dining time, no assigned seating, and varying dress codes so passengers can be as formal or as casual as they wish. Royal Caribbean, which ranks as the world's second-largest cruise company, even developed a "dynamic dining" app that allows passengers to pick where and when to eat either before departure or when on board, alerting them when the restaurant or reservation time conflicts with something else on their agenda and suggesting alternatives.
Quantum's arrival comes at a critical time for the cruise ship industry, the size of which Goldman Sachs estimates to be about $29 billion annually. Industry trade group Cruise Lines International Association (CLIA) forecasts that 21.7 million people will take a cruise this year, the largest annual total ever, but still a relatively small number that equates to roughly 4% of the traveling public last year. The key to moving cruising from a basically niche vacation option to mainstream adoption is getting new, rather than repeat, passengers. Indeed, growing the overall cruise market depends almost entirely on convincing people who have never been on a cruise before to take one, particularly those in the so-called "millennial generation." Changing cruising's perception among twentysomethings — who currently see it as stuffy, bland, against their DIY ethos, and possibly dangerous — is absolutely critical to its financial future since, to use CLIA's own words in its "State of the Industry 2014" report, "the greatest potential market for first-time cruisers include the 95 million millennials, a group between the ages of 18 to 37 that accounts for $1.3 trillion in consumer spending."
Statistics show that people who have been on a cruise before are roughly five times more likely to take another one. About three-fourths of Royal Caribbean's guests have cruised before, for instance, and more than 25% have sailed with the company previously, one of the highest repeat passenger percentages in the industry. But while the overall 21.7 million people who took a cruise last year seems large, it is only an increase of 400,000 over 2013, which isn't very significant when considering that the industry has added 29 new ships with an excess of 34,000 beds over the last two years.
Underlying the cruise industry's bid to entice new passengers is a sort of contrarian business logic — whereas in most industries demand drives supply, cruise operators believe supply drives demand. Put another way, the more new ships they build, the more people will want to take cruises. If that theory is true, then 2014 should mark the beginning of the boom years for the cruise industry. Between now and 2018, based on CLIA data, 36 new ships with more than 70,000 beds will be added to the industry's global fleet, from traditional cruise liners to smaller ships meant for river-based cruises, which is an emerging and more intimate style of cruise vacation.
"All of us in the industry recognize that the opportunity is to grow the cruise pie," said CLIA President and CEO Christine Duffy. "Cruising as a segment of the travel industry does extremely well once we get people on the ship."
Added Royal Caribbean CEO Richard Fain, "Reaching first time cruisers is a constant challenge. People need to experience a cruise to appreciate it, then they become obnoxious about how good they are. The best marketing we have is word of mouth."
Well, perhaps not lately. When asked about recent negative press coverage of the cruise industry, and how much he hates CNN in particular, Fain just laughed, smiled, and walked away.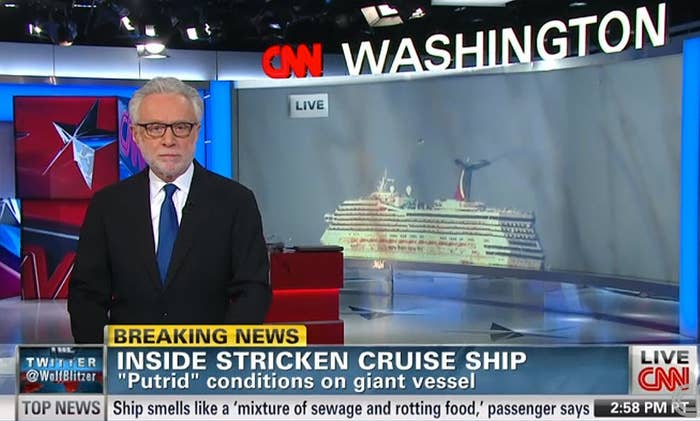 Valentine's Day 2013 was a lovely day for CNN, but a shitty one for the cruise industry. Literally.
It was on that day that CNN — one month into the tenure of new CEO Jeff Zucker, who arrived at the network from NBC Universal with a plan to lift it out of the ratings basement among cable news networks by "broadening the definition of news beyond just politics and war" — broke the "poop cruise" story wide open. Over a 24-hour period, CNN devoted 758 broadcast minutes, or 52% of its programming day, to covering the plight of passengers on Carnival's Triumph liner, who at that point had been stranded at sea for five days without working toilets. The coverage was relentless, and relentlessly negative, and though it wasn't a Royal Caribbean ship, the repercussions were felt throughout the entire industry. (CNN has since apparently turned its attention to wall-to-wall airplane disaster coverage.)
"We do realize that everything that happens in the cruise business is probably going to be hyped up by certain media establishments. CNN appeared to take a leadership position in that respect; they obviously felt that was in their interest to do so," said Adam Goldstein, who was recently promoted to president and chief operating officer of Royal Caribbean. "They're a for-profit business, and that was the decision they made. It was unfortunate that the extent of the coverage in fact affected the industry. We recognize that they are looking for every opportunity it would seem to take unfortunate occurrences and make the most out of them from a media standpoint. It's not just CNN, but I think our perception in the industry is that CNN took the most aggressive stance."
While CNN may have gone overboard with its coverage, the network also represents a convenient scapegoat for the industry. The reality is these unfortunate, "one-time, nonrecurring events," as industry executives describe them to investors, have occurred in five of the last six years. These incidents range from engine fires and norovirus outbreaks (vomiting, diarrhea, abdominal pain) to collisions and sinkings. In Senate hearings on "Cruise Industry Oversight" last July, Ross Klein, a sociology professor at Memorial University in Newfoundland and expert on the industry who runs the blog Cruise Junkie, said in written testimony that "between January 2009 and June 2013 there were more than 350 incidents involving mechanical problems or accidents."
Not all of these events receive mainstream media coverage, and most are often rectified quickly and without injury or inconvenience. Networks don't get ratings by covering planes landing safely or boats pulling into port without incident, after all. But the incidents that are covered, like a norovirus outbreak in January on Royal Caribbean's Explorer of the Seas that sickened about 700 people or the 2012 sinking of the Costa Concordia off the coast of Tuscany that killed 32 passengers and injured 64 others, tend to be major and frightening, particularly to people who have never cruised before. Just last week another outbreak of norovirus sickened 83 passengers aboard a Princess Cruises ship.
"The negative publicity in the media is so much beyond the reality of the situation, and people who have never cruised before have certainly been negatively affected by the coverage," said Tom Coiro, owner of travel agency Direct Line Cruises.
He has a point. Last year there were just seven norovirus outbreaks on cruise ships reported to the Centers for Disease Control and Prevention involving a total of 1,238 passengers. For context, that is just 0.006% of all cruise ship passengers in 2013, and magnitudes smaller than the 20 million norovirus cases that originate on land in an average year.
There has also been a steady drumbeat of stories about crimes ranging from burglary to rape onboard ships that has created the impression that cruising is a dangerous and risky vacation, particularly for women. Last year CLIA moved to combat this perception, commissioning a report by Northeastern University criminologist James Alan Fox comparing crime rates at sea from 2010–2012 to those on land. The report, which covered nearly 90% of the ocean-going cruise industry in North America, claimed that 44.8 million passengers cruised during that time and found 74 instances of reported rape, for a rate of 5.9 per 100,000 passengers, and 48 instances of assault with serious bodily injury, for a rate of 3.8 per 100,000 passengers. Based on FBI data over the same period of time, on land the rape rate across cities ranging in size from under 10,000 to over 1 million residents was 27.1 instances per 100,000 people. For aggravated assault, the rate was 248.9 instances per 100,000 people.
"By any measure, travel by sea aboard commercial cruise lines is exceptionally safe in terms of the risks associated with criminal activity," Fox concluded.
Cruise Junkie's Klein, however, said the problem is more pervasive than the industry would have you believe, adding that "it is not good for business to admit there's an issue." His written testimony before the Senate hearings last year included an addendum titled "Sex at Sea: Sexual Crimes Aboard Cruise Ships," that goes into intricate detail about the issues dating as far back as 1998.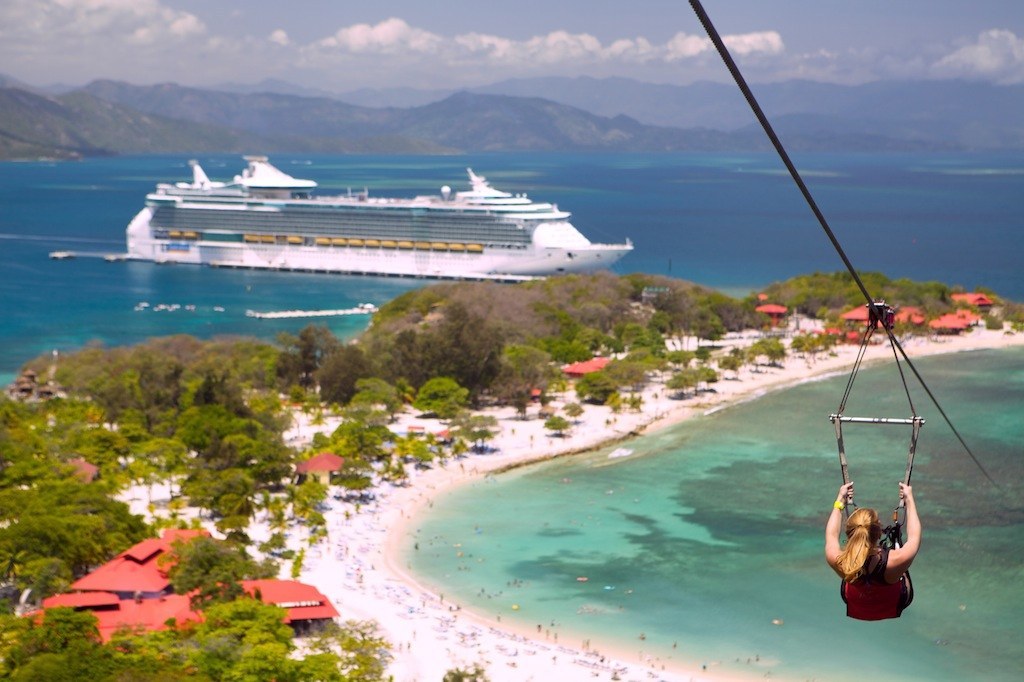 Royal Caribbean was founded 45 years ago and its first ship, the Song of Norway, embarked on its maiden voyage in 1970. Today, the company operates 41 ships across six brands — Royal Caribbean International, Celebrity Cruises, Pullmantur, Azamara Club Cruises, and CDF Croisieres de France — and ranks as the second-largest cruise ship company in the world. According to Goldman Sachs, Royal Caribbean controlled 22% of the cruise industry market in 2013, trailing only Carnival Cruise Lines, which is the dominant player in the industry with a 47% market share. Together, these two companies basically form a duopoly in the cruise industry — the next largest competitor, Norwegian Cruise Lines, will only hold a 7.5% market share by 2016; the remaining 22.5% is split among all the other companies in the industry.
From a business perspective, the industry is decidedly low margin, meaning it generates massive revenue but the costs are so prohibitive that the profits are low by comparison. In 2013, for instance, Royal Caribbean generated $8 billion in revenue but only $474 million in net income, which equates to a roughly 5.9% profit margin. By comparison, in Carnival's fiscal year 2012, the most recent for which data is available, the company generated $15.4 billion in revenue and $1.3 billion in net income for a profit margin of 8.4%. Norwegian in 2013 recorded $2.6 billion in revenue and $103 million in net income, for a profit margin of around 4%.
Quantum's launch is important for the industry because it will serve as a litmus test to determine whether it can increase margins on ticket pricing. One of the biggest misnomers of the cruise industry repeated often but inaccurately, is that tickets are priced at cost and profits are derived via onboard spending. This is not at all true. In reality, the biggest driver of profits on cruise ships is the ability to increase ticket prices, which is something the industry has been essentially unable to do since the financial collapse of 2008. Indeed, more than any negative publicity surrounding "poop ship," norovirus, or even sinking, what has taken the biggest toll on cruise ship performance are things utterly out of its control, such as the Arab spring, the tsunami in Japan, and, most impactful, the recession of 2008.
Roughly speaking, the revenue breakdown for cruise ships is 75% for tickets and 25% for onboard spending. Of Royal Caribbean's $8 billion in revenue last year, for instance, $5.7 billion came from ticketing, and the remaining $2.2 billion came from onboard spending. But none of the categories of onboard spending, which include beverages, gaming, dining, retail, and shore excursions, approach 10% of the company's aggregate revenue base.
What that means, essentially, is that for Royal Caribbean and others to make money they need to increase ticket prices. Problem is, in order to fill capacity on ships after the recession, the industry cut prices so deeply that people in the market for a cruise vacation are now conditioned to expect discounts instead of pay premiums.
"There have been very good deals out there for the consumer, well below the value they get from a cruise vacation," CLIA's Duffy said. "The industry has kept prices down for longer than other parts of the travel industry. Consumers are pretty smart and they do get trained for certain behavior."
Nearly 40% of the cruise industry's bookings are made between January and April, in what is known as "wave season." Royal Caribbean executives have said that sales during this year's wave season were "normal," which Nomura Securities analysts described in a research note as marking "a substantial improvement from the past two years." The company does not break down bookings by brand or ship, however, and regarding advanced reservations for Quantum specifically said only that "consumer response has been extremely positive." Goldstein, the president of Royal Caribbean, elaborated a bit more in an interview, saying that 2014 will mark the fifth consecutive year that revenue per guest per night will increase.
"It's been a steady upward climb," said Goldstein, "but the trough was so deep that we are only now beginning to get to parity with 2008."
But not all of the discounting can be blamed on external events, some of it has also been self-inflicted. Over the last decade, cruise ship companies have expanded the number of ports to allow people to drive to ships rather than fly, which many of its core customers have been reluctant to do since 9/11.
"Retirees don't want to fly anymore," said Monica Smith, an agent with AllTour Travel in Manhattan. "They don't want the hassle. You can take a cab to the ship and don't have to deal with security or baggage constraints."
New ports have opened in cities ranging from Charleston, S.C., and Galveston, Texas, to Seattle and San Francisco. While this has made cruising a more popular and less expensive vacation option since most consumers no longer have to pay for airfare, it has also helped keep pricing levels depressed by raising the expectations of affordability. (The move is rich with irony since cruising grew as a vacation option for the middle class in tandem with the airline industry expansion in the late '70s.)
Investors, however, appear encouraged that the company will be able to get pricing. Royal Caribbean's stock lately has been trading in the low- to mid-$50 per share range, continuing its steady climb from the less than $10 per share levels it sunk to after the recession to its highest price in years.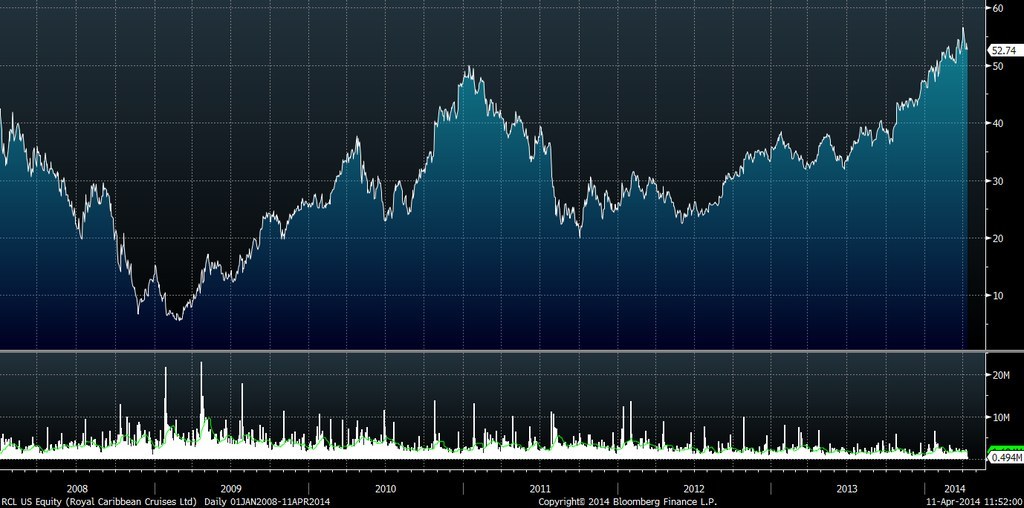 Ask anyone who hasn't been on a cruise before to explain their hesitation and the responses are as predictable as they are universal. The structure and scheduling seem oppressive. The port visits seem too short. The only people who go on cruises are retirees, which is followed naturally by the rhetorical question, "Why would I want to be stuck on a boat for a week with a bunch of senior citizens?" The Wi-Fi at sea is terrible, making Instagramming photos and watching Netflix impossible. The risk of getting sick or stranded at sea is too great. There are sharks in the water! And you have to pay for alcohol!
Changing this perception, particularly among twentysomethings, is the biggest challenge facing the cruise industry. If cruising was defined in the '70s and '80s as a niche market for older couples in the U.S., and in the '90s and '00s as a multigenerational family vacation experience, then the industry in the next two decades has to penetrate the twentysomething market.
AllTour's Smith said that she suggests to her twentysomething clients that they go on a two- to three-night cruise for their first experience to "break them in, and if they like it they can try a whole week afterwards."
"Those short trips are more like the land-based, all-inclusive vacations that they are familiar with," Smith said.
Royal Caribbean has arguably been the most aggressive in marketing and updating its ships to appeal to a younger demographic though, as travel website Skift noted, every company in the industry is pouring million of dollars into chasing the twentysomething traveler.
One of Royal Caribbean's biggest initiatives is, of course, the revamped "dynamic dining" experience aboard its Quantum class of ships. The restaurants, said Goldstein, were designed to match the sophistication and diverse culinary experiences of the New York market. Translated loosely, that basically means more ethnic cuisine than on a typical cruise ship. Quantum's main dining room will consist of five restaurants with different cuisines and levels of formality, among them Coastal Kitchen (Mediterranean); Chic (modern); Silk (pan-Asian); American City Grill (casual); and The Grande (formal). When it is announced at the "dynamic dining" event that The Grande will serve lobster every night, a middle-aged man in the audience screamed, "Sign me up!" (Lobster nights are typically big nights on cruise vacations, and historically have only been offered once or twice during a weeklong cruise.)
Another separate restaurant called Wonderland will serve what Royal Caribbean describes as "imaginative cuisine." But the decor, while aesthetically meant to be avant-garde, just seemed creepy — with the chairs featuring faces and clocks that looked like some sort of Dalí painting gone awry and the makeup and costumes of the waitresses coming off like a Disney princess on meth.
In addition to Jamie Oliver, Royal Caribbean also partnered with celebrity chefs Devin Alexandar, who cooks the meals for the contestants on NBC's The Biggest Loser, and Michael Schwartz, a James Beard award winner who will serve as the ship's culinary adviser.
The company has also been trying to incorporate technology, particularly social media, into its cruise ships to reach a younger demographic. In late March, Royal Caribbean unveiled a new initiative called "Boatloads of Bandwidth," that it claims will eventually give passengers on its ships Wi-Fi access at speeds equal to or greater than on land. Royal Caribbean went so far as to cite the ability to "keep friends updated over social media" and streaming content on tablet and phones, "not just movies on TV in your stateroom" in the press release announcing the program.
Goldstein, a competitive ping-pong player who has faced off against Dhani Jones of the New York Giants and director M. Night Shyamalan, keeps a regularly updated blog on the Royal Caribbean website called Sea Views, and said that the strong feelings, both positive and negative, that people have for cruising and the "imagery of the brand" is tailor-made for social media.
There is a PR aspect to the company's embrace of social media as well. According to Goldman Sachs, "hours after the fire on Grandeur of the Seas, pictures of the CEO on the ship were on Twitter. Royal Caribbean believes that this news can then be picked up by television networks. At the very least, the travel agent sees that RCL did the right thing, which is important because the travel agent needs to continue to promote the product."
That sounds good in theory, but maybe not what is actually happening in practice. When Nick Weir, Royal Caribbean's vice president of entertainment, asked the crowd at the dynamic dining event "How many of you are following the hashtag #quantumoftheseas on social media?" not one hand went up.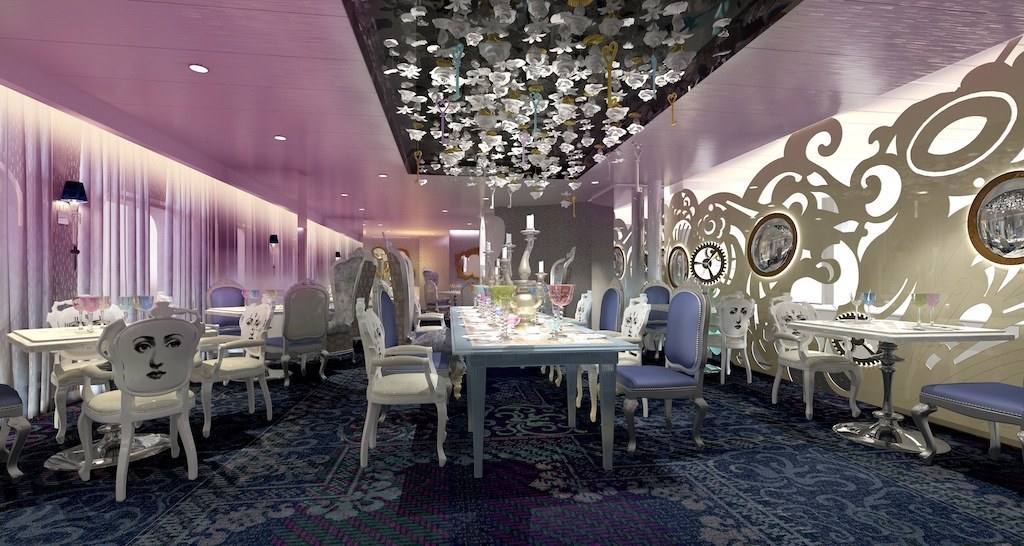 Aging down the cruise industry's passenger demographic isn't going to be easy. As it currently stands, cruise ship passengers generally reflect the makeup of the people in attendance at the "dynamic dining" event, which is to say they are mainly white, middle-aged and middle class. The only twentysomethings at the event appeared to be those who were working it, and the number of different ethnicities represented could be counted on one hand.
This is basically in line with a 2011 report from CLIA on the demographic breakdown of cruise ship passengers, the most recent year for which a demographic breakdown is available. According to this report, the average cruise passenger is 50 years old and has an annual income of $109,000. Fifty-two percent of these passengers are male, 79% are married, and 90% are white. Conversely, only 27% of cruise passengers are between the ages of 25 and 39, and just 10% of them are of a race other than white. Put another way, the demographic breakdown of cruise ship passengers snugly fits the stereotype that most young people have in their heads of silver-haired, retired couples from Florida.
To be sure, attracting a more diverse cruise passenger isn't limited to just demographics, but also extends to geography. Just as the industry has been trying age down its passenger profile, it has also been trying to break its reliance on the North American market. Roughly 55% of cruise industry passengers come from North America, according to CLIA, by far its biggest geographic market. The next largest market, the United Kingdom and Ireland, accounts for only 8% of the industry's passenger base. Only one other market, Germany, has a market share above 4%.
But those numbers mask growth rates that would make a hot Silicon Valley tech startup jealous. The cruise industry's passenger base derived from Germany has grown 80.5% in the last five years, in France it has jumped 68%, and in places like Australia, New Zealand, Scandinavia, and Finland the growth rate is 130% or more. By contrast, the share of passengers from the U.S. has only grown 15% during the same timeframe. Of course, the U.S. population is much larger than those other countries, which means that even though it isn't growing as fast as other markets the raw number and share of passengers is still magnitudes larger.
For its part, Royal Caribbean skews a bit younger than the industry — its average passenger is 44 years old — and, according to CEO Fain, features a 50-50 split between domestic and international revenue.
Royal Caribbean in particular has geared itself toward the [twentysomething] market," said Coiro, the travel agent at Direct Line Cruises. "The new products are meant to show them that cruising isn't a sedate activity anymore."
Goldstein and others in the industry also think that cruising as a multigenerational family experience will help age down its passenger profile in the long term. "To the extent that we can attract kids and give them a great cruise experience before the age of 18, that's ideal," Goldstein said. "If they think of cruising in a positive way from the time they are children, then they won't take 20 years off before they come back to us."
The emergence of theme cruises, organized around such things as wine tasting or jazz music to TV shows or athletics has helped Royal Caribbean and others attract a younger demographic. Disney's entry into the cruise business — the company has four ships — is predicated on the very idea of replicating its theme park experience at sea. In recent years, cruises organized around rock bands have become a popular and successful way to attract a younger demographic. Not unlike Coachella, Bonnaroo, or other land-based music festivals, people don't seem to mind being in a captive environment if it means drinking beer, listening to music, and meeting their rock idols. Of course, music-themed cruises don't exactly attract the hippest, cutting edge bands, but rather older-skewing acts with a built-in fan base. This year, for instance, Weezer, Kid Rock, Kiss, Matchbox Twenty, Paramore, Daughtry, and others will be featured on rock-themed cruises.
For its part, Royal Caribbean's Celebrity brand has organized cruises around Bravo's Top Chef and the NFL's New England Patriots. The company has also struck partnerships with the Oscars, Olympics, Tony awards, Dreamworks Animation, and others in an attempt to demystify the cruise experience by taking the brand out of the sea and putting it against brands that consumers know and value on land.
"We want to position our brand as being a happening brand; we think it is a happening brand," Goldstein said.
Whether cruising can grow into a viable mainstream vacation option or is forever destined to be a niche product with limited appeal depends on whether it can convince a whole new generation of vacationers that it is happening too.
Correction: This post has been changed to reflect new calculations for the profit margins achieved by Royal Caribbean, Carnival, and Norwegian. A previous version had misstated Royal Caribbean's profit margin as 16.8% when it should have been 5.9%; Carnival's as 11.8% when it should have been 8.4%; and Norwegian's as 25.2% when it should have been 4%.