Netflix's Video Chat Experiment, Like Its Earnings, Falls Flat
Far from innovative, it was just as dull as any other earnings call, and more confusing to follow.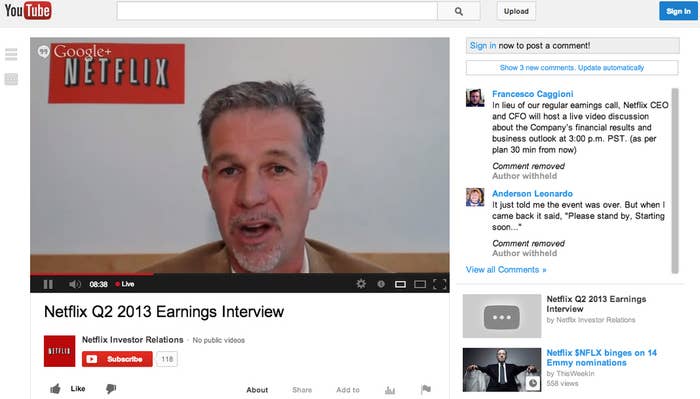 Netflix Chief Executive Reed Hastings fashions himself as a sort of renegade. He delights in turning conventional wisdom on its head, whether it be making an entire original series available for streaming all at once or disclosing financial performance information via a Facebook blog post.
So, his decision to dispense with the traditional earnings conference call and discuss Netflix's second-quarter financial performance via a video chat hosted by CNBC reporter Julia Boorstin and BTIG analyst Richard Greenfield Monday was a welcome experiment.
Unfortunately, not unlike Netflix's earnings report itself, the call format fell flat. Far from innovative, it came off just as dull as any other earnings call, only more confusing to follow.
That wasn't the fault of the moderators, however, who gamely posed hard questions about subscriber growth, cash position, raising debt, stock valuation, and international expansion among other topics, to Hastings and his chief financial officer David Wells and chief content officer Ted Sarandos, both of whom also participated in the video chat.
Part of the problem had to do with the format. Unlike how Yahoo used a news desk approach to stream its earnings call, which came off as a bit wooden, Netflix suffered from the opposite problem. With the participants in different rooms in different parts of the country (New York, Los Angeles, and Los Gatos, Calif.), the quick camera cutaways and frequent interruptions on the part of the participants made the conversation stilted and hard to digest.
But the main issue was with the Netflix executive team, who were evasive, buttoned-up, and not at all candid — diametrically opposed to, say, IAC Chairman Barry Diller or News Corp CEO Rupert Murdoch, whose respective companies' earnings calls are fairly entertaining if only because they say precisely what they are thinking, consequences be damned. (News Corp, prior to the phone-hacking scandal, was one of the few companies that allowed journalists to ask questions on its earnings calls.)
Greenfield and Boorstin spent much of the video chat asking different iterations of the same two questions: How many subscribers did Netflix gain from original programming such as House of Cards and Arrested Development? And, how many people are watching its original shows? Rather than provide concrete numbers, however, Hastings answered with broad generalizations such as, "When we look at original content, we are just in early innings, figuring out how to promote them, value them, and how we can turn them into real franchises in later seasons."
Or, as Sarandos said, without providing "the precision of a number," they are getting a "TV-sized audience." Huh?
Netflix received 14 Emmy nominations last week, mostly for its original drama series House of Cards and comedy Arrested Development. But, as is always the case with Netflix earnings, subscriber growth was the single most important barometer for investors this quarter and it is why providing specific numbers with regards to its original programming is so important.
The best detail investors got on the front came not from the video chat, but from Hastings' letter to shareholders, where he noted that in the second quarter Netflix generated a "small but noticeable bump in membership" from the release of Arrested Development. He cautioned, however, not to expect that to happen with every new show since they lack Arrested Development's established fan base.
Overall, Netflix added 630,000 new members in the U.S. during the second quarter which, while in-line with the company's expectations, disappointed investors who were hoping its original content initiatives would propel it to exceed guidance. Analysts also viewed Netflix's projected 1.1 million subscriber additions for the third quarter as somewhat light.
Netflix currently has 29.8 million subscribers in the U.S., and Hastings said he thinks the company can eventually grow to between 60 million and 90 million households. Despite being opaque on actual numbers, one way Netflix plans to get there is through its original programming. The company is increasing its budget for original productions and plans to get into documentaries and stand-up comedy specials. Executives didn't rule out an eventual move into feature films, either, with Sarandos saying there is no reason they couldn't do them.
For the quarter, Netflix matched analyst expectations on a revenue basis, generating $1.07 billion, and beat them on a net income basis, earning 49 cents per share, or $29 million, versus projections of 40 cents.
Still, as a result of disappointment with its subscriber addition and guidance, Netflix shares fell more than $10, or 4%, in after-hours trading Monday.