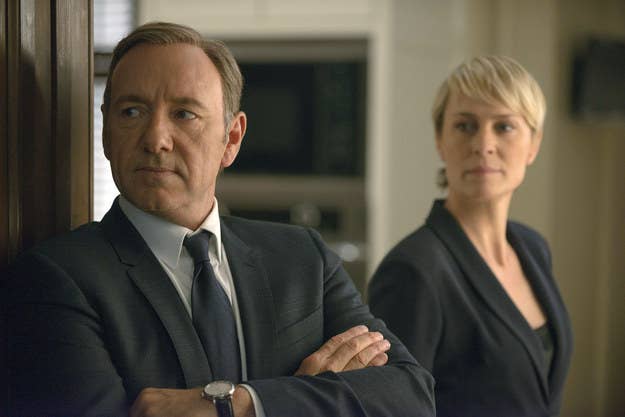 After nearly two years of near-flawless execution, Netflix offered up a rare miss with its third-quarter earnings, sending its stock down more than $115 in after-hours trading Wednesday.
The streaming video service, which had been on a subscriber addition tear since 2013, missed both its own and Wall Street's projections for new sign-ups during the quarter. Netflix said it added just over 3 million subscribers globally during the quarter, with just under 1 million coming from the U.S. and just over 2 million coming internationally. The company now has 53 million total subscribers worldwide, with 37.2 million in the U.S. and 15.8 million internationally.
Netflix took full responsibility for the miss, saying that it "over forecast" subscriber additions for the quarter. The company also said that as best as it can tell, the primary cause for the miss is owed to "the slightly higher prices we now have compared to a year ago." Netflix pricing varies, but the basic streaming product costs $8.99 per month in most markets.
"In hindsight, the impact of higher prices [last quarter and in the early part of this one] appeared to be offset for about two months by the large positive reception to Season Two of Orange Is the New Black," Netflix said in a statement. "We remain happy with the price changes and growth in revenue and will continue to improve our service, with better content, better streaming and better choosing."
Netflix shares, which ended the day down 53 cents to $448.59, fell more than $115 in after-hours trading to as low as $330.50 per share. The company's worth declined by about $7 billion as a result, to around $20 billion from $27 billion.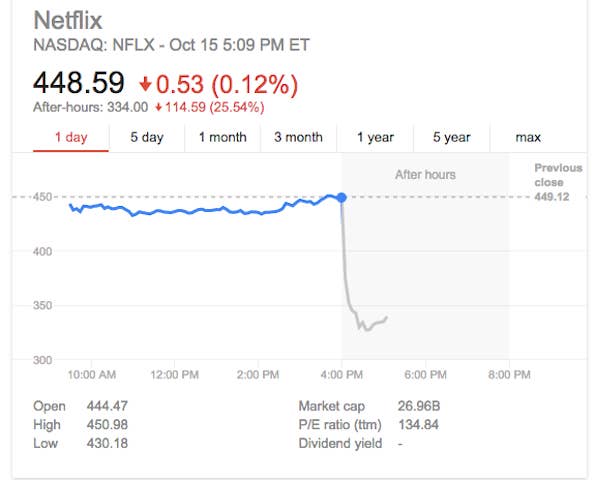 On its last two earnings calls, Netflix made big news by first coming out publicly against the Comcast–Time Warner Cable merger and next detailing plans for a massive international expansion of its business. But the impact of its subscriber miss was likely compounded by the fact that HBO, one of its biggest competitors, made headlines earlier Wednesday by announcing that it would make its HBO Go streaming service available to people without a pay-TV subscription beginning next year. The move puts HBO in direct competition with Netflix for the first time ever — Netflix's Ted Sarandos famously said that the company's goal was "to become HBO before HBO becomes us."
Netflix inserted a short comment into its letter to shareholders addressing the HBO Go news, saying, "Starting back in 2011 we started saying that HBO would be our primary long-term competitor, particularly for content. The competition will drive us both to be better. It was inevitable and sensible that they would eventually offer their service as a standalone application. Many people will subscribe to both Netflix and HBO since we have different shows, so we think it is likely we both prosper as consumers move to Internet TV."
Indeed, while HBO and Netflix will be in direct competition, that doesn't necessarily mean consumers will choose one at the expense of the other. More likely is that they end up subscribing to both at the expense of a pay-TV subscription or other streaming video service.
The big advantage HBO has over Netflix is in theatrical movies, where the network has long-term licensing deals in place with three of Hollywood's biggest studios: Warner Bros., Universal Studios, and 20th Century Fox. Movies are still cited by consumers as the top reason for subscribing to HBO, with 40% doing so solely for them. Plepler said, for instance, that movies such as Reds 2, Fast and Furious 6, and We're the Millers were each watched by more than 20 million people. Fourteen of the top 25 movies released so far this year will be available exclusively on HBO, Plepler said.
For its part, Netflix has deals with Disney, The Weinstein Company, and a handful of other independent studios for movies. During the third quarter, Netflix also made its much anticipated move into the movie business, announcing a four-picture deal with Adam Sandler and an agreement to co-finance the sequel to Crouching Tiger, Hidden Dragon from The Weinstein Company. Sandler's films under the deal will appear exclusively on Netflix beginning in 2016, while the Crouching Tiger sequel will appear simultaneously on Netflix and in select Imax theaters when it premieres in August.
Netflix said it is investing in original movies because financially it is better than some pay-TV deals and because "it is consistent with the desires of the global on-demand generation to enjoy new movies without having to wait for months after they debut in U.S. theaters."
While Netflix released more new original programming during the quarter, including BoJack Horseman and the second season of Hemlock Grove, it didn't have anything approaching the popularity of House of Cards or Orange Is the New Black. Its next major original series, Marco Polo, is slated to premiere in December. In addition, the company said it is in production on nine other original series and during the quarter signed a deal for a new comedy series from Judd Apatow to debut in 2016.
For the quarter, Netflix reported revenue of $1.2 billion and net income of $59 million, or 96 cents per share. It finished the quarter with $1.7 billion in cash and $8.9 billion left to pay on content, or what the company calls "content obligations."
But Netflix shares swing wildly based on its subscriber targets, and the miss coupled with the HBO Go announcement appears to have spooked investors. BTIG analyst Richard Greenfield projected in a report earlier this week, for instance, that he expects Netflix to reach 100 million subscribers worldwide by 2017.
While no other details about the planned HBO Go stand-alone service were released, including how much it would cost and what kind of content would be available on it and when, its CEO, Richard Plepler, said a big focus would be on marketing it to broadband-only homes in the U.S. and to "millennials" — basically the people who have been a huge boon to Netflix and other streaming video services by cutting the cord or bypassing pay-TV altogether.