NBC Universal CEO Wants To Get Paid For Ratings Gains Among 18- To 49-Year-Olds
Steve Burke made the pitch during an on-the-record lunch with reporters ahead of next month's upfronts and just two days before parent company Comcast is due to defend the merits of its $45.2 billion merger with Time Warner Cable before the Senate.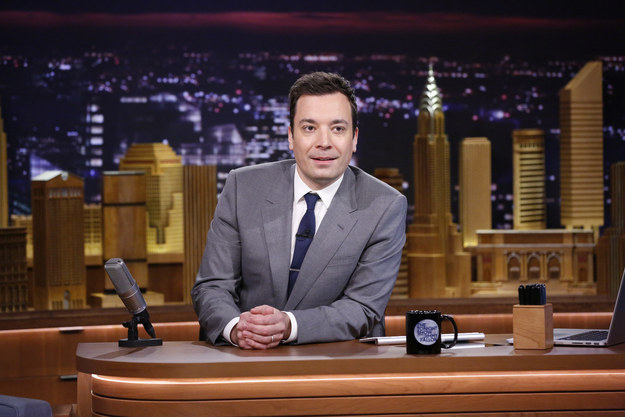 Three years after Comcast assumed control of NBC Universal, its broadcast network has done the unthinkable, going from worst to first in the primetime ratings for the 18- to 49-year-old demographic. And now the company has a simple message for advertisers: Pay us.
That was essentially the gist of a presentation NBCU's Chief Executive Steve Burke gave to a room of about 18 reporters over lunch Monday in one of the company's 51st-floor executive dining rooms.
"The story that defines this company is the transition that has occurred at NBC," said Burke. "We are going into the upfronts with positive momentum this year for the first time in a long time." The upfronts are the TV industry's annual ritual where networks preview their new shows for advertisers, collecting upwards of 75% of their ad revenue for the year. Last year, according to Variety estimates, a total of between $8.6 billion and $9.2 billion in advertising inventory was sold by NBC, CBS, Fox, ABC, and The CW during the upfronts.
The timing of Burke's presentation, which basically underscored the reach and power of NBC and its stable of cable networks, among them USA, Bravo, E, Syfy, and others, seemed odd considering that Comcast is about to undergo a regulatory colonoscopy for its planned $45.2 billion merger with Time Warner Cable. It would seem that it is probably best not to publicly demand that advertisers pay you more two days before Comcast executives are due before a Senate panel to defend the merits of a deal that will give it control of 30 million cable and broadband subscribers and 19 of the top 20 television markets in the country. But Burke said there was no relation between what was happening at NBC and the regulatory approval process for the Comcast–Time Warner deal.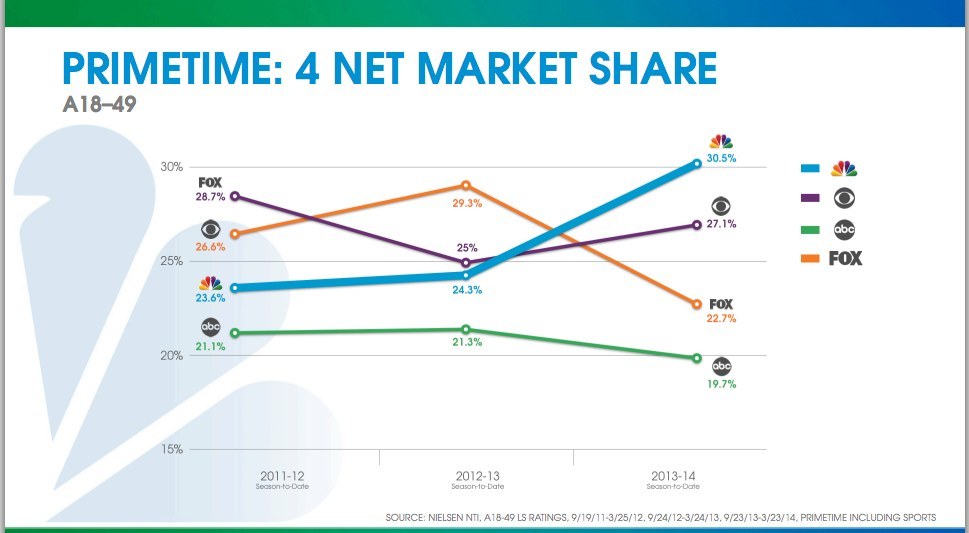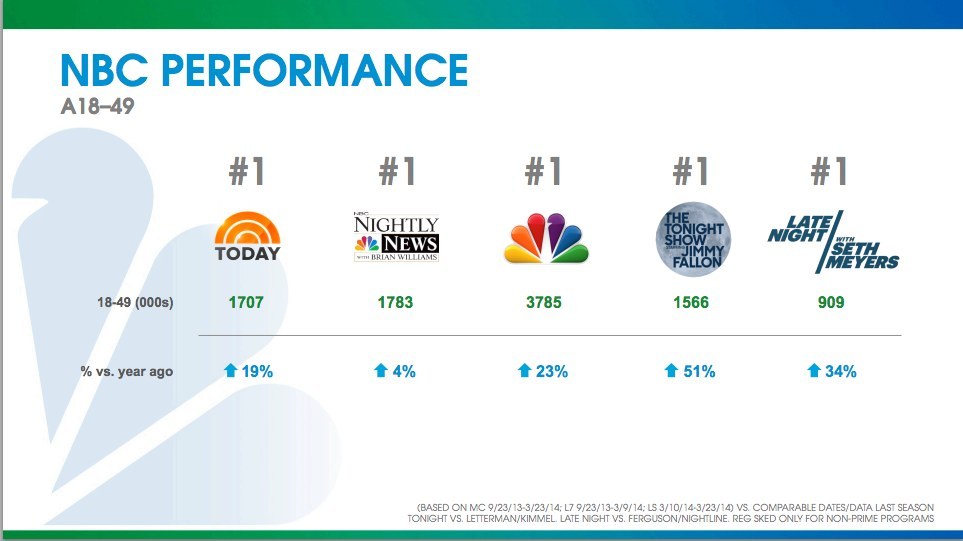 Burke's trumpeting of the NBC broadcast network was also diametrically opposed to the approach of former CEO Jeff Zucker, who was fond of saying that NBC was 5% of the company's profit but 95% of its perception.
But while Zucker rightly sought to minimize NBC's importance when it resided in the ratings gutter, Burke similarly cannot be faulted for touting its rise to the top of the 18- to 49-year-old rating heap.
"No one has ever been in fourth place for that long, and some believe we would never be able to come back from that sort of deficit," said Burke, who endorsed the performance of NBC Entertainment boss Bob Greenblatt.
Focusing on the 18- to 49-year-old demographic, which Burke said NBC will win this year, instead of total viewers, where CBS is currently leading, is financially important since that is the demographic most coveted by advertisers. And since NBC has been forced to discount its ad sales in years past because of its poor ratings, the network is now essentially making a play to recoup those lost dollars — or at least get to parity with what rival networks are charging.
"Talking about total viewers is like talking about yardage in football; the way you win is by putting points on the board," Burke said. "To us, we put points on the board by selling ads."
Linda Yaccarino, who leads ad sales for all of NBC's networks, said about 60% of its ad inventory is sold on the 18- to 49-year-old demographic and the other 40% is on the 25- to 54-year-old demographic. As the chart above shows, executives singled out gains in the 18–49 demographic across all its dayparts, with particular emphasis on Today, which has been usurped as the top-rated morning show in total viewers by ABC's Good Morning America and its late-night shows.
Two other talking points Burke hit upon during the presentation were improving ratings measurement to account for viewers who watch a show live or within seven days of its airing, rather than the current standard of three days from its premiere, and accurately capturing viewers across DVR, on-demand, and mobile platforms. Both issues have been debated among the networks, advertisers, and Nielsen, the primary television ratings service, for years, and both have massive financial implications.
Alan Wurtzel, NBC's research chief, said that the network is losing a "nine-digit" sum to viewers watching its shows in non-Nielsen measured environments.