NBC Says Advertisers Committed To Olympics, No Slowdown In Demand
As pressure mounts against Russia's anti-LGBT propaganda law and for the International Olympics Committee to take action in support of human rights, NBC says advertisers are still committed to the Sochi Games.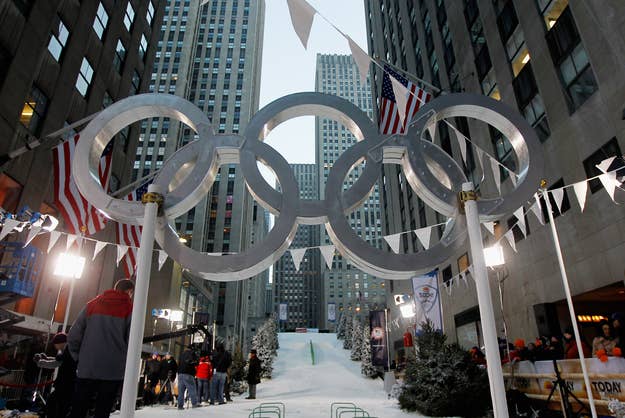 NBC has 800 million reasons to be concerned about the increasing controversy over Russia's recently passed "anti-gay propaganda" law — which strictly punishes the "promotion of non-traditional sexual relations among minors."
That's how much money the network is projecting it will collect in advertising revenue for the Sochi Games, which would rank as the most ever for a Winter Olympics.
So far, brands that have bought advertising time on NBC remain committed, but with six months left to go before the opening ceremonies and the potential for a boycott rising, a lot can happen that could change their minds.
"We've talked with all of our advertisers, and of course they find the situation unfortunate and concerning," a representative for NBC Sports told BuzzFeed in the network's first public remarks addressing its interactions with advertisers over the situation. "However, they are unwavering in their commitment to the Games and U.S. athletes. There has also been no loss in momentum regarding conversations with prospective advertisers."
The last part of that statement about momentum in conversations is telling, as it implies that NBC is not seeing any slowdown in demand to sell advertising inventory. NBC has previously said publicly that it planned to sell about 75% of its advertising inventory "upfront," or before the games began, and hold the remaining 25% back for after they started, in what is known as the "scatter market."
The fact that there has been "no loss in momentum" suggests that at this point advertisers are treating this controversy as no different than the outcry over China's human rights record during the 2008 Summer Olympics in Beijing. And that's great news for the network since it has a huge financial stake in making sure things run smoothly.
For NBC, which is owned by the cable giant Comcast, the Olympics are not just an every other year sporting event. Rather, it is a massive promotional platform to showcase the rest of the network's programming, particularly its prime-time lineup, which has been ranked as the lowest- or second-lowest rated of the big four broadcast networks — CBS, FOX, NBC, ABC — for many years. The idea is to capitalize on the audience that comes to NBC to watch the Olympics and get them to stick around to watch other NBC shows after the games are over, which theoretically helps the network charge more for advertising and in retransmission deals for its signal.
The promotional platform the Olympics provide for NBC was perhaps the most important factor in Comcast's decision to pay $4.38 billion for the right to air the games. Indeed, NBC has lost money on past Olympics, and even expected to lose as much as $200 million during the 2012 Summer Games in London. The fact that the London Games were the highest-rated Olympics ever and a record-breaking advertising haul of $1 billion ended up allowing NBC to turn a small profit was little more than a pleasant surprise.
How the current controversy plays out over the next 180 days will ultimately determine if Sochi ends up being financially pleasant or painful for NBC and its advertisers.