Murdoch Stuns Media Industry By Withdrawing Offer For Time Warner
But the move could just be a negotiating ploy.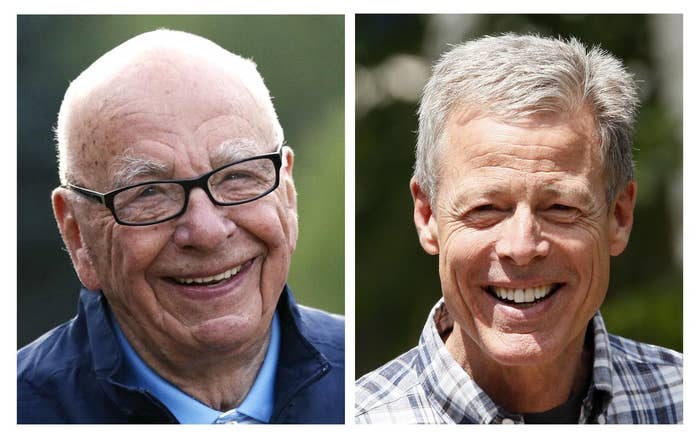 A few weeks ago Rupert Murdoch stunned the media world by offering to buy Time Warner for roughly $80 billion. Today, he did it again by withdrawing the offer.
"We viewed a combination with Time Warner as a unique opportunity to bring together two great companies, each with celebrated content and brands," said Murdoch, the chairman and CEO of 21st Century Fox, in a statement. "Our proposal had significant strategic merit and compelling financial rationale and our approach had always been friendly. However, Time Warner management and its board refused to engage with us to explore an offer which was highly compelling."
Time Warner shares, which had been trading above the $85 per share price offered by Fox the last few weeks, immediately fell on the news, plummeting more than 10%, or just under $9, to around $76.40 per share within a few minutes. The decline shaved around $7.2 billion off of Time Warner's overall worth.
Of Fox's withdrawal, Time Warner said in a statement that, "[Our] board and management team are committed to enhancing long-term value and we look forward to continuing to deliver substantial and sustainable returns for all stockholders."
The move by Murdoch came as something of a surprise given his history as a dogged acquirer once a target is in his sights. Analysts and observers had almost assumed that the deal was a matter of when, not if, in light of consolidation taking place on the distributor side of the media business as well. Comcast's pending merger with Time Warner Cable and AT&T's deal with DirecTV is forcing owners of cable networks such as Fox to get bigger to balance negotiating leverage in carriage-fee negotiations.
Of course, withdrawing the offer could just be a negotiating ploy. Unlike Fox, which is controlled by the Murdoch family, Time Warner does not feature a dual-class share structure or controlling shareholder. That means that it cannot block Murdoch from going directly to shareholders with a new offer in the future.
Indeed, the drop in Time Warner's share price could be exactly what Murdoch intended, as now Time Warner CEO Jeff Bewkes will have to convince shareholders that he can get the company's stock to $85 per share on higher on his own.
Time Warner had initially rejected Fox's offer, citing reasons ranging from its mix of cash and stock to voting control to its own strategic growth plan. The two sides have been waging a public relations battle in the press over the last three weeks, laying out the case for why the deal makes sense or doesn't depending on which side's anonymous sources are doing the talking. What they haven't been doing, however, is talking to each other — no active discussions have taken place between the two companies since the bid was made public.
That fact, coupled with questions about whether Murdoch's son James, who at this particular moment in time is the frontrunner to succeed his father atop Fox, has the skills and experience necessary to run a global media empire of a combined Fox-Time Warner's scale appears to have been particularly galling to the elder Murdoch. Sources familiar with the situation stressed that unlike in the past this wasn't a negotiating ploy and that Murdoch's pursuit really was over.
A deal between Fox and Time Warner would have united such marquee cable networks as FX and Fox News with TBS and TNT, among others. It would have also given Murdoch unprecedented control over TV and movie production through a combination of his 20th Century Fox studios with those of Warner Bros.
But Murdoch's camp has been preaching a gospel of discipline over the last few weeks, reassuring Fox investors that it wouldn't overspend to acquire Time Warner. To be sure, in withdrawing the offer Murdoch said that, "the reaction in our share price since our proposal was made undervalues our stock and makes the transaction unattractive to Fox shareholders."
As if to drive home the point, Fox's board authorized a $6 billion share buyback program to be completed over the next year. Investors rewarded Murdoch's discipline, sending Fox shares up more than 8%, or in excess of $2, to just under $34 per share on the news.
Both Time Warner and Fox are scheduled to report their second quarter earnings tomorrow. Investors in the former will be looking for Bewkes to outline a strategic plan designed to get Time Warner's share price above the $85 mark, while those in the latter will be looking for hints as to whether Murdoch really is walking away for good.
"Time Warner will need to lay out why its strategic plan is superior to negotiating with Fox, and we would not be surprised to see [the company] announce significant cost reduction measures and new revenue opportunities (such as Seinfeld syndication)," wrote BTIG analyst Richard Greenfield in an email to clients ahead of both companies's earnings reports tomorrow.