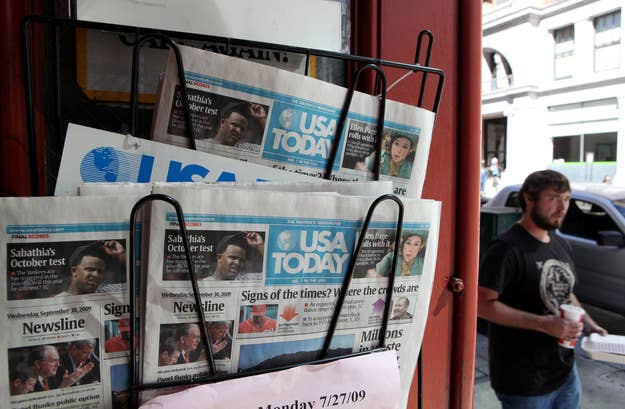 The clear takeaway from Gannett's $2.2 billion purchase of Belo Corp Thursday is that even the nation's largest newspaper publisher can't get away from the newspaper business fast enough.
To be sure, though Gannett owns 82 daily newspapers that reach nearly 12 million readers daily, the word "newspaper" was not used once in the entire 964 word press release announcing the deal. Gannett is instead a "diversified, higher-margin multi-media company" or an "international media and marketing solutions company."
Or, perhaps even more accurately, what is it now is a local television station owner.
The deal increases the number of broadcast television stations Gannett owns to 43 from 23. The company is now the No. 1 affiliate for both CBS and NBC, which means that Gannett is the biggest distributor of those networks. Overall, Gannett now ranks as the fourth-largest network affiliate group in the country and the second-largest independent TV station owner.
More importantly, the deal means that going forward Gannett will derive a majority of its profits from broadcasting. According to figures supplied in a management presentation about the deal, Gannett currently generates 51% of its earnings from its publishing assets and 35% from its TV assets (digital accounts for the remaining 14 percent). After the deal, however, that mix is essentially inverted — the addition of Belo means that 52% of Gannett's earnings will come from broadcasting and just 38 percent from publishing, with digital making up the other 10%.
This is, of course, logical given the endemic problems facing the newspaper industry. The shift from print to digital consumption, and the toll that has taken on advertising and circulation, is most acutely felt by chains like Gannett that have large metropolitan dailies.
The decline in newspaper economics coincides with a more promising outlook for the television station business. Television advertising is still robust, particularly in cyclical years that feature elections or marquee events like the Olympics, and millions of dollars are pouring into local TV stations via retransmission fees — a new revenue stream under which pay-TV distributors such as Comcast or Time Warner Cable pay local television station owners like Gannett for the right to transmit the broadcast signal of the networks.
That transformation is evident in Gannett's financial performance. Last year, operating income at the company's publishing division fell 23% while its broadcast unit gained 47%.
But the most telling aspect of this deal was that it was even done at all. Not unlike with voters and elections, executives and investors decide on the future of companies with their wallets and their feet. Gannett has clearly decided that it wants to be a broadcaster. After all, it could have bought Belo's newspaper assets, which trade as a separate company. Investors, too, seem to want Gannett to be less of a newspaper company. Gannett shares gained a stunning 26% in morning trading Thursday, or about $5.22, to $25.06, which is unusual since typically the stock of an acquiring company falls in the initial days after a deal is announced.
In fact, casting off newspapers has become quite the vogue move for newspaper publishers in recent years. As mentioned, Belo separated its newspaper and television assets in 2008. Scripps split its cable network business, which includes the Food Network and HGTV, from its newspaper assets in 2007. Tribune, which recently emerged from bankruptcy, is seeking a buyer for the Los Angeles Times, Chicago Tribune and its other newspapers so it can re-orient the company around its broadcast business.
And, perhaps most prominently, the biggest name in newspapers in the last century, Rupert Murdoch, will next week officially split News Corp into two companies, hiving off his beloved newspapers, including the Wall Street Journal and New York Post, from the company's cable and film assets.
Gannett is actually one of the few companies that has kept its newspaper and television assets together. But given today's deal and the recent trend, it begs the question: For how much longer.
Update - 2:10 p.m.: A Gannett spokesman told BuzzFeed in a statement, "Our strategic initiatives within the publishing segment, including our all access content subscription model, continue to gain strong momentum and drive increases in revenue. We remain fully committed to executing on these initiatives, while strategically growing our digital and broadcast segments across high-growth markets nationwide."