How To Use The Media To Sell A Company
Recent stories about a potential sale of Time Warner Cable offer a master class in the subtle semiotics of deal-making. A reader's guide.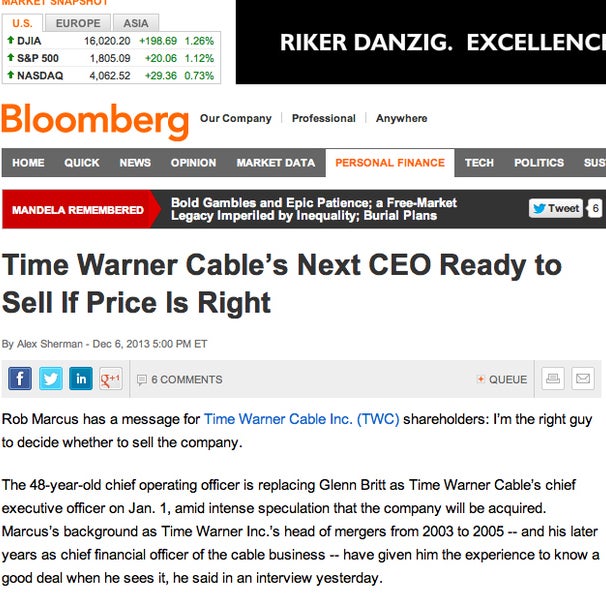 A screenshot of Bloomberg's Friday interview with Time Warner Cable CEO-to-be Rob Marcus (right).
"Time Warner Cable's Next CEO Ready to Sell If Price Is Right," blares the headline of a Bloomberg story published Friday morning. The headline isn't as informative as it sounds, however: A basic operating principle of mergers and acquisitions reporting is that companies aren't for sale until they are — and they usually are when the price is right.
The real trick for a potential buyer is actually figuring out a price to offer that would compel a sale. And as with contracts and legal proceedings, multi-billion dollar deals are also negotiated in the press, often by anonymous sources — or in the rubric of deal reporting, people who are "close to" or "familiar with" the situation — on either side of the bargaining table. For Time Warner Cable, it's no different.
Indeed, thanks to the Bloomberg story, ably assisted by recent stories in The Wall Street Journal and Reuters, potential buyers of Time Warner Cable — chief among them Charter Communications and Comcast — now have a bid floor and ceiling to begin negotiations.
The floor comes courtesy of the WSJ, though you have to read closely to find it since the piece is ostensibly about how regulators would take a tough stance against a potential acquisition by Comcast, the nation's largest cable operator with around 23 million subscribers, of Time Warner Cable, the second-largest cable operator behind its suitor with around 12 million subscribers. But in the eighth paragraph of the story, originally published on Thursday, the floor for a bid is established.
"One of Charter's proposals was made in October, say people familiar with the situation, pitched below $130 a share," reads the article. "Charter in recent weeks has been lining up debt financing that would allow it to make a new offer that includes $90 a share in cash with the rest expected to be in Charter stock."
Reading between the lines, what these "people familiar with the situation" are saying is that Time Warner Cable is likely to reject any offer below $130 per share, whether it be all cash or a combination of cash and stock. Part of the reason for that is Time Warner Cable investors have sent the company's stock up to that level since news of a deal with Charter or another operator emerged, thereby already pricing into the stock the minimum premium they believe the company should garner in a deal.
While the WSJ story provided the floor, the Bloomberg story offers up the ceiling. The article is essentially an open invitation to negotiations disguised as an interview with Time Warner Cable's incoming CEO Rob Marcus, who is due to replace longtime Chief Executive Glenn Britt at the start of the new year. It describes Marcus' lengthy experience as a finance and mergers specialist and quotes him talking about his interest in creating value for shareholders even if it means he'd be out of a job. (Don't feel too bad for Marcus, his contract calls for him to get a $50 million payout if the company is sold.)
But here's the key line in the story, and it comes not from Marcus, despite his being quoted at length in the piece — but from someone speaking off the record, with an attribution that does not identify, or rule out, Marcus as the speaker: "Time Warner Cable, the second-largest U.S. cable provider, would probably accept a bid of $150 to $160 a share, according to a person familiar with the matter, who asked not to be named because the deliberations are private."
Later on Friday, Reuters followed Bloomberg with its own exclusive story about how Comcast has hired JPMorgan to advise it on a potential bid. Sixteen paragraphs down in that piece, there's this auspice line: "Any suitor would likely need to bid at least $150 per share to be considered seriously by Time Warner Cable's board, one person familiar with the matter said."
The astute reader will note that both stories attributed to $150 price tag to a single source. Even if it isn't the same source speaking to both outlets (though it probably is), the figure is more likely deliberate than coincidental. Put bluntly, the signal being sent to potential buyers is that if they offer $150 or more per share, Time Warner Cable is theirs.
Only fools pay retail, of course. But now Charter or Comcast or any other company that decides to step into the fray knows that the price range for Time Warner Cable is between $130 per share and $160 per share, which in deal parlance is known as the bid-ask gap. This range is in line with the views of Wall Street analysts who follow Time Warner Cable and have pegged the company's value at around $150 per share in a deal.
From here, the road to a deal is pretty clear. A first offer will likely come in around $135 per share. Time Warner Cable's board will evaluate it and reject it as too low, while at the same time agreeing to engage in conversations with potential buyers. The company will push for more than $150 and likely meet heavy resistance because, well, no one pays full price. Neither do buyers make their best offer first, however, and after some back-and-forth it is not unreasonable to predict that a deal for $140–$145 per share, the midpoint of the range, will be sealed.
The only question remaining is which media outlet you will read about it in first.