How Apple Is Like The Rolling Stones
Apple without a new product is like the Stones without a tour, reliant on an aging back catalog of old hits. But maybe CEO Tim Cook has a few of Mick Jagger's moves up his sleeve.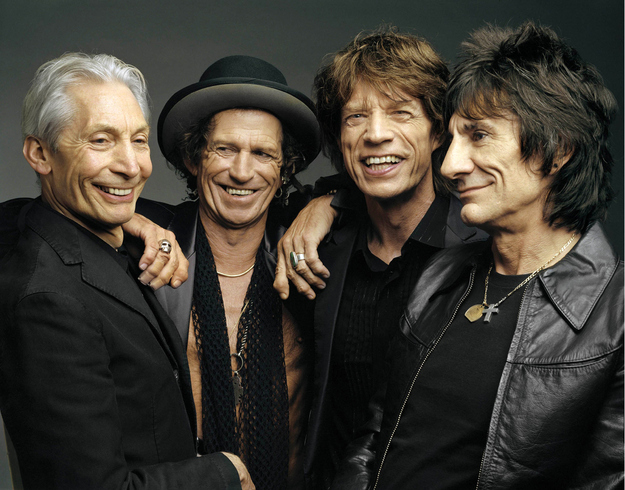 This weekend marked the 10th anniversary of iTunes, and music offers a pretty good metaphor for Apple's current position: The company has become the Wall Street equivalent of the Rolling Stones.
Despite posting better-than-expected second quarter earnings that included a profit of $9.5 billion and a plan to return $100 billion to shareholders over the next three years through dividends and stock buybacks, Apple shares ended last week at $417.20, up for the week but well below their 52-week high of $705.07. Analysts and investors who have gotten used to Apple devices such as the iPod and iPad dominating both the market and mindshare are increasingly worried that the company's well of hit products has gone dry. Its TV device has yet to take hold, and reports that its next product could be a potential Inspector Gadget–like smartwatch don't seem all that inspired for a company that has revolutionized three industries — music, telecommunications, mobile computing — with its products.
"They did increase the share buyback, and that's a band aid," Global Equities Research managing director Trip Chowdhry told Reuters. "The investor focus should be on, when are the new products coming? As soon as Apple launches new products, that's the key to the stock recovering. When that happens, the stock could go to all-time highs. But unless Apple comes out with new products, the stock will be going sideways."
In that quote lies the similarity between Apple and the Rolling Stones. Strip out the words "Apple" and "product" and replace them with "Rolling Stones" and "tour" and Chowdhry sounds like your typical record executive. Here, let's try it: "As soon as the [Rolling Stones] launch a new [tour], that's the key to the stock recovering.... But unless the [Rolling Stones] comes out with a new [tour], the stock will be going sideways."
Of course, the Stones don't have stock, but what Chowdhry — and many other analysts — are basically saying is that new products underpin Apple's stock in the same way that going out on tour underpins the Rolling Stones' finances.
Indeed, buying Apple stock used to be to investors what a Rolling Stones tour is to the band's members — a surefire moneymaker. Now, however, investors look at Apple as the Rolling Stones without the tour, namely a company reliant on a back catalog of hits with no new ones to drive earnings on the horizon. Apple averaged annual earnings per share growth of 62% over the last five years, but its profit is now forecast to grow at just 4.5% a year for the next decade.
Never mind the fact that Apple sold 37.4 million iPhones, 19.5 million iPads, 5.6 million iPods, and 4 million Mac computers last quarter. The raw numbers aren't important to investors — what's important is that those figures are down from the previous quarter and are expected to decline in subsequent quarters as products like the iPhone mature.
It's worth noting that while Steve Jobs was a big Rolling Stones fan, according to Walter Isaacson's biography the late Apple chief said that "somebody else could have replicated the Stones." The same can be said about Apple's products. As much as Apple fans are loath to admit it, competitors such as Samsung, Google, and Amazon are making inroads against the company with lower-priced phones and tablets that can match Apple's technology if not its impeccable minimalist design aesthetic.
What's worse for Apple is that there is no way it can meet the astronomical expectations already built into its next product release. The odds are totally against the company. RBC Capital Markets analyst Amit Daryanani told CNBC in February that he expects an Apple smartwatch to sell 40 million units and generate $9 billion in its first year. That's a lot of money for a product that hasn't even been confirmed yet!
Over the 10-year span from 2001–2010, Apple released the original versions of the iPod, iPhone, and iPad, as well as their various updated iterations. That's a run of technological innovation and artistry equivalent to the string of groundbreaking albums the Rolling Stones released from 1968–1981, which began with Beggars Banquet, included Let It Bleed, Sticky Fingers, and Exile on Main Street, and ended with Tattoo You.
The problem with those types of artistic runs is that fans (or in Apple's case, investors) become conditioned to expect greatness every time. But it's absurd to think every Rolling Stones album will match the greatness of Exile on Main Street, just as it is irresponsible for investors to think that the next Apple product will be as revolutionary as its past ones. The whiff of unmet expectations with which critics greeted Dirty Work when it was released in 1986 is tantamount to the disappointment the iPhone 4S with Siri received when it was released in 2011.
In the way that new Rolling Stones albums are ancillary to the band's tours, Apple can return its stock to some form of measured growth (the days of 60% year-over-year earnings growth are never coming back) with products that enhance its old gadgets in the absence of new ones. Writ large, products can take all forms, including software and services. Apple CEO Tim Cook alluded to "some really great stuff" coming this fall and in 2014, but he didn't specify what kind of stuff. It could be a smartwatch or a TV. It could be a refresh of its current product line with new features. Or it could be something entirely different, something that glams up and repackages its current hits to reinvigorate its older consumers, gain new ones, and get investors excited about the stock again.
After all, the last full Rolling Stones tour in 2005–2007 wasn't about the album it was in support of, A Bigger Bang. No Rolling Stones tour in the last two decades has been about the album it was supposedly supporting. Bigger Bang was, like other Rolling Stones tours, about the past hits. And it was so successful, ranking as the second-highest-grossing tour of all time with $558 million, that the band is returning to the road for a new tour this year.
And maybe Tim Cook's product releases later this year will borrow as much from Jagger as they do from Jobs.