Deep Inside NBC Universal's Corporate Culture Makeover
Chief Executive Steve Burke has methodically dispatched with nearly every high level executive from the Jeff Zucker regime. Now it's "all business" — for better or for worse.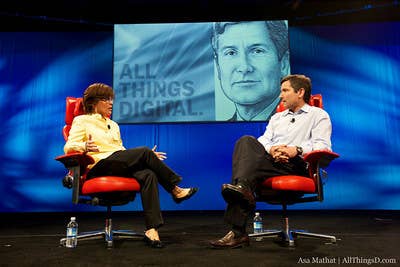 Roughly three years into Comcast's ownership of NBC Universal, and Chief Executive Steve Burke has dispatched with all but a tiny vestige of the old Peacock network regime.
With the naming of ITV's Deborah Turness as the new president of NBC News last week, Burke's makeover of NBC Universal in his image is basically complete. Since taking control in 2011, Burke has brought in new executives or realigned the organizational chart at NBC's broadcast, cable, sports, news, and advertising sales departments. Pretty much the only division he hasn't touched is Universal Studios, which makes sense since movies are the one area inside NBC Universal in which Comcast is least familiar.
The result, based on interviews with more than a half dozen current and former NBC Universal executives, is an executive suite lower on drama and personality, but one that also leaves some still trying to figure out where they stand in the corporate structure and with Burke himself.
"All the heat and passion is gone," said one executive who recently left the company. "He's all business all the time."
For many, that's a plus. Executives seem relieved that the political machinations that were a hallmark of former CEO Jeff Zucker's regime are all but gone, limited essentially over the last year to the Today show fallout and the continued problems of the broadcast network in prime time.
Of the change in NBC Universal's corporate culture, one executive inside the company said, "It is kind of like one big exhale. We can focus on doing our jobs instead of worrying about things that are looming. There are no politics, no peril."
A representative for NBC Universal declined comment for this piece.
When Comcast acquired NBC Universal, it set out to do two things: better operate the business and change the culture. At a town hall meeting at 30 Rock hosted by Brian Williams shortly after Comcast took control of NBC Universal in 2011, Burke brought along Ralph Roberts, who founded Comcast in 1963 and whose son leads it today, to address the Peacock staff. The symbolic intent of Roberts' presence was clear: Comcast is a family business, and we handle problems quietly amongst ourselves. Indeed, to this day Ralph Roberts' biography, An Incredible Dream: Ralph Roberts and the Story of Comcast, is displayed on coffee tables to greet visitors of NBC Universal's headquarters in New York.
According to sources, part of Burke's town hall presentation that day back in 2011 also included a discussion about his disinterest in publicity and desire to end what up until then had been an NBC Universal corporate culture that thrived on using the media to build up one's own status or tear down an internal rival's.
"If you were a 'friend of JZ,' then NBC was a great place to work, even if your business wasn't performing," said another NBC Universal executive, referencing a commonly used phrase around 30 Rock during Zucker's tenure. "With Burke, you can be his friend, but that doesn't give you a business advantage. He can like you very much, but if you are sucking at your job then you aren't going to have a job for very long."
That attitude dovetails with Burke's massive purging of NBC Universal's executive ranks since the 2011 takeover, which most recently resulted in the departure of NBC News boss Steve Capus.
Included among Burke's other executive moves are bringing in Bob Greenblatt to replace Jeff Gaspin at NBC Entertainment; naming Mark Lazarus to run NBC Sports, which led to the departures of Dick Ebersol and Ken Schanzer; putting all of the company's cable networks under the leadership of Bonnie Hammer and all its digital operations under Lauren Zalaznick, a move widely seen as a promotion for Hammer and a demotion for Zalaznick; and having all the news division leaders report to a new chairman, Patricia Fili-Krushel, instead of directly to the CEO as they did with Zucker. The latter move means that CNBC President Mark Hoffman and MSNBC President Phil Griffin, both of whom were very close to Zucker and largely operated their own fiefdoms under him, now have a layer of management between them and Burke.
"Jeff's way of managing was to call people directly. He was in the weeds, walking the halls. He liked to be liked," said the second executive. "Steve's the flip side of that. He's not effusive. He shuns the spotlight. He wants to make this a great place to work, but he also wants it to be profitable."
For the first quarter, NBC Universal increased revenue and operating income at every division except the broadcast network. NBC Universal revenue overall decreased 2% to $5.3 billion but operating income increased 17% to $953 million.
But Burke's moves have also alienated some executives. This contingent describes him as "cold and calculated" and says he manages with a "subtle iron fist." They describe an atmosphere where executives lack confidence in their long-term employment and therefore "walk on eggshells" around Burke or "kiss his ass."
Burke has made an effort to be more available and approachable, sources said. They point to his flying out to California to personally speak with Jay Leno after news of the Tonight Show transition to Jimmy Fallon leaked as an example. Burke also went out to L.A. for pilot screenings, sources said. Each year he also holds an annual off-site meeting for his leadership team, which numbers around a dozen executives, and another one for his management committee, which includes about 150 senior executives, sources said.