Corporate Ego Drives A Takeover Duel Between Men's Wearhouse And JoS A. Bank
The difference between getting acquired or being the acquirer is often little more than a matter of pride. "The barrier is over management's needs not the owners or customers," says Sonnenfeld.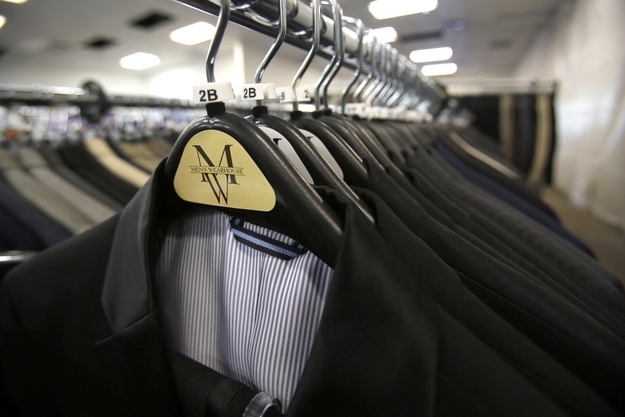 The Merriam-Webster dictionary defines "ego" as "the self, especially as contrasted with another self or the world."
By that definition, off-the-rack suit seller Men's Wearhouse has a remarkably healthy ego — especially when contrasted with smaller rival JoS A. Bank. After rejecting outright JoS A. Bank's offer to acquire the company last month for $48 per share, Men's Wearhouse's management completely reversed course and Tuesday offered to buy Jos A. Bank for $55 per share. In mergers and acquisitions parlance this move is called the "Pac-Man" defense, for the game in which the bright yellow prey consumes power pellets that briefly turns him from potential ghost meal into ghost gobbler. However, the difference between getting acquired or being the one doing the acquiring often is little more than a matter of ego.
"Strategically, [these two companies] are virtually on the same page and the valuation issues are easily addressed by the market. Combined, they are a powerhouse. They would both benefit from the combined strategic strength of each other's reach and brand," said Jeffrey Sonnenfeld of the Yale's School of Management. "The barrier is over management's needs not the owners or customers. The management teams should get over their emerging ego needs of the 'mine is bigger than yours' battle line. This battle is not about the shareholders' interests, which are easily resolved – or the joint strategic direction."
Men's Wearhouse cited a litany of reasons for rejecting JoS A. Bank's takeover proposal, among them: undervaluing the company, not being in the best interest of shareholders, ignoring its compelling standalone growth prospects, significant antitrust concerns, and, as it repeatedly alluded to in its rejection letter, JoS A. Bank's poor operating performance.
So, in the 48 days since Men's Wearhouse sent that letter, did all of those issues just magically disappear? Are antitrust issues no longer a concern? Did Jos A. Bank suddenly and swiftly turnaround its operating performance? Are Men's Wearhouse shareholders somehow better served by it buying Jos A. Bank than vice-versa?
Well, not exactly. Here's what Bill Sechrest, lead director of the Men's Wearhouse board, had to say about the company's change of heart regarding a deal in Tuesday's offer letter:
"After a thorough review, our Board concluded that an acquisition of Jos. A. Bank by Men's Wearhouse has strategic logic and the potential to deliver substantial benefits to our respective shareholders, employees and customers. In reaching our determination, we considered a number of factors including Men's Wearhouse's advantage in scale, growth and performance, long history as a prudent steward of capital, successful acquisition track record and experienced management team. We believe we are the right acquirer for this combination and that our experienced management team is best positioned to execute the integration of our companies and achieve the synergies that would result. We are ready to engage with the Jos. A. Bank's Board immediately."
Behind Sechrest's corporate-speak are the two real reasons for why Men's Wearhouse suddenly wants to do a deal — the company is being pushed by an activist hedge fund into the merger, and by being the acquirer the Men's Wearhouse management team has the leverage and thus a better chance of keeping their jobs after the integration.
The logic of the deal has never been in question. A combination of Men's Wearhouse and JoS A. Bank would create the fourth-largest retailer of tailored men's clothing and largest men's specialty clothing retailer in the country, with more than 1,700 stores and $3.5 billion in combined sales. The combined company would be able to achieve roughly $125 million in annual savings from merging back office operations and eliminating redundancies. Richard Jaffe, an analyst at Stifel Capital Markets, said on a conference call today that he thinks the stock of a merged company could rise as high as $60 per share.
The deal's attractiveness is the sole reason why hedge fund Eminence Capital bought a 9.8% stake in Men's Wearhouse — ranking it as the company's largest shareholder — earlier this month and began pushing for it to either merge with JoS A. Bank or solicit other buyers to create more shareholder value.
"We are pleased to see that The Board of Men's Wearhouse agrees with us and recognizes the substantial benefits of merging with Jos. A. Bank," said Ricky Sandler, Chief Executive Officer and Chief Investment Officer of Eminence Capital, in a statement Tuesday.
Of course, the most immediate concern for Men's Wearhouse management isn't the logic of the deal, but keeping their jobs after the deal. Inherent in the rationale for any merger is the premise that the combined company will be able to achieve economies of scale (i.e., cost savings) by such things as centralizing administrative functions like payroll and human resources, and consolidating real estate holdings, among other things. Layoffs are an unfortunate but inevitable consequence of dealmaking. No company needs two CEOs. Or two chief financial officers. Or two of any executive position. What Sechrest is really saying when he says that Men's Wearhouse management "is best positioned to execute the integration of our companies and achieve the synergies that would result," is that they believe they should remain in power and control the decisions about who gets laid off and who doesn't.
Buying JoS A. Bank also has the added advantage of potentially being able to get Eminence to drop its request with regulators to call a special meeting of the Men's Wearhouse board on February 14, where it is seeking to amend the company's bylaws for electing directors and, if successful, likely seek to nominate its own candidates to the board. That, in turn, would increase the chances of Men's Wearhouse being sold anyway since a board of Eminence nominees would be more receptive to a deal.
Men's Wearhouse will disagree, of course. They will say the reason why they should buy JoS A. Bank instead of vice-versa is because they're in a better financial position and that their offer isn't subject to raising equity or debt financing. They will say it can fund the purchase from cash on its balance sheet and available credit and keep its dividend in place.
While that is indeed true, it's not the real reason for the sudden receptiveness to a deal.
Retaining power is the sole motivating factor for turning down the chance to collect $2.3 billion in a sale to JoS A. Bank (which was the value of its takeover proposal) and instead being willing to spend $1.5 billion to be the buyer.
And it may end up having to spend more. Stifel's Jaffe thinks JoS A. Bank management would be foolish not to respond to Men's Wearhouse's offer.
"They have a responsibility to their shareholders. I'd be disappointed if they didn't come back to ask for a higher price," Jaffe said.