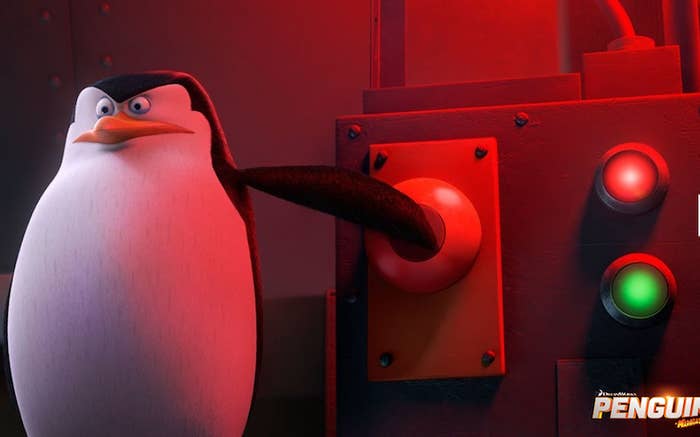 Shares of Dreamworks Animation fell more than 5% in trading Monday after audiences gave the movie studio's latest release, Penguins of Madagascar, a chilly reception at the box office.
Dreamworks Animation needed a strong performance from Penguins to restore investor confidence after taking write-downs on three of its last five releases. But instead, the movie grossed only $36 million at the domestic box office over the four-day Thanksgiving holiday weekend, well below analysts' expectations. Most analysts who follow the studio had expected Penguins, which is a spin-off of the highly lucrative Madagascar franchise, to generate between $45 million and $55 million over its opening weekend.
The film's weak performance is the latest setback in what has been a miserable fall for Dreamworks Animation and its CEO Jeffrey Katzenberg. The studio has failed to sell itself twice since September, first to Japan's Softbank and later to toy maker Hasbro. Takeover talks with both companies fell apart over price, with buyers unwilling to meet Katzenberg's mid-$30 per share asking price, which would value the company well north of $3 billion.
A Dreamworks Animation representative declined comment.
Despite recent moves to diversify its business into television and publishing, Dreamworks Animation's financial fortunes still rely heavily on the performance of its movies. Without being part of a larger conglomerate or owning other assets with steady cash flow generation, such as cable networks, the company's stock price swings wildly from one movie release to the next.
Dreamworks Animation shares were trading at $22.65, down 5% or $1.19, Monday afternoon. well below the $32 per share reports said Softbank offered for the studio.
Analysts are divided over whether Dreamworks Animation will have to book a loss on Penguins, in part because of its strong performance in international markets, particularly China. The movie has taken in $62.6 million since its Nov. 14 opening internationally, with $24 million of that amount coming from China, by far the most of any country outside of the U.S. Between foreign markets and the U.S., Penguins has thus far grossed $98.6 million.
Stifel Nicolaus analyst Benjamin Mogil wrote in a note that he now expects the studio to record a $14 million loss on Penguins, for instance, while others, such as David Miller of Topeka Capital Markets, were more cautious.
"The weak domestic cume [cumulative box-office earnings] will most certainly stoke discussion of yet another write-down, but we would caution that at this point, it's way too early to draw that conclusion," Miller wrote in a research report, adding that he'd like to see how the movie performs during this week and in other international markets first.
Miller also said that he expects the film to ultimately generate $370 million at the global box office, which, if achieved, would prevent the studio from having to take a write-down. However, Miller said that the movie will continue to run at a loss until it reaches $285 million in global box office receipts.
DreamWorks Animation has had to record a total of $157.5 million in losses on three movies — Rise of the Guardians, Mr. Peabody and Sherman, and Turbo — since 2012.
The hope with Penguins is that it performs much like the sequel to How to Train Your Dragon did this summer, when it started out tepidly but slowly built into a $619 million global hit.
To be sure, unlike previous films such as Mr. Peabody and Sherman that featured entirely new characters, Madagascar is an already well-known franchise and the penguins from those films are recognizable to both domestic and international audiences.
Moreover, while the movie went up against the first installment in the final movie of the Hunger Games franchise, over the next few weeks Penguins has a pretty clear run in terms of family-friendly films to compete with, meaning an opportunity to make up some lost ground.