Can Marissa Mayer Sell Yahoo To Tumblr's Users?
Today's press conference is the most important sale of Yahoo CEO Marissa Mayer's career. Her company's future depends on convincing Tumblr's users to believe in her vision.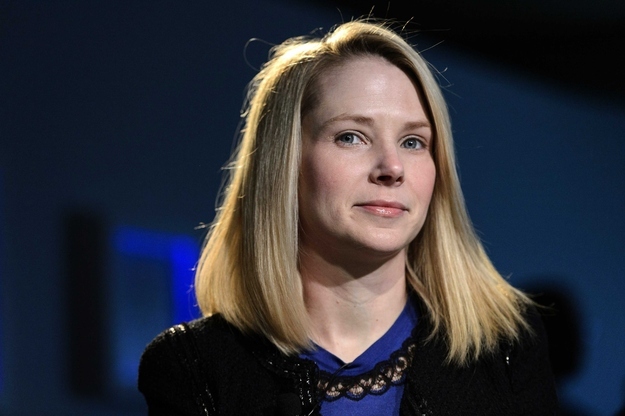 For Yahoo CEO Marissa Mayer, there is no more important time in her professional career than now. Or, more precisely, than Monday afternoon at 5 p.m. EST at the R Lounge at Two Times Square in New York. That's when Mayer will take the stage to officially unveil Yahoo's $1.1 billion purchase of Tumblr.
Typically, such press events are designed to sell shareholders, advertising executives and the media on the merits of the deal, primarily by plying them with expensive alcohol and robust swag bags. But tomorrow, Mayer will be pitching not to the martini-swilling attendees at the event, but to a much more important audience — the 18- to 25-year-olds who make up the bulk of Tumblr's user base. The core Tumblr demographic that is already threatening to defect from the blogging platform and social network en masse.
Monday's press conference represents not just a key moment in Mayer's effort to remake Yahoo, but also for her as a leader and chief executive. Calling it the presentation of her career would not be an overstatement. As sources told AllThingsD, which broke the news of the deal, Mayer has decided that buying Tumblr is going to be "the stake in the ground for what her strategy is going forward for Yahoo."
For that strategy to pay dividends, Mayer needs to both convince Tumblr's under-30 contingent to stick around and entice a steady stream of their peers to contine to adopt the service. In a way, press reports saying that Yahoo wants to buy Tumblr to be cool are doing Mayer a disservice. Nothing is less cool than a conscious attempt to be cool. What Mayer is faced with is the immense task of convincing Tumblr's users that Yahoo's products and services can make them cooler.
It won't be easy. Indeed, by banning Kara Swisher and Peter Kafka, the reporters who broke the news of the deal, from the press conference, Yahoo already looks petty and decidedly uncool.
But more importantly, as my colleague John Herrman noted Sunday, when Yahoo was founded, most of Tumblr's most important demographic wasn't even born. (Jerry Yang and David Filo co-founded Yahoo in January 1994 for the record. Tumblr was founded in 2007.) Mayer turns 38 on May 30; Tumblr founder David Karp turns 27 in July. To Wall Street, Mayer is a revelation — a young, digitally native executive who can speak the language of both coders and analysts. To Tumblr users she represents authority: a corporate executive to be viewed suspiciously, someone who wants to make money off their work and take away their fun.
Nowhere is that better illustrated than in two tweets, one from LinkedIn CEO Jeff Weiner and the other from the parody account YahooBoard.
"Whether new policy decisions, product launches, or acquiring Tumblr, Marissa's got people talking about Yahoo again in a meaningful way," @jeffweiner tweeted on Sunday afternoon.
A few hours later, @YahooBoard tweeted, "First meeting on how to completely destroy @tumblr's culture of product innovation is 9am sharp tomorrow."
The joke actually takes on some resonance when you consider that changes to Tumblr are nearly always incremental and pass without fanfare. New features are announced on the site's staff blog in the form of short posts from Karp or one of a handful of deputies. Funding announcements have been allowed to play out in the press, while Tumblr's most important announcement in years, that it had devised a rudimentary advertising strategy, was delivered casually by Karp at an advertising conference. Glossy press events are anathema to pre-Yahoo Tumblr, and to Karp, who would rather antagonize his business peers than share a stage with them.
And let's not forget that Tumblr's core users also find display advertising, still a main source of Yahoo's revenue, reprehensible. They don't like to be sold to, regardless of whether it's a product or a deal.
Historically, Yahoo's leaders have wilted rather than thrived under pressure. A major reason why Yahoo has foundered since rejecting Microsoft's $44 billion takeover offer in 2008 is because Jerry Yang, Carol Bartz and the company's other interim CEOs never articulated a clear vision and strategy. They seemed to be looking for a way out rather than a way forward.
Mayer has spent $1.1 billion because she believes Tumblr provides a path to keep Yahoo relevant for a new generation of users. On Monday she will attempt to sell its users on her vision. By the time the press conference ends we should have a good idea of whether they see things her way.