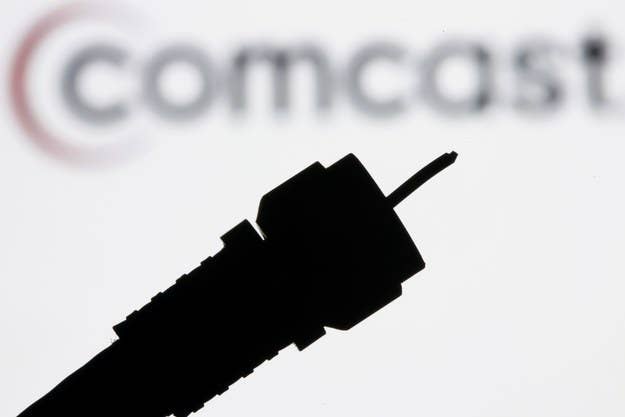 Right about now, Comcast CEO Brian Roberts might be borrowing a sketch from his new Tonight Show host Jimmy Fallon and writing out a thank-you note to AT&T Chief Executive Randall Stephenson.
That's because AT&T's $67.1 billion deal to acquire DirecTV, which was officially unveiled Sunday evening, makes it more likely that regulators will have to approve Comcast's impending $45.2 billion merger for Time Warner Cable. Part of the reason why AT&T moved so quickly to acquire DirecTV — after nearly a decade of on-again, off-again talks the two sides negotiated the deal in roughly a month — is because Stephenson felt the Comcast–Time Warner Cable deal was "industry-redefining" and wanted to get his own deal in front of regulators for review simultaneous with it. In so doing, however, AT&T is indirectly making Comcast's case to regulators that it should be allowed to acquire Time Warner Cable because competition is increasing.
For one, Comcast has repeatedly stated that its deal with Time Warner Cable does not eliminate a marketplace competitor since the two companies don't operate in overlapping areas.
"There is no business overlap," Roberts has frequently said, referring to the fact that Comcast and Time Warner Cable operate in distinct markets because of the way cable contracts are granted. "We are not removing a competitor or choice from any consumer."
As national distributors not bound by the same regional limitations as cable companies, however, an acquisition of DirecTV by AT&T actually would eliminate a competitor in certain markets, although the overlap is very minor. The deal combines the 20 million subscribers to DirecTV's service, which ranks it as the largest satellite operator in the country, with the 5.7 million people who subscribe to AT&T's U-verse digital TV service. Combined, the 26 million subscribers the company would have still trails the roughly 30 million that Comcast would control assuming its deal with Time Warner Cable is approved by regulators.
Moreover, as Comcast points out in its "public interest benefits summary," it not only competes with satellite television providers and telecom companies like DirecTV and AT&T on distribution, but also Google on broadband service in some markets, and even digital video providers like Amazon, Hulu, and Netflix. A combined AT&T–DirecTV only strengthens that claim since it could now offer a bundled package of video, broadband, and telephone services to subscribers. (DirecTV is a pure-play video distributor and doesn't offer broadband or telephony service.) Basically, the AT&T–DirecTV deal lends credence to Comcast's claim that the "addressable market" in which the company competes extends beyond cable.
AT&T in fact borrows liberally from Comcast's "addressable market" argument to justify its own deal, saying that combining with DirecTV "will position the company to better meet consumers' future viewing and programming preferences, whether traditional pay TV, on-demand video services like Netflix or Hulu streamed over a broadband connection (mobile or fixed) or a combination of viewing preferences on any screen."
Of course, video is less a focus for regulators than broadband access, which has emerged as the biggest concern regulators so far in the Comcast-Time Warner Cable review particularly in light of a recent ruling striking down "net neutrality" and since the combined company would control broadband access to more than one-third of consumers in the country. Here, too, AT&T is inadvertently helping out Comcast by pledging to regulators that if the DirecTV purchase is approved it will "expand or enhance" broadband access to 15 million customers primarily in rural locations and provide a "stronger competitive alternative to cable, with a better customer experience, enhanced innovation, and a continued commitment to net neutrality." All of that should sound great to Roberts, who can now point to AT&T's comment to underscore his point that free enterprise should be dictated by market competition rather than government mandates.
Another argument Comcast has made to justify its acquisition of Time Warner Cable is that programming fees demanded by network operators, particularly at ESPN and other sports-focused channels, are soaring. Comcast's single biggest expense is on programming, for which it paid out $9.1 billion last year. In testimony before Congress in April, Comcast's David Cohen painted a picture of the cable operator being at the mercy of network owners in carriage fee negotiations, saying companies like CBS, Viacom, 21st Century Fox, Discovery, and Disney have "inordinate market power."
Indeed, part of the reason AT&T is buying DirecTV is to help it negotiate better carriage deals with programmers. But in so doing, it is also creating a competitor with similar scale as Comcast, thus allowing the cable operator to tell regulators that buying Time Warner Cable wouldn't give it undue leverage to squeeze programmers because if they tried to they could end up losing subscribers to its new, nationally distributed, equally sized competitor. In fact, networks could actually end up benefiting by the two deals being approved since they would be able to play Comcast and AT&T against each other if carriage negotiations got to the point where a blackout was threatened. They could, in effect, tell Comcast or AT&T that if they don't get paid what they want they will tell their viewers to cancel their subscriptions and go sign up for the other service.
Consumer advocates are as upset about a combined AT&T–DirecTV as they are about Comcast–Time Warner Cable. In a statement released shortly after the former deal was announced Sunday, Delara Derakhshani, policy counsel for Consumers Union, the advocacy arm of Consumer Reports, said, "AT&T's takeover of DirecTV is just the latest attempt at consolidation in a marketplace where consumers are already saddled with lousy service and price hikes. The rush is on for some of the biggest industry players to get even bigger, with consumers left on the losing end."
Derakhshani went on to say that, "You can't justify AT&T buying DirecTV by pointing at Comcast's grab for Time Warner [Cable] because neither one is a good deal for consumers."
But unfortunately for Derakhshani and consumers, that's precisely what regulators will do and indeed what both companies are banking on them doing. From a regulatory perspective, what happens next is pretty clear — either both deals get approved or rejected. You can't allow one without the other.