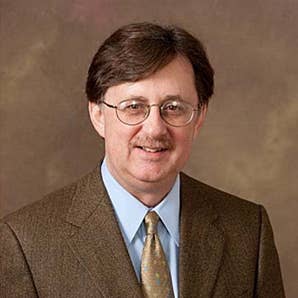 William Jacoby, a political scientist at Michigan State University, has resigned as editor of one of the field's leading journals, after using its website to deny allegations of sexual harassment made against him.
"It is apparently widely known that allegations related to sexual harassment have been made against me," Jacoby wrote on the website of the American Journal of Political Science on Tuesday evening. "The allegations are untrue. I never engaged in the behaviors described in the allegations."
He also described the allegations as "false" and "unfounded," but said that because they could cause "serious damage" to the journal, he would be stepping down as editor at the end of this year.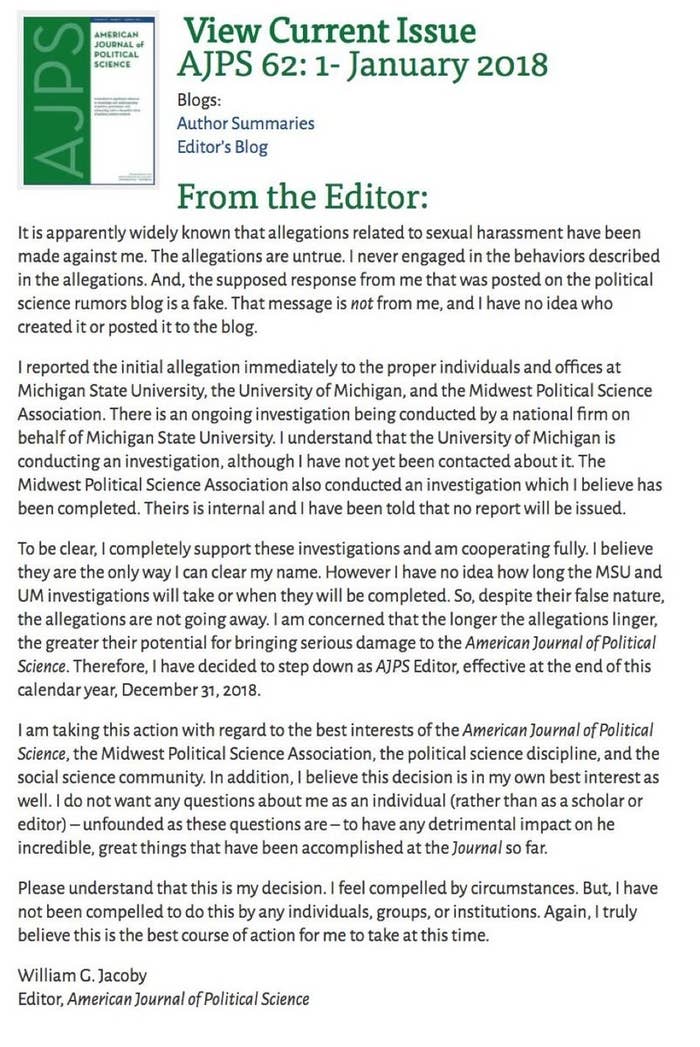 That prompted a firestorm of protest from political scientists who were angry that Jacoby had used the journal as a platform to brand his accusers as liars.

"It's one of the top journals in my discipline," Rebecca Gill, a political scientist at the University of Nevada, Las Vegas, and one of Jacoby's accusers, told BuzzFeed News. "That's kind of a power play."

On Thursday, Jacoby resigned with immediate effect, according to a statement posted Friday by the Midwest Political Science Association, which publishes the journal. The association is now negotiating to put an interim editor in place, its president, Elisabeth Gerber of the University of Michigan, told BuzzFeed News.
"Currently, the journal is on hiatus," she added.
Jacoby studies people's fundamental values and ideology, helping to reveal how the "culture war" has made US politics so bitter and polarized. The allegations against him came to light in January, when Gill spoke at a meeting of the Southern Political Science Association in New Orleans about her #MeToo experience as a graduate student in 2003.
At a panel on mentoring, Gill said that a leading political scientist had asked her to have an affair with him, suggesting it would be good for her career. The incident made her feel ashamed and embarrassed, she said, sharing the story on social media.
Gill didn't name Jacoby, and neither did an article at Inside Higher Ed, which described her comments and the reactions to them. But Gill had included enough details for people in the field to realize who she was referring to.

Michigan State University, already reeling from the scandal surrounding Larry Nassar, a faculty member and team doctor for USA Gymnastics who in January was convicted on multiple counts of sexually abusing young gymnasts, contacted Gill and began an investigation.
Michigan State also informed the University of Michigan, which hosts a research methods summer school at which Jacoby allegedly propositioned Gill. Its investigator spoke to Gill in January.
Gill is not Jacoby's only accuser. Valerie Sulfaro, a political scientist at James Madison University in Virginia, confirmed to BuzzFeed News that she made complaints of sexual harassment by Jacoby to Michigan State, the University of Michigan, and the Midwest Political Science Association. Sulfaro was a graduate student in Jacoby's department at the University of South Carolina in the early 1990s. She began a sexual relationship with him, feeling pressured because of his influence on her work.
Neither university has completed its investigation into Jacoby. "Michigan State University is taking the situation very seriously," Emily Gerkin Guerrant, the university's vice president and spokesperson, told BuzzFeed News by email. "We are looking into the complaints."
The University of Michigan said it could not comment on the existence of an investigation as a matter of policy.
Even before Jacoby posted his defense on the journal's website, pressure had been mounting on the Midwest Political Science Association to remove him from the journal's editorship, given that his role as a gatekeeper over what research gets published gave him continued power over researchers' careers.
"Not only are there individuals who have had conflicts with him, there are now also tens, if not hundreds, of people who might be concerned that their advocacy of the #MeToo movement in Political Science may come back to haunt them," wrote three researchers, Jennifer Lawless of the American University in Washington, DC, Kathleen Dolan of the University of Wisconsin-Milwaukee, and Kira Sanbonmatsu of Rutgers University in New Jersey, in a letter to the association April 9.
Jacoby's post was on Wednesday replaced with a brief statement. "I apologize to those who were offended by its contents," Jacoby wrote. "I was merely trying to explain the course of action that I planned to follow."
That did little to calm the storm. "I found his second statement to be as self-serving and backhanded as his first one was," Dolan told BuzzFeed News.
Jacoby referred queries to his lawyer, John Shea. "Bill has consistently denied any inappropriate conduct of the type that has been alleged," Shea told BuzzFeed News.