These 6 Charts Show What Austerity Did To Greeks' Health
Despite worrying spikes in suicides and HIV infections, Greece has so far avoided a full-blown health crisis. But how bad could it get?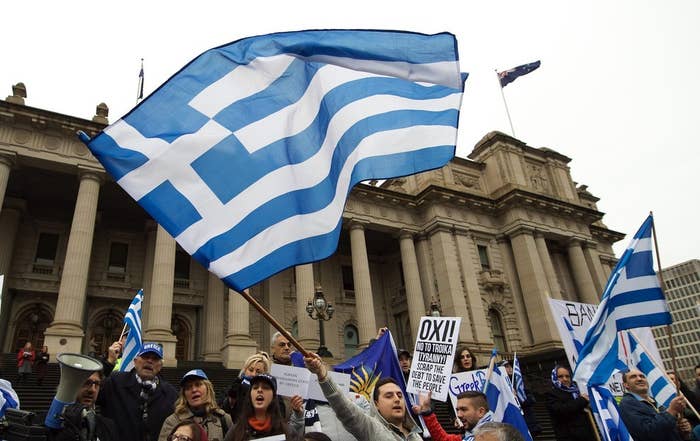 Greece is teetering on the brink. More than the nation's economic well-being hangs on whether it can secure another bailout — the physical and mental health of the Greek people are also at stake.
What has five years of austerity done to the Greek health system? And how bad could things get? BuzzFeed News has scanned the medical literature, spoken to experts studying the health effects of austerity, and crunched the numbers from international health and economic databases.
Here's the lowdown, in six simple charts.
1.
As unemployment has grown, more people lack health benefits.
Peter Aldhous for BuzzFeed News / Via data.worldbank.org
Greece's economy shrunk by 20% between 2008 and 2012, and has remained in the doldrums ever since. The pain was amped up by the 2010 austerity agreement with the "troika" — the European Commission, the European Central Bank, and the International Monetary Fund (IMF). Greek unemployment is now running at more than 25%.
You might imagine that economic downturns would always be bad for health. But death rates actually tend to drop during recessions. That's because financial belt-tightening makes people do less of the risky things that can send them to an early grave — notably driving, smoking, and drinking too much. When the pain is as deep and as prolonged as Greece's, however, this paradoxical health boost may no longer apply.
"Whether the effects are the same in that situation — I don't think we know," health economist Christopher Ruhm of the University of Virginia told BuzzFeed News.
Greeks lose health insurance benefits after two years without a job. So up to 2 million people — including families of the long-term unemployed — are thought to have lost health coverage, Marina Karanikolos of the European Centre on Health of Societies in Transition, based at the London School of Hygiene and Tropical Medicine, told BuzzFeed News. "The most important thing is that people are losing access to care," she said.
2.
Health spending was cut — dramatically.
Peter Aldhous for BuzzFeed News / Via data.worldbank.org
As a bailout condition, Greece agreed to cut government spending on health — and expenditure on drugs was a prime target. Many patients are now paying for medications out of their own pockets.
In a survey published in 2012, conducted on the Peloponnese peninsula, 70% of patients said that their monthly income was insufficient to cover the cost of the drugs they had been prescribed, and more than half said they had skipped doses or stopped taking drugs for financial reasons.
Pharmaceutical companies are also reported to have reduced supplies to Greece because of low profit margins, unpaid bills, and concerns that drugs will be exported on the black market to other European countries, where prices are higher.
The cuts may also be taking a toll on healthcare staff. In a study of more than 300 workers at two Greek hospitals, researchers led by epidemiologist George Rachiotis of the University of Thessaly in Larissa found that almost half were suffering from emotional exhaustion, and that this was more likely among those who said they had experienced shortages of medical supplies.
3.
But the Greek health system was a mess even before the crisis.
Peter Aldhous for BuzzFeed News / Via data.euro.who.int
At face value, this chart looks encouraging. Greece has more doctors than other European nations — at least, it did until 2011.
But those doctors were in the wrong places: mostly at major hospitals, with very few in general practice. As a result, Greek healthcare was horribly inefficient, with too many patients hospitalized at great expense, and not enough primary and preventive care. Corruption was also a problem, with patients who could afford it making illicit payments to doctors to jump queues for treatment.
"The Greek health system needed reform," said Karanikolos, "But what the austerity program required was too much, and too fast."
What our chart doesn't show is that trained healthcare staff are now leaving the country by the thousands — because official statistics lag behind the unfolding situation. It's a general problem for researchers trying to track the health aspects of the Greek crisis.
"It is very worrying that, so far, the troika has done almost nothing to monitor the health impact of its measures," Martin McKee, research director of the European Observatory on Health Systems and Policies, told BuzzFeed News by email.
4.
Suicides have risen, but Greece's suicide rate is still very low.
Peter Aldhous for BuzzFeed News / Via data.euro.who.int
The headline news about health in Greece in the age of austerity has been a sudden jump in the country's suicide rate. According to a study published in February, led by epidemiologist Charles Branas of the University of Pennsylvania, Greece's suicide rate rose by 36% to a 30-year high, following a second round of austerity measures in July 2011 that was met with public protests, strikes, and riots.
Every self-inflicted death is a tragedy. But it's worth keeping in mind that Greece's suicide rate remains one of the lowest in the developed world — less than half of that in wealthy Germany, for example.
5.
There's been a big rise in HIV infection.
Peter Aldhous for BuzzFeed News / Via data.euro.who.int
Under austerity, prevention and treatment programs for illicit drug use in Greece were slashed, even as heroin use was rising. Supplies of condoms and syringes to intravenous drug users dropped, by 24% and 10% respectively, between 2009 and 2010, according to a 2012 risk assessment by the European Centre for Disease Prevention and Control. Predictably, HIV infections surged among drug users in Athens.
After a public outcry, syringe and condom distribution has since been stepped up — new infections are reported to have dropped in 2014, and the outbreak seems not to have spread significantly into the wider population. But for the people already infected, the damage is done.
6.
1990s Russia shows how bad things can get.
Peter Aldhous for BuzzFeed News / Via data.worldbank.org
The good news in this chart is that overall life expectancy in Greece remains high. But Russia's roller-coaster plot contains a stark warning of how hard a nation's health can be hit by economic and political turmoil.
After the demise of the Soviet Union, the Russian government embraced "shock therapy" economic policies urged by the United States, the IMF, and the World Bank. Health spending tanked, and life expectancy plummeted.
No one expects Greek public health to prove quite as vulnerable as Russia's. That crisis was fueled in part by rampant alcohol abuse, after the removal of Communist-era controls left the nation awash in cheap vodka. And many Russian state institutions, including the health system, all but collapsed in the early 1990s.
"The current situation in Greece is not identical to the situation in Russia in the 1990s, but there are similarities," Rachiotis told BuzzFeed News. "In Greece there is an ongoing humanitarian crisis. If this situation continues or deteriorates, I'm afraid that the impact on health will become more serious."