At 7:50 a.m. on May 1, Mexican marines stopped a vehicle carrying a key player in the bloody war for control of the Sinaloa drug cartel. David López was the chief bodyguard of Dámaso "El Licenciado" López, formerly the right-hand man of the cartel's then-leader, Joaquín "El Chapo" Guzmán. Shortly afterward, while being transported to a federal prosecutor's office, the bodyguard collapsed and died. His boss was detained in Mexico City the following day.
But the official account of the bodyguard's capture in Eldorado, Sinaloa, provided to BuzzFeed News by Mexican authorities under a freedom of information request, omitted an important detail. On April 28, and again on the morning of the capture, a small Cessna plane circled above Eldorado, a city of fewer than 25,000 people.
The aircraft was operated by the US Marshals Service, and is part of a small fleet of spy planes used to hunt fugitives, in part by tracking their cell phones.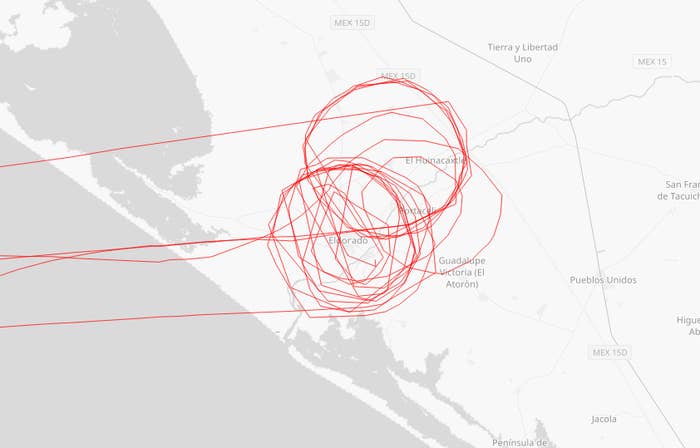 The US has spent about $2.5 billion to help Mexico fight organized crime since 2008. But the Mexican Constitution places limits on the involvement of foreign agents in domestic law enforcement. And when it comes to capturing the most wanted drug lords, the government likes to congratulate itself for its solo efforts.

US involvement in the Mexican government's policy of "decapitation" — using elite military units to capture or kill cartel kingpins — is controversial in both countries. Arguably, the strategy is escalating Mexico's drug wars, as rival factions fight for turf each time a leader is removed. Critics of President Enrique Peña Nieto blame his security policies for an alarming surge in violence: June was the deadliest month in 20 years.
Press reports, based on anonymous sources, have suggested that the US Marshals are more deeply entwined in the Mexican military's counter-drug operations than the agency has acknowledged. But definitive evidence of the Marshals' involvement in these operations has been hard to obtain.
One of the Marshals' planes was in the thick of the action during an important capture in Mexico.
By analyzing flight-tracking data and documents submitted to the US Federal Aviation Administration, BuzzFeed News has now identified aircraft operated by the Marshals and a front company used to conceal them. For the first time, this analysis has confirmed that one of the Marshals' planes was in the thick of the action during an important capture in Mexico.
Responding to a freedom of information request from BuzzFeed News, the Mexican navy (which includes the Mexican marines) said it could find no records relating to security operations or searches in which US authorities participated since 2012, when Peña Nieto took office. That included the capture of El Licenciado's bodyguard.
The Mexican government did not respond to specific questions but said that it conducts all security operations in accordance with the law. The US Marshals declined to comment on its involvement in the bodyguard's capture.
"The Marshals Service has a long history of cooperation with its law enforcement counterparts in Mexico, providing training in judicial security, witness protection and fugitive investigations," the Marshals said in a statement to BuzzFeed News. "The agency routinely works with international law enforcement partners to apprehend fugitives abroad."
The US Marshals Service is the oldest federal law enforcement agency, once famed for keeping order across the Wild West. Today, it is a high-tech operation with a small fleet of light aircraft that help hunt for fugitives from justice.

In 2014, the Wall Street Journal reported that these planes use devices that mimic cell phone towers, allowing agents to track fugitives' phones. That was controversial because such devices would connect at least temporarily to the phones of thousands of innocent bystanders, reading their unique ID codes.
Analyzing data from the flight-tracking website Flightradar24, BuzzFeed News identified aircraft registered to a company called Early Detection Alarm Systems that often flew in repeated circles, similar to the paths of the FBI's spy planes. The company seemed to have no trail of official paperwork other than the aircraft registrations, in which it gave its address as a UPS Store in Spring, Texas. Documents submitted to the FAA reveal that this company is actually a front for the US Marshals.
Circling flight patterns similar to those BuzzFeed News saw over Eldorado preceded a prominent arrest in the US a few months previously. The tracks shown below culminate in intense circling on Jan. 17, 2017, around Carver Shores in Orlando. That evening, state and local police, working with the Marshals, swarmed an abandoned house in the neighborhood, arresting alleged cop-killer Markeith Loyd. He was on the Marshals' "15 Most Wanted" list, sought for the murder of his girlfriend and her unborn child in December 2016, and the Jan. 9, 2017, slaying of Debra Clayton, an Orlando police officer who had tried to arrest him in a Walmart parking lot.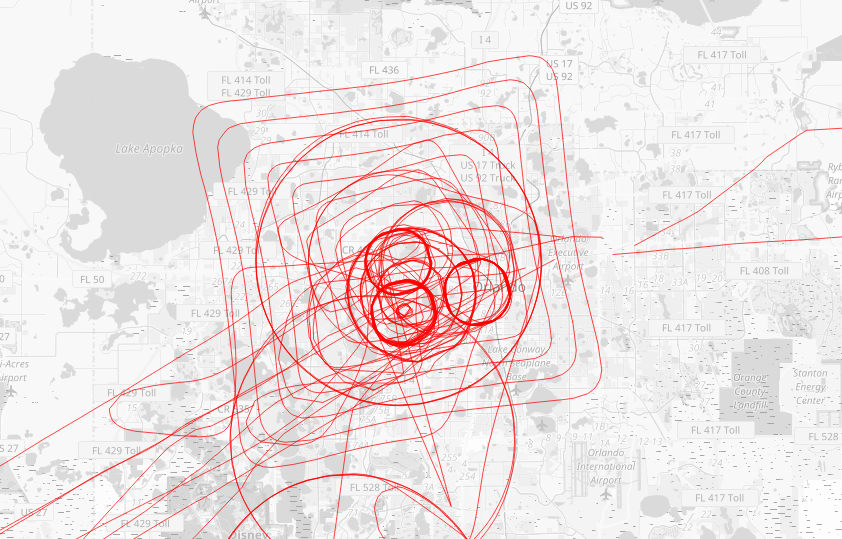 These tracks are consistent with the use of a fake cell phone tower from the air, according to Heath Hardman, a lawyer who formerly operated similar devices for the US Marines.

"It seems to me that the square shaped pattern was likely used to systematically search a particular area and ensure coverage," he told BuzzFeed News by email. "The circular areas, which are generally smaller, likely indicate that the target phone was registered and that a rough location was determined."
The planes carry surveillance cameras that can record conventional video or infrared night vision.
FAA documents describing alterations to the Marshals' planes, submitted to verify that they are still safe to fly, mention equipment to follow GPS or radio trackers placed on suspects' vehicles.
The planes also carry surveillance cameras that can record conventional video or infrared night vision.
The Marshals declined to comment on its planes' capabilities. "The US Marshals Service cannot confirm or deny the use of any specific, sensitive equipment and techniques deployed in furtherance of its missions," the agency said in a statement.
The most technologically advanced of the planes BuzzFeed News identified seems to be the one that later flew over Sinaloa. It carries a device that can transmit video and other data in real time to other members of a network connected by radio signals. Using this device, the aircraft could function as a secure "Wi-Fi in the sky," helping to coordinate the pursuit of a fugitive by relaying aerial surveillance to agents on the ground.

This plane first showed up over Sinaloa on April 14, beginning a series of flights over the following week in which it headed inland, disappearing from Flightradar24's tracking as it neared the hills of neighboring Durango state, a major area for heroin production. The plane then headed back to Texas from its temporary base in Baja California Sur, before returning on April 27. A second series of flights focused on Eldorado, around the time of David López's capture.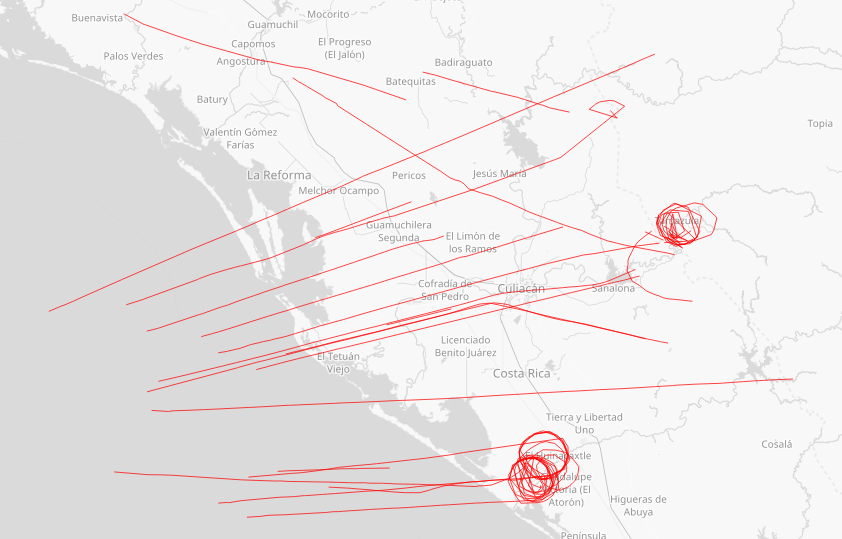 Amid escalating violence across much of Mexico, Sinaloa has been especially bloody, as elements of the Sinaloa cartel fought for control following El Chapo's January 2016 arrest. He had escaped from a Mexican jail six months earlier, and is now in a US federal prison, awaiting trial.

One faction was led by El Licenciado, or "the graduate," nicknamed for his university study in law. Formerly a prison official who orchestrated an earlier escape by El Chapo, El Licenciado was in 2013 indicted by a federal grand jury in Virginia for drug trafficking and money laundering. Prosecutors alleged that he had profited to the tune of $280 million.
El Licenciado kept a low public profile, in stark contrast to his rivals for control of the cartel, El Chapo's sons Iván Archivaldo Guzmán and Jesús Alfredo Guzmán. Raised in luxury, these "narco juniors" have turned Sinaloa's capital, Culiacán, into a racing circuit for their high-performance cars. Their generational clash with El Licenciado's old guard has driven a wave of violence. Just days before the Marshals started flying over Sinaloa in mid-April, three bodies were reportedly dumped on Eldorado from a plane. And on June 30, at least 17 suspected gang members were killed in the nearby city of Mazatlán during a confrontation with security forces.
El Licenciado's capture in Mexico City, authorities said at a press conference, was "the result of investigative work carried out by the security institutions of the Mexican state." Peña Nieto congratulated his security cabinet, singling out the Defense Ministry, on Twitter.

The exact circumstances surrounding the capture remain murky, however. Some reports suggest that El Licenciado was betrayed by a hacker he had hired to discredit El Chapo's sons on social media. It's unclear whether the capture of the bodyguard in Eldorado provided any information that helped locate his boss.

One week after El Licenciado's capture, a group of four opposition members from the Mexican Congress requested more information about the capture from Peña Nieto's administration. "The context of the detention has been characterized by incomplete information and insufficient data," the request said. "One of the aspects that draws the attention of analysts is the level of involvement of authorities from the United States of America."
Electronic surveillance is a particularly sensitive issue in Mexico right now.
The involvement in the bodyguard's capture of a US electronic spy plane, which may have shared data with the Mexican authorities, poses difficult questions for officials in both nations.
US intelligence-sharing in the drug war has previously led to tragic consequences. In June, ProPublica revealed that the 2011 massacre of many as 300 people in Allende, some 40 miles southwest of Eagle Pass, Texas, happened after an operative in the Zetas cartel handed over trackable cell phone ID codes for two of its kingpins to the US Drug Enforcement Administration. The agency reportedly shared that information with a notoriously leaky unit of the Mexican federal police. After learning they had been compromised, the Zetas went on the rampage in Allende, which the cartel suspected of harboring snitches.
Electronic surveillance is a particularly sensitive issue in Mexico right now, after the government was found in June to have snooped on prominent journalists, lawyers, and anti-corruption activists by planting spyware on their cell phones.
Peña Nieto's office did not respond to specific questions about the operation in which the Marshals participated, but offered a general statement.
"The details of the strategies and operations carried out by the institutions that make up the security cabinet are reserved so as to not compromise their effectiveness and the integrity of those who carry them out," it read. "All the actions, including the ones that are carried out with international cooperation, are carried out with strict adherence to the law." ●
With additional reporting by Christian Stork.