Donald Trump is the first president whose unfiltered thoughts, sent from his Twitter account, assail the nation each morning.
To help understand how @realDonaldTrump has driven the agenda in Washington, DC, BuzzFeed News crunched the numbers on more than half a million political tweets, from the president and the official accounts of all members of Congress, over the year since Trump's inauguration.
Our analysis confirms that Trump's volleys on Twitter came mostly in the early morning. His tweets enraged Democrats, who responded vigorously, while Republicans often tried to look the other way. And the two words he used together most frequently? "FAKE NEWS."
In a tumultuous year, @realDonaldTrump has often seemed to suck the air out of political debate. But while his account has more followers than any member of Congress, Sen. Bernie Sanders had the most favorited and retweeted tweets of the year by current political leaders, while more than two dozen members of Congress, mostly Democrats, tweeted more often than Trump.
Trump tweeted early, and he loves @foxandfriends.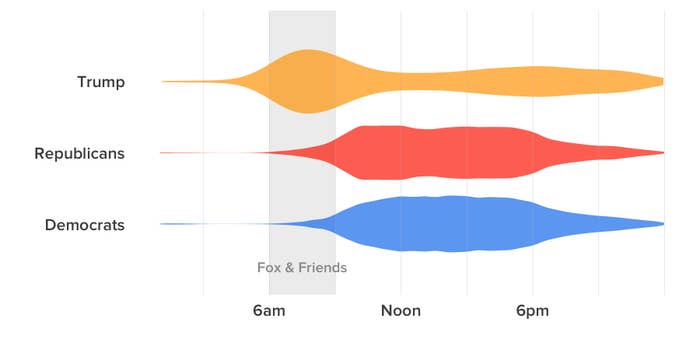 Trump usually unleashed his thoughts on Twitter before most members of Congress — or their staffers — had even logged into their accounts for the day. His daily peak came while Fox & Friends was on the air, and often echoed its content. More than 9% of all Trump's retweets and mentions were of @foxandfriends — more than any other account. The vast majority came during his favorite show's 6 a.m. to 9 a.m. time slot.

Democrats engaged vigorously with @realDonaldTrump. Republicans…not so much.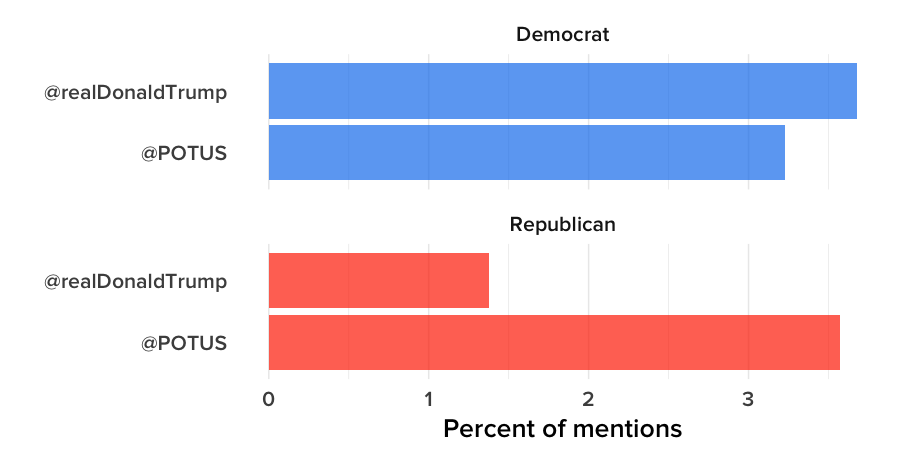 For both Democratic and Republican members of Congress, @realDonaldTrump and the (more sober) official @POTUS account were the two most frequently mentioned Twitter handles. But whereas both parties mentioned @POTUS similarly often, Republicans were much less likely to name check @realDonaldTrump.
As well as distancing themselves from the account's regular excesses, congressional Republicans may also have been tuning out a voice that frequently undermined their agenda (and sometimes created legal problems for the administration). Just last week, for instance, with Congress trying to prevent a government shutdown, House Speaker Paul Ryan brushed off a Trump tweet that threw a wrench into his plan by suggesting a that an important sweetener for Democrats, funding for the Children's Health Insurance Program, should be pulled from the deal:
Trump was obsessed with fake news, Democrats with health care, and Republicans with all things taxes.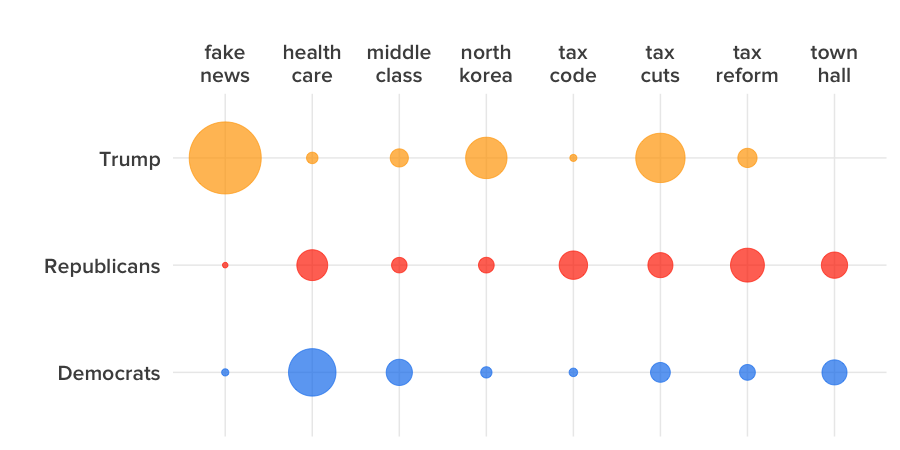 This chart of common word pairs used in political tweets shows Trump's obsession with "fake news" — his preferred label for reporting that criticizes him. His attacks on the media, most frequently aimed at CNN or the New York Times, seemed to play well with his base. The Trump tweet that garnered the most retweets — with around 360,000 as of Jan. 20 — cited "#FraudNewsCNN":

The word pairs used most frequently by congressional Democrats and Republicans, meanwhile, reflected their respective political agendas. For Democrats, 2017 was dominated by battles to defend Obamacare from stuttering Republican attempts at repeal. "Health care," not surprisingly, was their most frequently tweeted word pair.
Republicans also tweeted a lot about health care, but that came second to tweets about taxes. "Tax reform" and "tax code" were the preferred word pairs for Republicans on Capitol Hill, while @realDonaldTrump boasted about "tax cuts."
In responding to Trump's Twitter juggernaut, Democrats faced the of choice whether to mimic his language. Some, like John Sarbanes, who represents Maryland's 3rd District, tried to turn Trump's signature phrases, like "drain the swamp," against him.

But others, including Pramila Jayapal of Washington's 7th District, refused to echo Trump's words and tone.

Jayapal, a former immigration advocate who took her seat in the House of Representatives for the first time in 2017, was the most prolific tweeter on Capitol Hill. Her account racked up more than 7,800 posts, out-tweeting the tweeter-in-chief by three to one.
Jayapal told BuzzFeed News that she and her staff had prioritized building a following for her official Twitter account. (New members can't switch their campaign accounts to congressional business.) But she didn't know she was the most active member of Congress on the platform until informed by BuzzFeed News.
"I was really surprised by that," Jayapal said.
She made a conscious decision, she said, to engage Trump on her own terms, not his. "A lot of people try to imitate him, but I don't like the way he talks," Jayapal said. "I am very particular about making sure all of my tweets are in my voice."
Democrats' tweets were full of negative emotions, especially when responding to Trump.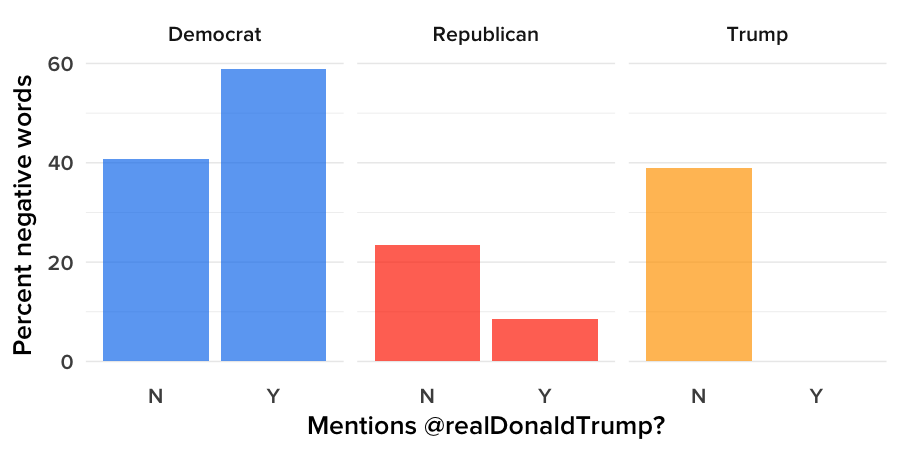 Given @realDonaldTrump's notoriously angry language, it's no surprise that our analysis showed his tweets to contain more negative words — like "attack" and "lost" — than those of his fellow Republicans in Congress. But Democrats were just as negative as Trump overall, and their negative emotions surged when their tweets mentioned @realDonaldTrump.
For both Democrats and Republicans, the two most negative days were Aug. 12 and Aug. 13, 2017, after the "Unite the Right" rally in Charlottesville erupted into violence, and counterprotester Heather Heyer was killed when a white supremacist drove his car at speed into a crowd. Politicians from both parties condemned the hatred and violence of the far right.
In his initial tweets about Charlottesville, Trump continued in his usual style.

But it was his press conference on Aug. 12, in which he condemned violence "on many sides," that drew the ire of political Twitter, especially from prominent Democrats.
That same day, Trump's predecessor struck a different tone on race and hate, in a post that became the second most retweeted of 2017.

Trump's army of followers gave him massive reach, but sometimes he felt the Bern.
With more than 46 million followers, Trump's audience on Twitter dwarfs that of anyone in Congress, and his total retweet count was more than four times that of his nearest rival, Bernie Sanders. That's a narrower gap than the difference between their follower counts, and Sanders' big hits on Twitter in 2017 proved a match for Trump.
Measured by both retweets and favorites, @SenSanders claimed three of the top five tweets in our analysis to @realDonaldTrump's two, with this one winning the crown, with more than 450,000 retweets and 968,000 likes:
And here's another statistic likely to make Trump's blood boil: While @realDonaldTrump is still shy of 50 million followers, @BarackObama is edging ever closer to 100 million.
See here for our full analysis of the year on political Twitter. ●