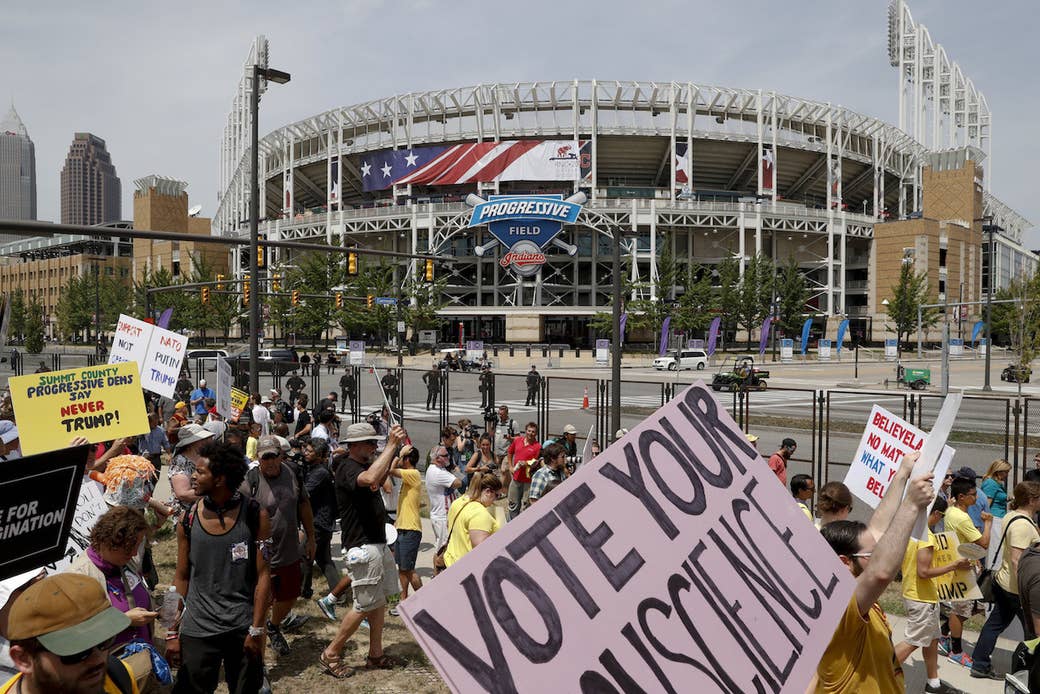 Almost everyone was expecting violent protests in Cleveland. But in the end, the Republican National Convention (RNC) passed fairly peacefully — on the streets, at least.

Still, it was all monitored from above.
By analyzing transponder signals sent by aircraft flying over Cleveland, BuzzFeed News has found that the convention was the focus of intensive aerial surveillance. Three helicopters operated by the Department of Homeland Security (DHS) led the way, backed by two more choppers registered to a mysterious company that evidence suggests is a front for the federal government.
What's more, both Cleveland and Philadelphia — which is about to host the Democratic National Convention — were in June surveyed from the air by a company that has previously made detailed 3D maps of Afghanistan for the US military. The government's eyes in the sky, it seems, have been busy preparing for convention season.
The aerial surveillance of the RNC wasn't solely a federal operation. The convention site and nearby protests were also circled by a small Cessna plane operated by the Ohio Department of Public Safety. And BuzzFeed News spotted fleeting appearances by another small plane operated by the Civil Air Patrol, an auxiliary arm of the US Air Force, as well as a DHS spy plane.

Given recent terrorist attacks, the potential for violent protests, and the presence of senior politicians, it is no shock that the RNC was closely monitored. But the federal government made efforts to keep its surveillance secret from anyone watching online.
Unlike the Ohio plane, which was clearly visible on popular websites that track aircraft from their transponder signals, such as Flightradar24 and FlightAware, federal aircraft over Cleveland didn't show up, suggesting the government may have censored the sites.
In April, when BuzzFeed News published its analysis of more than four months of aerial surveillance by the FBI and the DHS, both agencies' aircraft showed up in tracking data from Flightradar24. The three DHS helicopters that flew over Cleveland were also spotted in that earlier analysis. However, their activities over the convention were missing from public flight-tracking websites.
These websites block tracking for some sensitive aircraft based on a list maintained by the Federal Aviation Administration (FAA) — Air Force One, which transports the President, is one such plane. Flight-tracking sites may also censor information on individual aircraft at the request of their owners.
Ian Petchenik, head of media and community relations for Flightradar24, said that the company does not comment on individual requests for blocking. "We receive requests from governments on an ongoing basis and promptly honor those requests," he told BuzzFeed News by email.
FlightAware's customer support could see no requests to block the DHS aircraft that flew over the RNC, and said that their absence from its recent data was a mystery.
BuzzFeed News was able to follow the action above Cleveland because we have been compiling data submitted to a website called ADS-B Exchange, which takes feeds from aviation enthusiasts around the world operating radio antennas that detect transponder signals from nearby aircraft. ADS-B Exchange says it does not censor its data.
A company called Midwest Aerial Imaging, which seems to be a front for the federal government, operated two of the helicopters we tracked.
Amidst our map's green DHS helicopter tracks and purple Ohio Department of Public Safety trails are orange traces from two helicopters registered to Midwest Aerial Imaging. The address listed in the registration documents for these aircraft is a UPS store in Lisle, Illinois, in the suburbs west of Chicago. BuzzFeed News received no reply to a message left at the phone number given in these documents.
The helicopters were purchased new in 2013 and 2014, respectively. Other documents submitted to the FAA describe modifications including the installation of high-resolution video cameras, and list the two helicopters as being part of the DHS fleet. BuzzFeed News has previously observed the Midwest Aerial Imaging helicopters circling above other cities, including Chicago and Detroit, in flight patterns similar to surveillance aircraft operated by the FBI and the DHS.
The DHS usually registers its aircraft in its own name, and declined to comment on these helicopters. Their flights above Cleveland were also missing from public flight-tracking websites, and FlightAware's customer support told BuzzFeed News that it looked like they had been blocked through the FAA's list.
Another company's planes flew over Cleveland and Philadelphia in late June.
These aircraft, operated by a company called Aeroptic, flew repeatedly back and forth over both Cleveland and Philadelphia. (And the day it finished in Cleveland, the plane that surveyed that city flew 30 miles south to Akron and began a survey there.) In the ABS-B Exchange data, BuzzFeed News could find no similar activity by Aeroptic's planes over other major cities from late April onwards.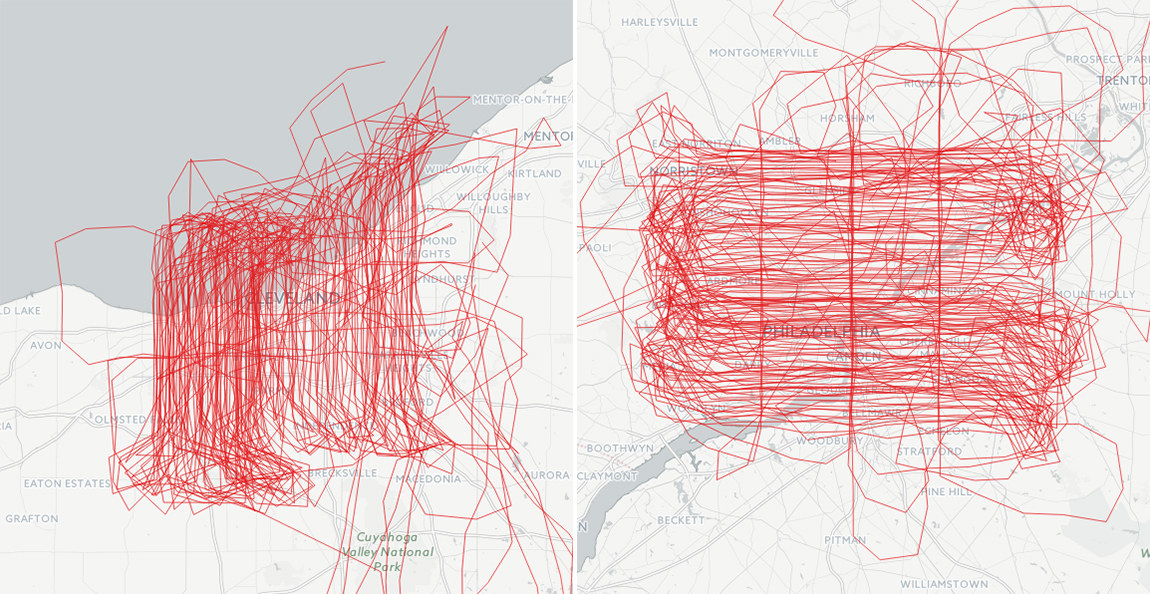 Aeroptic is a subsidiary of KEYW, a defense and intelligence contractor. It specializes in aerial photography and mapping, and in 2013 was awarded a military contract to provide high-resolution 3D maps to improve battlefield awareness for US troops in Afghanistan and elsewhere.

Similar maps would be useful for agencies planning security for the conventions, but we could not determine who hired the planes or why they flew over Cleveland and Philadelphia. Scott Stetson, vice-president for remote sensing with KEYW, declined to comment, writing by email: "As a rule, we do not discuss any proprietary customer contract."
BuzzFeed News also asked the agencies that flew planes over the RNC who or what they were watching, and whether they conducted any electronic surveillance. (Government surveillance aircraft often carry sophisticated cameras that can record video of activities on the ground, and on occasions carry devices that can track people's cell phones from the air.)
Major Katrina Andrews, a spokesperson for the US Air Force, said by email that the Civil Air Patrol (CAP) plane was used to transport Ohio Air National Guard personnel. "My understanding is CAP did not shoot any footage," she added.
Authorities in Ohio said that the state's aircraft was used to support security forces on the ground. "The platform provided aerial views of crowds when deemed necessary, suspicious persons in immediate proximity to secure areas and traffic flow," Lieutenant Robert Sellers of the Ohio State Highway Patrol, which operates the plane, told BuzzFeed News by email.

The DHS referred questions to the Secret Service, the agency within the DHS that protects the President and candidates for the office. "We don't have a comment," said a spokesperson for the Secret Service.
With additional reporting by Charles Seife.

UPDATE
This story has been updated with a response from Lieutenant Robert Sellers of the Ohio State Highway Patrol.