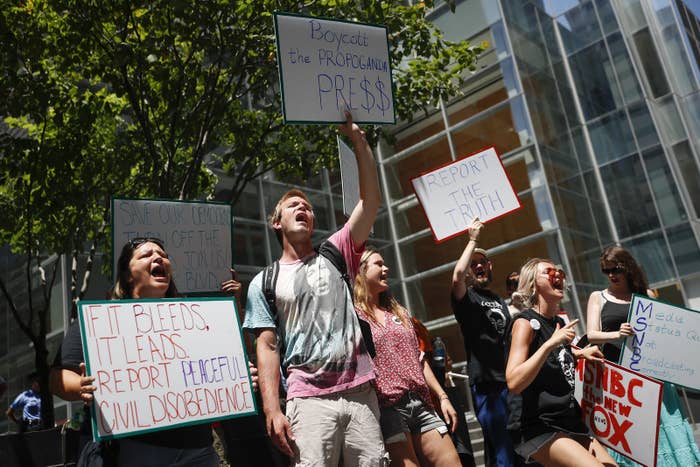 Federal and state surveillance aircraft were apparently busier over the Democratic National Convention (DNC) in Philadelphia than its GOP equivalent in Cleveland.
That almost certainly reflects the high security that comes into play whenever the President is in town. But the more intense street protests at the DNC also seem to have been closely watched from the air — with the Pennsylvania State Police taking the lead.
BuzzFeed News tracked planes over both party conventions using data submitted to the website ADS-B Exchange. The site takes feeds from aviation enthusiasts who operate radio antennas that can detect transponder signals transmitted by nearby aircraft.
Here are the government planes and helicopters that flew over the Democratic convention in Philadelphia.
Here, for comparison, are the surveillance flights over the Republican convention in Cleveland.
Most of the surveillance aircraft that flew over the DNC were helicopters, including two operated by the Department of Homeland Security, two flown by the Pennsylvania State Police, and one by a company called TAFY Consulting. This firm gives its address as a PO Box in Bristow, Virginia, that is used by companies known to be fronts for the FBI's aerial surveillance. The Pennsylvania State Police also flew a light fixed-wing aircraft.
The intensity of the surveillance around the convention center in Philadelphia is no surprise, given President Barack Obama's speech on July 27 and the presence of the first lady and other senior figures.
"There was somebody on the stage every day that has Secret Service protection," Rick Breitenfeldt, a spokesman for the Federal Aviation Administration (FAA), told BuzzFeed News.
As is usual for high-profile national events, the FAA restricted the airspace within more than 30 miles of both conventions, and the only aircraft flying close to the events were providing security or performing essential functions like air ambulances. "Each supporting agency submitted a list of possible aircraft they might be using," Breitenfeldt said.
Unlike at the Republican convention, aerial surveillance at the DNC concentrated on two distinct locations: In addition to the convention center, the Pennsylvania State Police's aircraft circled downtown Philadelphia to the north, near City Hall, where backers of Bernie Sanders and others were protesting.
The Pennsylvania State Police did not respond to requests for information on what these flights were doing, who they were watching, whether video was shot, and whether devices that can track cell phones from the air were used.
With additional reporting by Charles Seife.