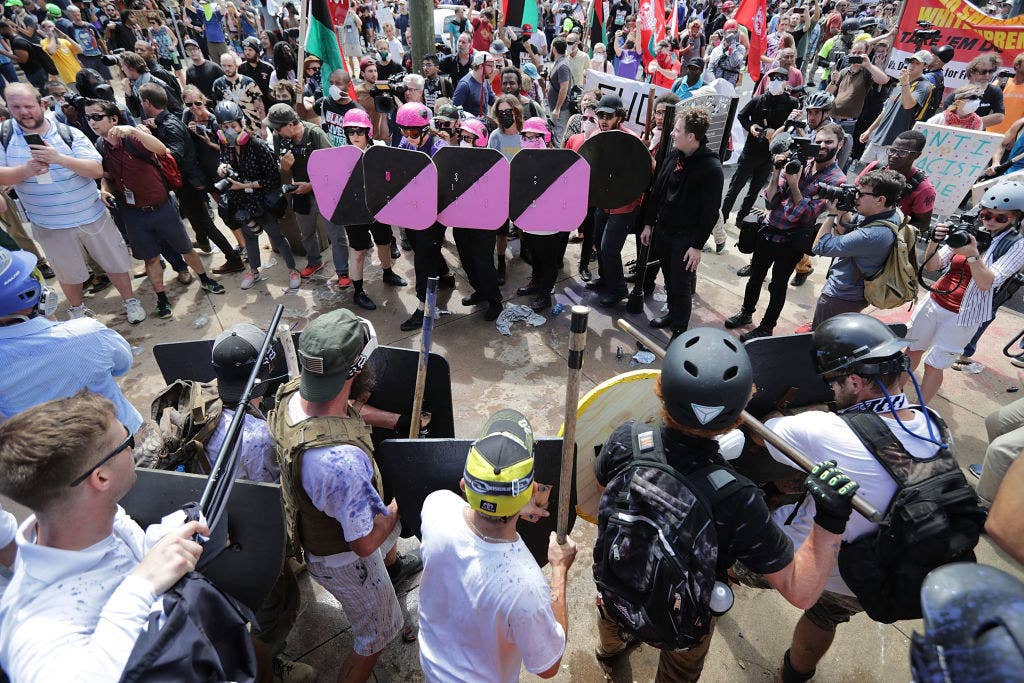 We didn't know it then, but August 2017 was the peak time for pro-Trump Russian Twitter trolls linked to the shadowy Internet Research Agency in St. Petersburg.
They were already busy before white supremacists gathered a year ago in Charlottesville, Virginia, for the Unite the Right rally. But after the event erupted into conflict, culminating in the death of counterprotester Heather Heyer on Aug. 12, the trolls fanned the flames, blaming the violence on the self-described "antifa" and Black Lives Matter.
Over the next week, Russia's Twitter trolls continued with that line, backing Donald Trump through the storm that followed his condemnation of violence "on many sides," and later rallying in support of Confederate statues.
Then, on Aug. 18, many of these trolls suddenly went silent. Twitter won't confirm that it pulled the plug on them that day. But the handles that stopped tweeting on Aug. 18 were all on a list of banned accounts linked to the Internet Research Agency that the company provided to the House Intelligence Committee in November 2017.
These are the findings from a BuzzFeed News analysis of nearly 3 million tweets from Internet Research Agency accounts gathered by Darren Linvill and Patrick Warren of Clemson University in South Carolina. The researchers published their data with FiveThirtyEight because they want as many people as possible trying to understand how online trolls working for the Kremlin have helped foment division in the West.
In February, special counsel Robert Mueller indicted 13 Russian operatives employed by the Internet Research Agency for interfering in US politics with "a strategic goal to sow discord." The indictment said the defendants operated social media accounts that, during the 2016 election campaign, backed Donald Trump and attacked Hillary Clinton.
The American public is bitterly divided with or without Russian trolls, and it's unclear how much influence these accounts actually have on US politics. But they're not going away anytime soon.
"America is under attack," Linvill told BuzzFeed News. "I would assume that there's a whole lot out there right now that Twitter doesn't know about."
Linvill and Warren categorized accounts identified by Twitter in the November 2017 list and a second one released in June this year into groups with distinctive identities. Most of those trying to influence US politics were "Left Trolls" and "Right Trolls."
Many of the Left Trolls posed as supporters of Black Lives Matter, tweeting about hip-hop and other aspects of black culture as well as politics. They tended to support Bernie Sanders, disparage Hillary Clinton, and their activities spiked on Oct 6., 2016, when they blasted out more than 13,000 tweets — the day before WikiLeaks published emails from the Clinton campaign that had been hacked by Russian operatives.
By the summer of 2017, the Left Trolls were mostly a spent force. But that's when more than 100 Right Trolls, which posed as Trump supporters, had their big surge, their output rising to more than 10,000 tweets a day until suddenly dropping away after Aug. 18 — presumably when Twitter banned many of the accounts.

Tweets from Russian Left and Right Trolls in July and August 2017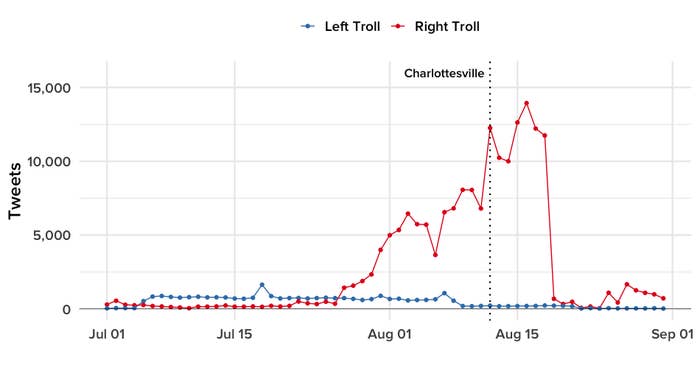 The language used by the accounts reveals how they reacted to Charlottesville.

Distinctive words used by Right Trolls in August 2017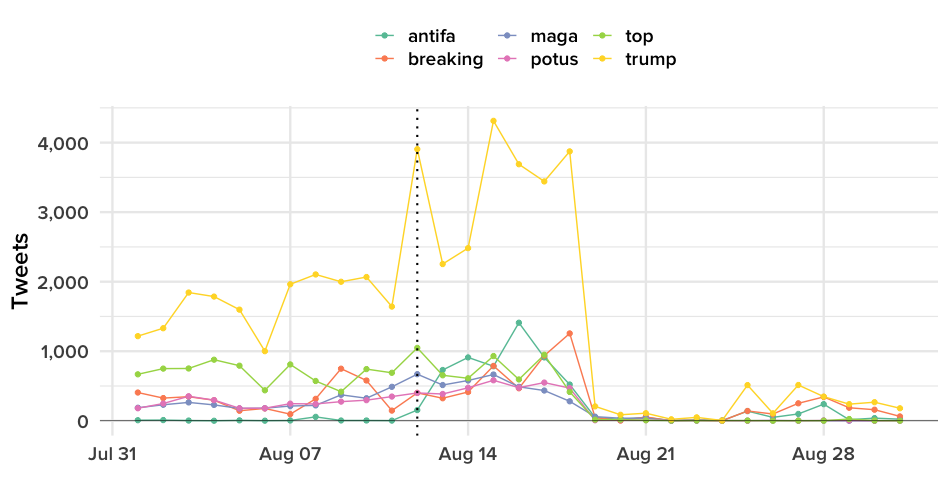 It's no surprise that the Right Trolls regularly used Trump's name and abbreviated his "Make America Great Again" slogan. But "antifa," barely used before the violence in Charlottesville, rose to become the second most frequently used distinctive word in the days that followed.
And it wasn't the only term to spike.
Selected words related to Charlottesville used by Right Trolls in August 2017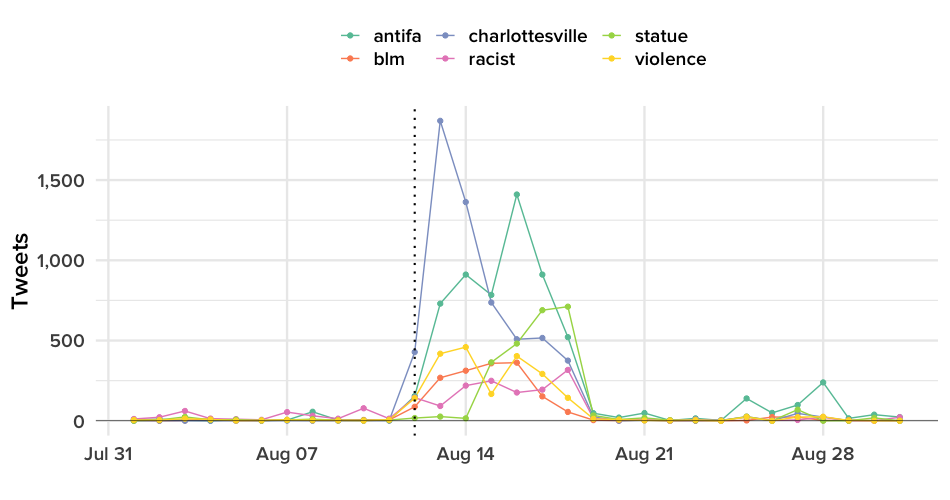 Distinctive word pairs used by Right Trolls in August 2017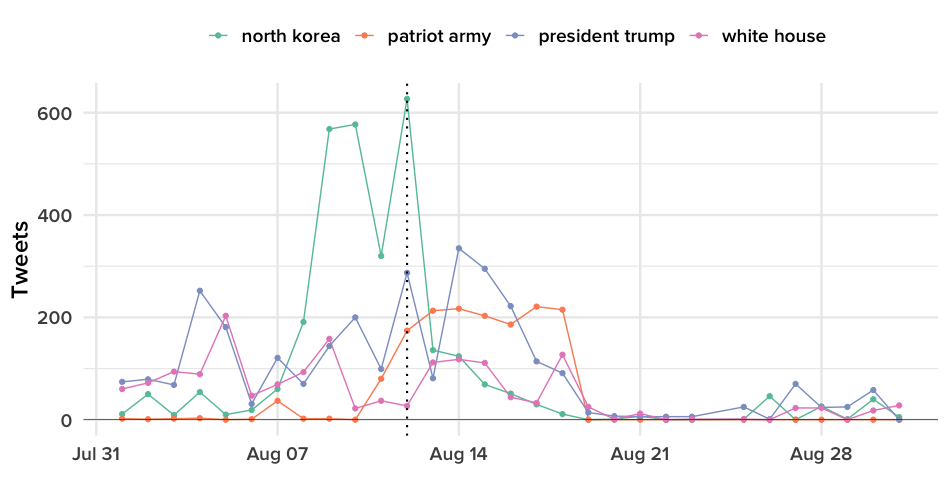 Before Charlottesville, many of the Right Trolls were tweeting about North Korea, backing Trump's bellicose rhetoric toward Kim Jong Un.
Tweets containing "patriot army" overwhelmingly came from a single account with the handle @adnnelstr. Its tweets tended to attack socialism and linked to the website of the U.S. Freedom Army, an obscure group founded by Lewis Shupe, who wrote two books about a fictional ultra-conservative US president. (Shupe died in October 2017.)
But word pairs related to Charlottesville took off after Aug. 12.
Selected word pairs related to Charlottesville used by Right Trolls in August 2017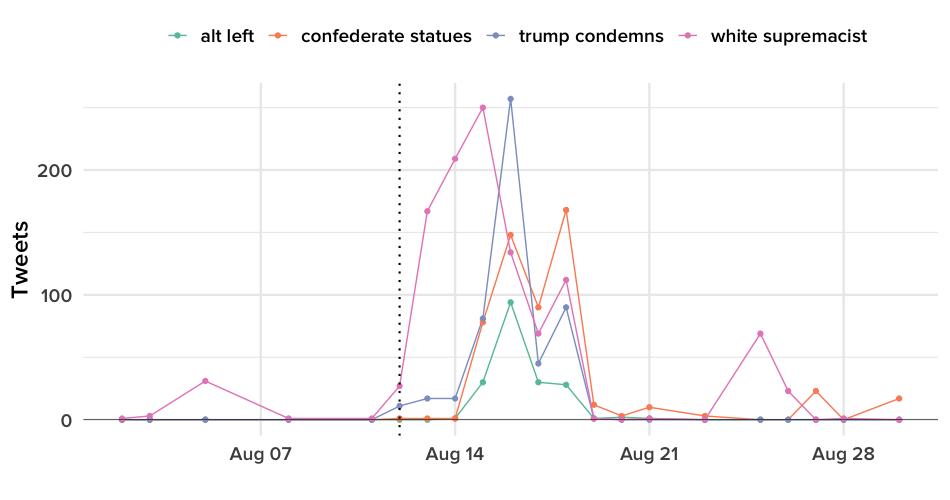 A closer look at the text of typical Right Troll tweets in the days after after Charlotteville shows how they seized on the event. These tweets, starting and finishing with nonsensical hashtags often derived from fragments of the senders' handles, were typical of the Right Trolls' behavior in the Summer of 2017.

"#abi Dems and Media Continue to IGNORE BLM and Antifa Violence in Charlottesville #ABISS"
—@abiissrosb, Aug. 14
#jobb Trump Condemns Racism for the 1000th Time, Fake Media Still Not Satisfied #job
—@johaajots, Aug. 15
"#aleex Uncovered Video DESTROYS Liberal Narrative Trump is a White Supremacist #alexx"
—@alaxxaTR, Aug. 15
#th NEW POLL : America Agrees With Trump on Confederate Statues #th
—@thelmmisb Aug. 18
During the election campaign, both Left and Right trolls were mostly retweeting other content, amplifying messages the Kremlin wanted to spread, Warren said. But in August 2017, the Right Trolls were mostly sending original tweets, often with multiple accounts tweeting the same message differing only in the idiosyncratic hashtags used.
Warren and Linvill call this behavior the "attack of the clones," and they believe the weird hashtags were probably "camouflage" — designed to confuse Twitter's attempts to sniff out spam accounts tweeting the same content.
The clones included links to the now-defunct domain reportsecret.com, which appears to have repackaged content from the hyperpartisan conservative news site TruthFeed.
But the attack of the clones was short lived. In all, 128 Right Troll accounts were active in August 2017, 80 of which tweeted for the last time on Aug. 18.
Given that the trolls were trying to build a following to spread their messages, it seems unlikely that they stopped of their own accord. "Our inference is they got shut down by Twitter on that day," Warren told BuzzFeed News.
But Twitter wouldn't confirm when it banned these accounts, nor discuss what about their activity caused them to be taken offline. "We don't comment on individual accounts for privacy and security reasons," company spokesperson Ian Plunkett told BuzzFeed News by email.
All but two of the 80 accounts apparently purged on Aug. 18 had been active for 24 days or fewer. Of the 32 Right Trolls that tweeted in August 2017 after this date, 19 tweeted for the first time on Aug. 18 or later, and 17 of them were apparently taken out in another purge on Oct. 22.
Indeed, the great purge of Right Trolls on Aug. 18, 2017 seems to be the largest of a series of similar actions by Twitter, in a cat-and-mouse game with the Internet Research Agency. On Jul. 22, 2017, for example, 46 new Right Trolls appeared, tweeted for a few hours, and then disappeared once more.
CORRECTION
Left Trolls sent just over 13,000 tweets on Oct. 6, 2016. An earlier version of this article stated incorrectly that the figure was more than 18,000, which was the number sent on that day by all categories of Russian Twitter troll.