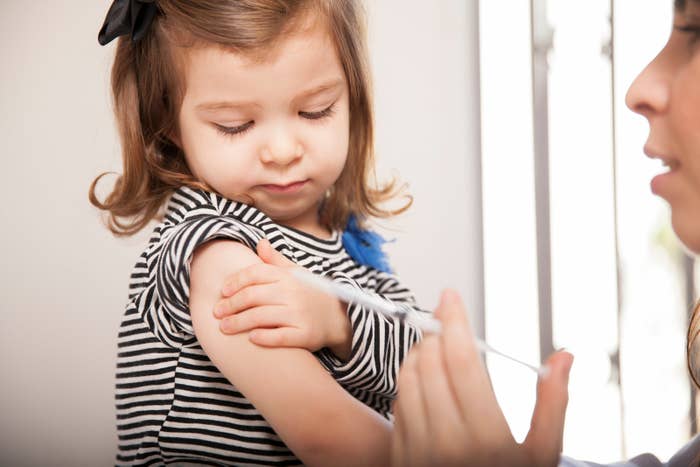 This chart will bring joy to the hearts of public health officials and infectious disease specialists.
After years in which unfounded fears about vaccines led growing numbers of California parents to decide against immunizing their kids, the state has just recorded two consecutive years in which vaccine refusal has plummeted.
Percentage of California kindergartners without the complete range of recommended vaccinations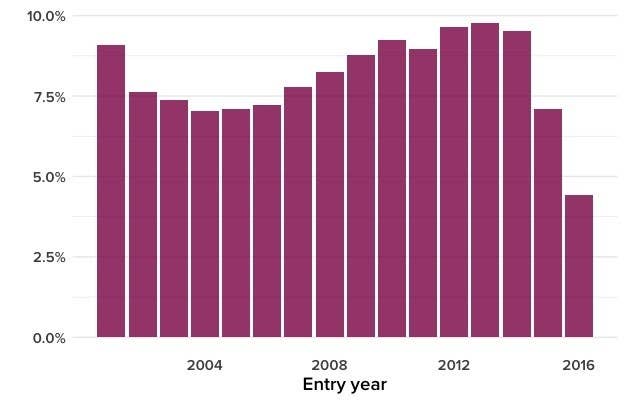 California's kindergarten vaccination rates are now at a record high since the current requirements for school entry were introduced in 2001, with 96% of kindergartners having the full range of required shots.
"I'm really pleased the numbers are so high," Catherine Flores Martin, director of the California Immunization Coalition, told BuzzFeed News.
But vaccine experts warn that some other states — notably Colorado and Arkansas — still have dangerously low vaccination rates, putting them at high risk of outbreaks of measles and pertussis (more commonly known as whooping cough).
"You have this tinder that can start a fire," Saad Omer of Emory University in Atlanta told BuzzFeed News, referring to the risk posed by local pockets of unvaccinated children. His research has shown that, for both measles and pertussis, outbreaks are associated with clusters of unvaccinated children.
In the chart below, darker pinks show states falling below the target of 95% vaccine coverage, darker green shows states that exceeded the target, and dark gray means there was no reliable data.
Measles-Mumps-Rubella vaccination in kindergartens across the US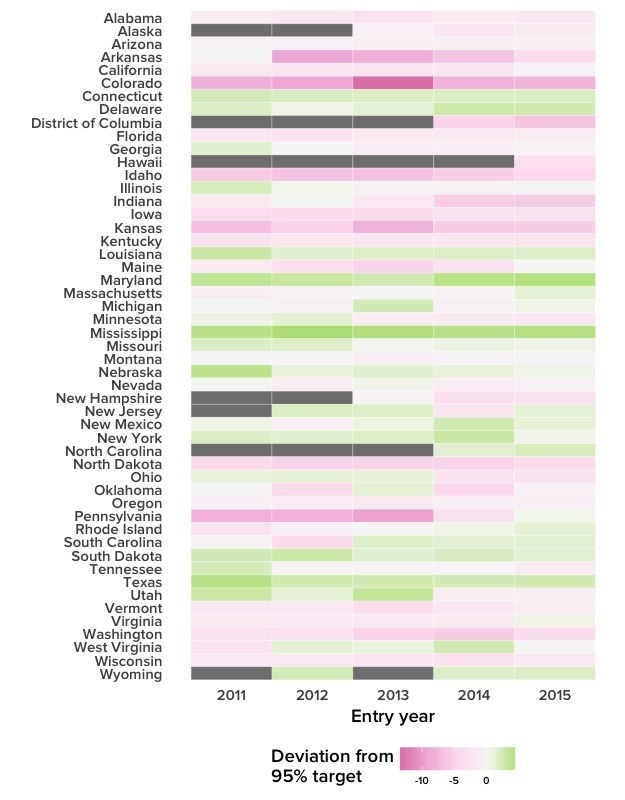 Scientists have eagerly anticipated this year's California statistics because the 2016 kindergarten intake was the first subject to a controversial law that removed the ability of parents to opt out of school vaccine requirements for religious or other personal beliefs. Opponents argued that the law trampled civil liberties.
Vaccine advocates say that the new California data strengthen the case for such laws. "The question is how easy it is to get out of having a vaccine," Paul Offit, chief of the division of infectious diseases at the Children's Hospital of Philadelphia, told BuzzFeed News.
As it turned out, the tide was turning in California even before the new law took effect, as this year's drop in vaccine refusal followed a similar reduction in 2015.
An earlier law, introduced in 2014, had also made it harder to claim a personal belief exemption, requiring parents to get a signed statement from a medical professional confirming that they had discussed benefits and risks of vaccination. And over the past couple of years, state and local health officials have been working with schools to reduce the number of children allowed into kindergarten with only some of their vaccines.
"We have had several things that have been happening at the same time and we're not able to tease them apart individually," James Watt, chief of communicable disease control with the California Department of Public Health in Sacramento, told BuzzFeed News.
Many parents were likely scared into action by a major measles outbreak that started at Disneyland in Anaheim, California, in December 2014, probably triggered by a visitor from the Philippines. By mid-February 2015, 125 people had been infected — almost half of whom were unvaccinated.
Records for California's 58 counties show a clear change across almost every part of the state in 2016.

Measles-Mumps-Rubella vaccination in kindergartens across California, by county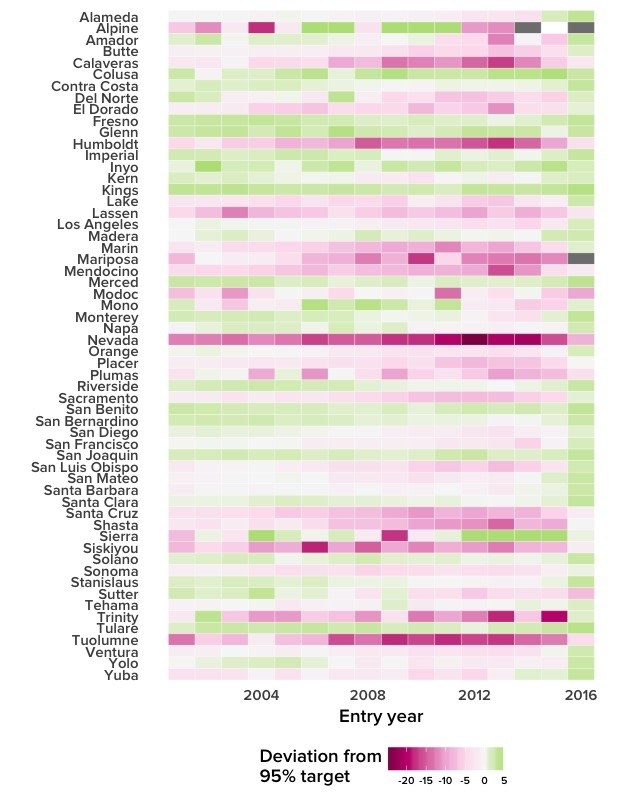 Diphtheria-Pertussis-Tetanus vaccination in kindergartens across California, by county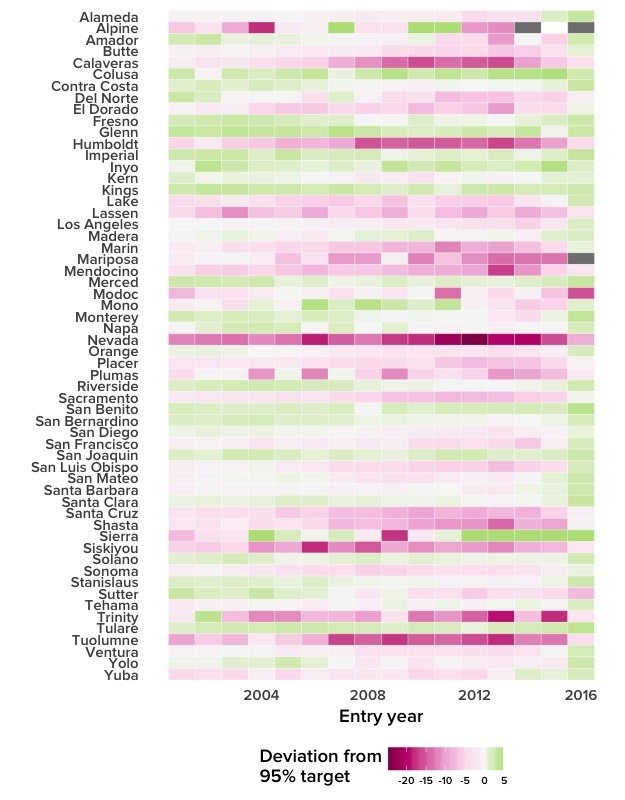 Immunization advocates had wondered about a possible loophole in California's new law. They feared that doctors who sympathized with anti-vaccine parents would authorize medical exemptions even if children were not at risk from taking a vaccine because of severe allergies or compromised immune systems.
But overall, there was only a small rise in the number of kids claiming medical exemptions, from 0.2% of children for the 2015 intake to 0.5% for the current year.
Across the country, there is wide variation from state to state in kindergarten vaccine coverage.
Diphtheria-Pertussis-Tetanus vaccination in kindergartens across the US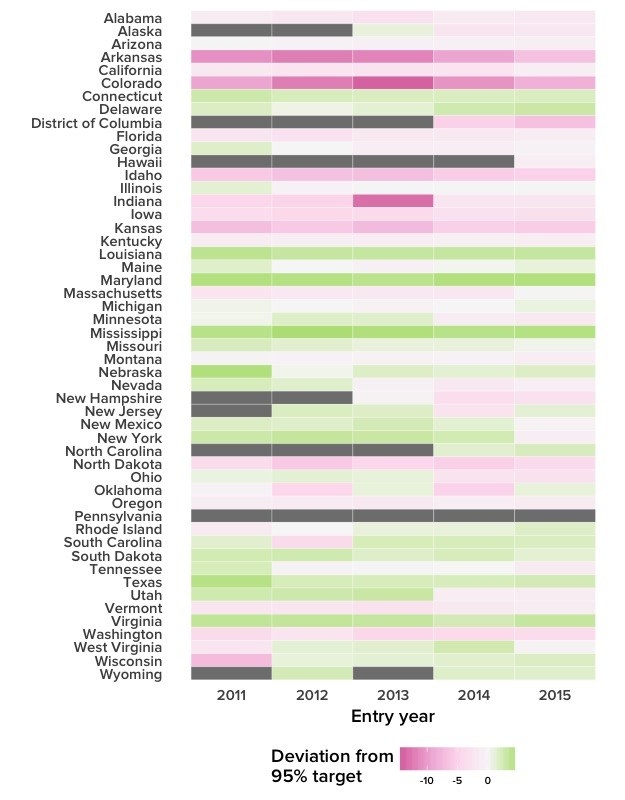 Vaccination rates are particularly low in Arkansas and Colorado. Arkansas is one of several poor southern states that generally perform badly on measures of public health. But Mississippi, which is similarly poor, stands out for its high vaccination rates — likely because it, like West Virginia and now California, has a law banning personal belief exemptions.
Vaccine advocates in Colorado are envious of their counterparts in California. "We are watching California very closely, and kudos to them for getting that bill through," Stephanie Wasserman, executive director of the Colorado Children's Immunization Coalition, told BuzzFeed News.
She believes it would be very difficult to enact similar legislation in Colorado, which has libertarian conservatives who reject government mandates on vaccines, as well as liberal enclaves like Boulder where many parents seek out alternative health care and see vaccines as a tool of Big Pharma.
"It's not a question of if, it's a question of when we're going to have a big outbreak," Wasserman said.
Outside Your Bubble is a BuzzFeed News effort to bring you a diversity of thought and opinion from around the internet. If you don't see your viewpoint represented, contact the curator at bubble@buzzfeed.com. Click here for more on Outside Your Bubble.